Subject: Big Earth Day Weekend: Sale and Fun Run!
Happy Earth Day!
Big Sale Saturday and Fun Run Sunday!
Did you know that when we opened in 2004, we were the first pet supply store in the nation to specialize in sustainability? (Fun Fact, when this newer location was first certified "Gold" by the City of Portland's Sustainability At Work Program, we had the highest marks of any retailer in all of Portland!) Earth Day is a major holiday for us! For that reason, we've got a big Earth Day weekend celebration planned for you!

Saturday April 21st - join us for a big sale!
In honor of our favorite day of the year, we like to offer you a sale! On Saturday April 21st from 10-6, take 15% off of all regularly priced items that aren't food! Better yet, if you bring us gently used pet supplies

that we can donate to rescues

(or purchase something to donate while you're here), you can feel free to

increase your discount to

20%

by recycling them here!



Details About The Sale:
This is not a Secret Sale

- you do not need to be sneaky at the register to get your discount, just come on in and stock up! Everyone's welcome of course!
Why no food on sale?

We try so hard to keep our margins slim, and we're proud of how hard we work to not mark up products cost more than we need to. The margins on food are very narrow, so there's not a lot of room to mark them down. Some folks have deeper sales at their stores, but many people who price shop tell us that our regular prices beat many other stores they've been in. Some stores mark up all of the toys and treats quite a bit so that their food can be discounted a bit more, but we'd prefer to keep all of our margins as slim as we can.
Do treats and bully sticks count as "food" for the sale?

No! They're on sale! Complete daily diets that you would put in your pet's bowl are "food". Even though treats and chews can be eaten, they're still eligible for the sale.
What sorts of items can you donate?

For cats: foods, crates and clean beds are often most needed. For dogs, crates of any size are incredibly useful, as are

stainless bowls

, food, toys (please make sure they are gently used and clean),

treats, clean beds and blankets in good condition

, and clean undamaged flat collars, leashes and harnesses.
These sales are a great time to stock up on things you know you'll use like supplements, treats, and chews, or to pick up that new leash and collar set you've had your eyes on! The discount also applies for items we special order for you.

Sunday April 22nd - Earth Day! Join us for a 5K Fun Run! Dogs Welcome!
Join us for our second annual 5K Fun Run in partnership with Foot Traffic!


Meet at Foot Traffic at 9am

(4020 NE Fremont St, Portland)

Dogs Welcome! Walk or Run.

There will be a fun activity in the park along the way put on by Doggy Business Dog Training & Play Care!
Race ends at Green Dog, with a

free frozen treat for dogs that participated!

$10 voluntary donation gets you

6 free Raffle Tickets

, and benefits Oregon Shores Conservation Coalition. They're doing great work advocating for protection of beach, headland and tide pool areas, working to create a network of marine reserves off our coast, focusing on adaptive planning for likely impacts due to climate change, and engaging more than 1,340 volunteers in monitoring the shoreline along the entire coast of Oregon.
Raffle is full of great prizes from us, our vendors and businesses in the neighborhood! We're selling raffle tickets all week, and will draw winners on Sunday.

Amazing Prizes include:


* One free entry into either the Sauvie Island Foot Traffic Flat 5K or 10K Race, donated by Foot Traffic (a $55 value, and it comes with the free T-shirt and all the other things that come with the entry)!! All racers will also get a 10% off coupon to the store.
* One Free Acupuncture treatment at Wildhearts Wellness (a $75 value)!!
* One

free month of yoga

at Wildhearts Wellness (a $60 value)!!
* Gift bags from Green Dog for dogs and cats (up to $60 value)!
* Free bread once a month for a year from Grand Central (a $65 value)!!
* One free Ruff Wear Front Range Harness for dogs (a $40 value)!
* Four free Envirocloth microfiber cleaning cloths impregnated with silver for disinfection (helps to reduce the need for chemical cleaners) donated by our customer Mollie Bredenberg who sells these from Norwex (a $63 value)!
* a $40 Gift Certificate to Little Griddle Restaurant!
* Free bags of Kona's Chips treats made with humanely raised USA chicken! (each with a value of $16-$30)
* Free Fluff and Tough stuffed dog toys ($16.99 value)!
* Free "Rose City" Dog Collar and a "Bridge City" Dog Collar from Lodi and Lewi!
* Free cases of Weruva for Dogs and Cats
* Free containers of Rad Cat
* a Willow Tree Cat Scratcher
* Two $20 Gift Certificates to Southfork Restaurant
* A $25 Gift Certificate to Alameda Brewpub
And more to come!

We Oregonians (and our dogs) love our fabulous beaches - let's send them some love on Earth Day! Buy some raffle tickets this week! ($2 each and $10 gets you 6 tickets).

Green Tips!
Message From Christine:

I want Earth Day to be a day of celebration, as well as a call for advocacy and action, but it's hard these days to be able to create enough hope in our hearts to actually celebrate, or to act. As I pondered how to speak to this issue, I realize that when I lose hope, the one thing that saves my spirit every time is when I seek out adventures that bring me to places of natural beauty, visiting ecosystems that are fairly intact, and observing wildlife in ways that don't negatively impact them. Even better is when my presence does something positive in any way to benefit the wildlife that I'm seeing. This restores my spirit in a way that nothing else can. It makes me happy, peaceful, and most importantly inspired anew to do something, anything, to make a difference. I'm here to try and encourage you to do the same, in big or small ways. We all play around in our heads with where we might like to go on our next vacation. What if you made plans not just to see an area of natural beauty, but to seek out a trip where your money not only gives you access to neat experiences or beautiful places, but also actually helps to benefit the conservation of that place? In this blog post I'd like to share some stories of my most recent adventure to Baja Mexico, filled with bucket list activities that turned out to be more magical than I ever hoped they'd be. Read more here in my latest Blog post



Free Turn-In Event Sat. April 28th:


Recycle your e-waste (misc. electronics like all kinds of computer equipment including cords and wires, TVs

,

telephones, stereos, appliances except those with Freon. etc)

, sensitive documents for shredding, and prescription medications

(also including over the counter medications, vitamins, pet medications, medicated ointments, and liquid medication in leak proof containers)

for free!




Many of these items are critical to recycle properly in order to keep toxins out of our soil and water supply.




Sat April 28th 10-2pm 4735 E. Burnside St



Green Quiz:

Can you name one of the most toxic foods you can eat that's also an environmental nightmare? It's something many people think is a health food. Find out here

Sniff out Some Nifty Green Products Below!

New Plush Toys From Cycle Dog!
(Because we love products that are locally made and recycled!)
These funny plush toys are tougher than they look. Handcrafted right here in Portland, these are made from tough 2-Ply Bonded Laminate and double stitched turned seams. They're also stuffed with EcoFill Recycled Filling, made from Post-Consumer Recycled Plastic Bottles!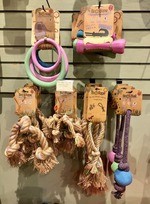 Beco Toys

!




(Because we love products made with sustainable, biodegradable materials!)



Beco is a company that states that they are

"focused on creating fun products that are good for the environment without compromising on quality, price or aesthetics. We believe that 'eco' living doesn't mean going without. We're working hard to deliver a range of innovative affordable and eco-friendly pet products that make sustainable purchasing easy for pet owners".


Their rubber toys are all made from environmentally friendly materials which contains ethically sourced rice husk, a bi-product from rice farming. This means as well as being biodegradable, their rubber is also BPA and Phthalate free.
The Beco plush toys are all stuffed entirely with recycled plastic bottles.
Their rope toys are made from natural hemp, which makes them eco-friendly (no pesticides are used in the growing process and these ropes could decompose nicely in a compost pile later) and are also tough and durable enough to make a great tug toy.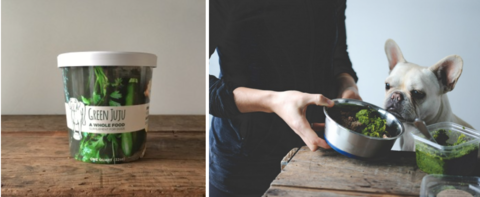 Green Juju!




(Because we love products made locally with Organic Ingredients!)



We try to carry the best dry foods on the market, but it's important to realize that even the best brands are still a heavily processed foods. Just like for people, a diet for pets made entirely of processed foods with no fresh whole food nutrients is a recipe for chronic illness. With the rapid rise in chronic illnesses in our pets like cancer, we should (in our opinion) be doing everything we can to boost the diets of our precious, short-lived pets to try to take advantage of whole food nutrients. For those that don't want to switch to an entirely whole food diet for their pets can still make significant improvements to their diet by adding whole food toppers!

One of our very favorites is Green Juju!

Carefully crafted in Seattle, it contains certified organic, locally grown ingredients that provide essential nutrients to support canine immune systems, target specific ailments and contribute to optimal health. Each ingredient in Green Juju™ recipes is purposefully chosen, from the anti-inflammatory agents that turmeric and ginger provide, to the anti-oxidant, enzyme-rich, nutrient-dense leafy greens, and digestive and joint supporting bison bone broth and coconut oil. The vegetables are blended to a fine consistency, breaking plant walls for optimal absorption, and then frozen to keep nutrients and enzymes intact. Pick up a container on Saturday while it's on sale and mix a dollop into your dog's next meal (can start smaller and build up to introduce it if your dog is sensitive to changes, but most are loving the flavor!)
Goli Cat Toys




(Because we like to carry products that benefit rather than exploit those that make them!)



Though we miss Furever Pets since they closed, we are happy that its owner Symon is now able to devote himself to his other business, Goli Pet Supplies. His products employ and empower women! Symon finds single women who need work to support their families, and provides them with the skills and support they need to make a living creating the products he designs. They make adorable cat toys and also a line of cat collars and dog leashes and collars made from fibers recovered from the human clothing industry. We have included Goli cat toys into our Green Dog Raffle Gift Bags - buy a raffle ticket this week for your chance to win!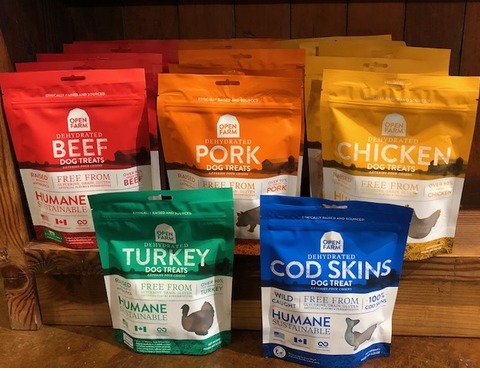 Open Farm Treats




(Because we love products that are made with humanely sourced meats!)



Open Farm was the first Certified Humane pet food in the industry, and everything they make uses humanely raised meats and sustainably fished seafood. Fun fact: their Catch of The Day Whitefish pet food changes the species of whitefish so frequently in response to seasons and sustainability issues that they print the name of the fish used (Halibut, California Cod, etc) above their expiration date code.

They also encourage you to bring back your empty pet food bags and treat bags to us. We send them to a company called TerraCycle that makes them into products like toothbrushes!


These grain free, low carb, glycerine free treats are gently dehydrated to preserve their nutrients and flavors, and of course they're made with third party certified humanely raised meats. This ensures that animals have space to roam (no crates, cages or tethers), are certified antibiotic and hormone free, and are vegetarian fed. They come in 5 flavors: beef, pork, chicken, turkey, and cod.

Open Farm has generously donated treats as raffle prizes!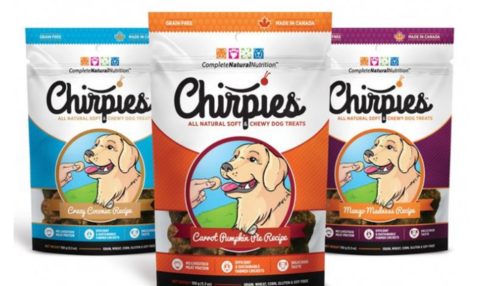 Chirpies Treats Are Back!




(Because we love carrying products that help to conserve resources!)



Looking for a treat that your dog loving friends might not have seen before? These sure will spark some conversation, and they're actually awesome treats that we're excited to have. They're made with cricket protein!
These innovative grain-free treats are made with sustainable cricket flour which is super healthy for the environment and super healthy for dogs. This treat that uses cricket protein (yes, the insect) was the first of its kind in the pet world. We used to carry them but then ran into issues getting them, and now we are able to bring these popular treats back!



Why Crickets?!?


• Crickets are higher in protein, iron, calcium and amino acids than other livestock proteins
• Crickets produce less greenhouse gas and ammonia than protein sources such as cows and pigs
• Crickets require much less feed, water and space than normal livestock
• Crickets are one of the most sustainable and environmentally friendly food sources; people across the world eat them as part of a healthy, daily diet. (Read more in the article we wrote on cricket protein!)

Not only that, but dogs are crazy for these things! While the other cricket treats we carry are crunchy cookies, these are soft treats. They smell nice to people, and the flavor is knocking the socks off of lots of dogs that try them. In fact, when we first carried them, word was spreading in the training and show worlds about these treats, and we had customers coming in to buy handfuls of them because they're using them as bait for competitions and training!
They come in three great flavors - Crazy Coconut, Carrot Pumpkin Pie, and Mango Madness.


Thank You SO Much For Choosing and Supporting Our Locally Owned
Sustainable Business!

Located in Beaumont Village
4327 NE Fremont Street, Portland, Oregon 97213
© 2007 - 2015 Green Dog Pet Supply. Green Dog Pet Supply® is a Registered Trademark.