Subject: This Month in Mongolian Studies - July 2020
| | |
| --- | --- |
| Having trouble viewing this email? Click here to open in your browser. | |
This Month in Mongolian Studies

is a monthly listing of selected academic activities, resources and other material related to Mongolia. This list is based on information the ACMS has received and is presented as a service to its members. If you would like to submit information to be included in next month's issue please contact the ACMS at

info@mongoliacenter.org

This publication is supported in part by memberships. Please consider becoming a member of the ACMS, or renewing your membership by visiting our website at

mongoliacenter.org/join

. Thank you!
ACMS TEXTILE CONSERVATION DIRECTED FELLOWSHIPS (FALL 2020 AND 2021)
The American Center for Mongolian Studies (ACMS), with funding support from the US State Department Educational and Cultural Affairs Bureau and the Council of American Overseas Research Centers, seeks applicants for two short-term directed fellowships in Textile Conservation to take place in Mongolia between August 2020 and September 2021. The fellows will work with ACMS on a joint US-Mongolia textile conservation project sponsored by the U.S. Embassy in Ulaanbaatar's U.S. Ambassadors Fund for Cultural Preservation (AFCP) grant titled, "Conserving and Preserving Mongolia's Endangered Textile Traditions and Collections."
The fellows will have the opportunity for in-depth examination and treatment of fabrics and textiles, costumes, and accessories representing Eurasian steppe cultures roughly spanning 2,000 years. Applicants must be U.S. citizens with a graduate degree in conservation from a recognized program, or have equivalent work experience, at least one year of practical experience beyond graduation, and experience with a variety of analytical instruments and digital technology.
Application materials (CV, Personal Statement, 2 Letters of Recommendation) must be received on a rolling deadline.
**********************************************
Learn Mongolian online with a professional tutor!

The American Center for Mongolian Studies (ACMS) has been teaching Mongolian to researchers and students of all levels since 2002 and our instructor Dr. Tsermaa has been teaching Mongolian language for 24 years!

Wherever you are located, our online lessons are always within reach. Our veteran instructor will help you improve with a program tailored for your level of Mongolian.

To book your Skype lesson, email us at info@mongoliacenter.org or call at +976 99170042.
ACMS Sponsored Programs and Events



ZEV DIGITAL MUSEUM FIRST USER OF 3D SCANNERS AT MRL

Long-time readers of the newsletter may know that in 2019 ACMS was endowed with an array of field and digital humanities equipment by Dr. William Taylor, whose enduring goodwill and support to the ACMS throughout the years is admired and appreciated as much as his expansive scholarly contribution to the field of paleontology and archaeology. We are pleased to report that the Morrison Research Laboratory had its latest addition, an UltraHD 3D Scanner, used for preserving cultural heritage.


The artists and curators of Zev Digital Museum and Mifox Animation Studio became the very first user of NextEngine 3D Scanner to scan Xiongnu-era artifacts for their latest Augmented/Virtual Reality project. Miss Sanaa (pictured above) scanned 8 replicas successfully after a brief tutorial and calibration with our staff. ACMS thanks Dr. Taylor for his kind donations to the ACMS, and we look forward to Zev Digital Museum's latest VR/AR cultural heritage project. (You can follow them here)

Members and patrons interested in renting our equipment can browse the Morrison Research Laboratory's equipment list, and fill out a rent request form at: https://www.mongoliacenter.org/resources/rental-equipment/

**********************************************

ACMS DONATES BOOKS TO KHENTII CORRECTIONAL CENTER LIBRARY


ACMS executed the program "Books for Mongolia" from 2003-2017, putting one million English language books, ranging from children's picture books to university textbooks, into the hands of students and leaders in Mongolia. Despite the program's conclusion, we coordinated U.S. book donations to schools, the latest of which was in September, 2018. This time we received a request from the social worker of Khentii Province's Correctional Center 419 and decided to continue the tradition.

The result was over 120 books, some decommissioned from ACMS library but most donated by ACMS staff and our library's regular patron, Professor Battur J of the National University of Mongolia. We would like to thank Prof. Battur again for his generous donation, and we hope the books help this underserved community.

**********************************************

VIRTUAL SPEAKER SERIES:

Dr. Marissa Smith: "We Can't Insure Prize-Winning Race Horses Anymore:" On Attempts to Algorithmize Pastoral Production in Mongolia

June 18, 2020 (PT) 6:30 PM | June 19, 2020 (GMT+8) 9:30 AM


In this presentation, Dr. Smith spoke about the index-based livestock insurance program that Mongolia implemented for the first time in the world, her research into the program, and how its legacy is today. You can watch the recorded session video here.

TSADRA FOUNDATION DISSERTATION FELLOWSHIP FOR TIBETAN BUDDHIST FELLOWSHIP
This fellowship program provides one-year grants to graduate students at North American universities in order to support them in their pursuit of dissertation research focused specifically on Tibetan Buddhism. Dissertation work must include significant textual work on Tibetan Buddhist primary sources and include translation into English. Two grants of $35,000 are available each year.
A student is eligible to receive a fellowship if he or she:
Is a graduate student in good standing at an institution of higher education in North America who, when the fellowship begins, is admitted to candidacy in a doctoral program at that institution–applicants need not be currently ABD, but must have achieved candidacy by the time the grant period begins;
Possesses adequate skills in the language(s) necessary to carry out the dissertation project (i.e., Tibetan and possibly also Sanskrit, Chinese, Pali, or Mongolian.)
Application deadline for summer/fall 2021 cycle: September 1st, 2020 – Notices will be sent by February 1st, 2021.
Email your complete application to buddhiststudiesgrant@tsadra.org
This email will be viewable by the entire academic committee that will choose the grant recipients. If you have a simple question, please direct it to research@tsadra.org
**********************************************
CALL FOR BOOK PROPOSALS: MONOGRAPHS OR EDITED VOLUMES FOR OUR NEW SERIES IN EAST ASIAN STUDIES
Vernon Press invites book proposals for edited volumes, co-authored books and single-author monographs on East Asian Studies, with an interdisciplinary outlook.
Generally described as the subregion in Asia comprised by North Korea, South Korea, Japan, China, Macao, Mongolia, Hong Kong, and China, East Asia has always fascinated the Western world. The history, culture, art, and literature—to name but a few—of this area have been consistently studied in academic circles for many generations, frequently in departments called East Asian Languages and Cultures (EALC). However, and in recent decades, new outlooks have emerged to study these aspects and many others related to East Asia, especially in the wake of Edward Said's essential Orientalism (1978). The interest in this region and its study can also be observed by the increasing number of East Asian Studies programmes in universities all around the world.
This series will be of interest to scholars and students as well as independent researchers with an interest in East Asian studies from an interdisciplinary perspective.
Possible contributions include (but are not limited to):
Literary interpretations of East Asian countries

Cultural studies on the region

East Asian American literary studies

East Asian representation in media

Rediscovering and rewriting East Asian history

Forgotten East Asian women

Sociological studies on the region

East Asian archaeology

How to submit your proposal
Please submit one-page monograph proposals to submissions@vernonpress.com or victoria.echegaray@vernonpress.com, including a summary, a short biographical note and (if applicable) a list of similar titles. Proposals that treat other topics of relevance to the series in Irish Studies are also welcome. More information on what we look for in a proposal is available on our website.
**********************************************
CALL FOR CONTRIBUTORS: THE HANDBOOK OF ASIAN INTELLIGENCE CULTURES

by Ryan Shaffer (via H-Net)
I am seeking contributors to write chapters for The Handbook of Asian Intelligence Cultures (under contract with Rowman and Littlefield). The handbook will provide concise chapters about each Asian country's African [sic] intelligence services by examining national intelligence cultures. In particular, it focuses on how a country's internal and external environmental factors shape the intelligence culture and how intelligence effects [sic] the government, society and culture. This book continues with themes examined in The Handbook of European Intelligence Cultures (Rowman and Littlefield, 2016; https://rowman.com/ISBN/9781786606570/Handbook-of-European-Intelligence-Cultures ), pp. xxxv-xxxviii.
Content
Each chapter will examine a specific country's intelligence service by exploring the domestic intelligence community as well as the country's history, international relations, ethnic and religious groups, legal framework, and key intelligence history. Additionally, each chapter will explain how the intelligence community is structured and the role intelligence plays in the government.
The content included will largely depend on the issues in the country.
Research Expectations and Length
Original research is not required. A summary of published material is adequate that addresses the above content is sufficient.
Each chapter will be between 4,000 and 5,000 words (16-20 double-spaced pages).
Chapter Format:
An example chapter format (this is not a strict template as contributors are encouraged to format and title the chapters according to country-specific issues):
1. Introduce the country and its intelligence services; about 500 words
2. Brief history of intelligence use and history in the country (about three specific and impactful moments on the intelligence services); about 1,000 words
3. Intelligence community and country-specific issues that shape intelligence culture (ethnic issues/government structure/coordination with other government branches/external and internal relations); about 1,500 to 2,000 words
4. Oversight, reform, collection/operational issues and/or international partners (which informs the country's intelligence culture); about 1,000 words
5. Conclusion (summarizing the factors that shape intelligence in the country); about 500 words
Countries included:
Each chapter will be about a specific Asian country.
The 29 countries included are: Afghanistan, Bangladesh, Bhutan, Cambodia, China, India, Indonesia, Japan, Kazakhstan, Kyrgyzstan, Laos, Malaysia, Maldives, Mongolia, Myanmar, Nepal, North Korea, Pakistan, Philippines, Singapore, South Korea, Sri Lanka, Taiwan, Tajikistan, Thailand, Timor-Leste, Turkmenistan, Uzbekistan and Vietnam.
Deadlines:
Potential contributors should send a CV and 250-500 word abstract about the country they wish to write on that addresses the above themes with a proposed outline. In addition to the abstract, include a brief bibliography of at least five potential sources. Please send these three items to Ryan Shaffer at AsianIntelHandbook@gmail.com before October 1, 2020.
PhDs and graduate students are encouraged to send proposals.
Contributors will be given a contract from Rowman and Littlefield upon acceptance of the abstract.
The chapters will be due April 1, 2021.
Digital collections related to Mongolia we discovered in June, 2020:
"The Oral History of Twentieth Century Mongolia" (MIASU, Cambridge University)

a database of the recollections of the lives and times of Mongolians, from herders to prominent politicians as they shaped and were shaped by the events of the twentieth century, which saw Mongolia move from being a part of the Qing Empire to an aristocratic theocracy to Soviet-style socialism and democracy. This is a project conducted by Mongolia and Inner Asia Studies Unit at the University of Cambridge.
Selected scholarly papers published in June, 2020:
MONGOLIA'S NEW PARLIAMENT: FAMILIAR PARTY, FRESHER FACES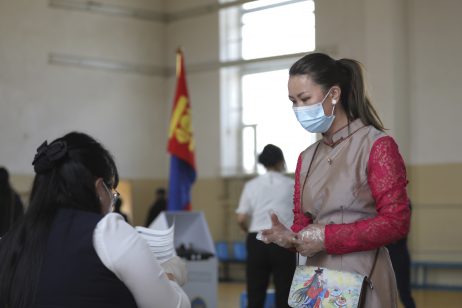 Image courtesy of The Diplomat
The Mongolian Parliamentary elections have come and passed on June 24. The governing Mongolian People's Party (MPP) won another resounding victory with 62 seats (slightly down from 65 won in 2016) on the strength of its effective management of the country's affairs over the past four years, but also benefiting from an electoral system that allowed it to rely on its organizational strength in campaigning and mobilizing voters.
While turnout increased slightly, the many campaigns to mobilize younger voters in particular did not lead to a reconfiguration of the party landscape.

*********************************************
AUTHORITIES CANCEL MONGOLIAN-MEDIUM CLASSES
IN INNER MONGOLIA'S TONGLIAO CITY
Image courtesy of rfa.org
Chinese authorities in the northern region of Inner Mongolia are winding up native-language tuition in and around Tongliao city, beginning in September, as well as giving verbal notification to schools in their jurisdiction that Mongolian-medium education will end with the start of the new academic year.
A teacher at the Tongliao No. 1 High School said the move is part of an overall plan to abolish mother-tongue education for China's ethnic Mongolian population.
*********************************************
MONGOLIA'S FIRST DIRECT FLIGHT TO U.S. BRINGS $1 MIL WORTH OF PERSONAL PROTECTIVE EQUIPMENT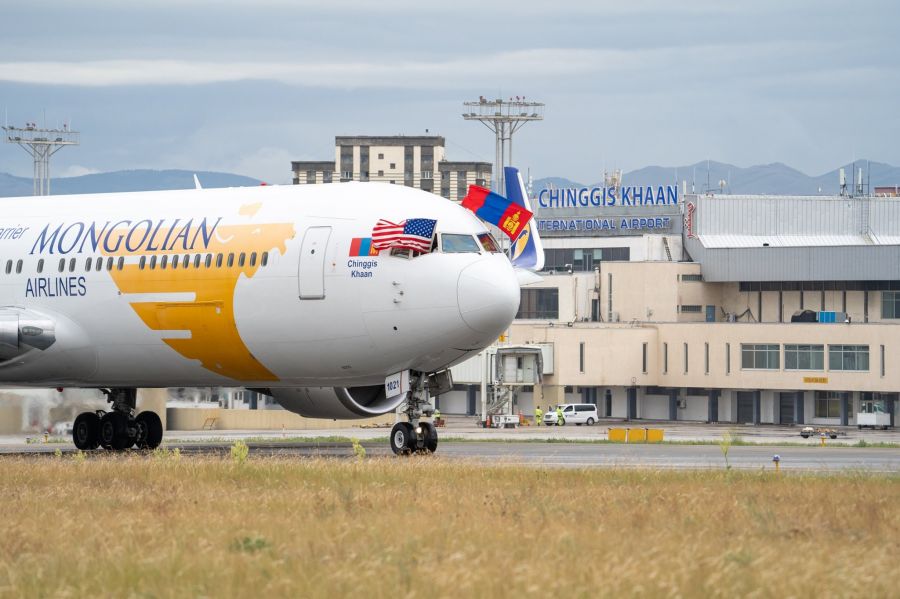 A special diplomatic flight operated by MIAT Mongolian Airlines to the USA delivered a donation of 60,000 hospital gowns, worth USD 1 million, to help the US Federal Emergency Management Agency fight coronavirus.
The flight crew airlifted over 200 Mongolian citizens from the U.S. in its return flight, as part of the State Emergency Commission's COVID-19 repatriation plan for June.
*********************************************
ELECTION PREDICTIONS AND ANALYSES BY MONGOLIA FOCUS BLOG
As reported in the previous month, interested readers are encouraged to peruse the Mongolia Focus blog's series of guest blog posts and Zoom discussions on the Parliamentary Election of 2020. There are over 20 blog posts and half a dozen Zoom sessions with guests and analysts from Mongolia that makes a compelling coverage of election for posterity.
*********************************************
Interesting Links -- A variety of articles and content related to Mongolia were posted during June 2020. Here are some of the more notable ones:
Subjective Lives and Economic Transformations in Mongolia, by Rebecca M. Empson; 178 pages; £20 (UCL Press, 2020)
Almost 10 years ago the mineral-rich country of Mongolia experienced very rapid economic growth, fuelled by China's need for coal and copper. New subjects, buildings, and businesses flourished, and future dreams were imagined and hoped for. This period of growth is, however, now over. Mongolia is instead facing high levels of public and private debt, conflicts over land and sovereignty, and a changed political climate that threatens its fragile democratic institutions.
Subjective Lives and Economic Transformations in Mongolia details this complex story through the intimate lives of five women. Building on long-term friendships, which span over 20 years, Rebecca documents their personal journeys in an ever-shifting landscape. She reveals how these women use experiences of living a 'life in the gap' to survive the hard reality between desired outcomes and their actual daily lives. In doing so, she offers a completely different picture from that presented by economists and statisticians of what it is like to live in this fluctuating extractive economy.
Rebecca M. Empson is Professor of Anthropology at UCL. Alongside teaching in the Department of Anthropology, her research has focused on personhood, ownership, memory and material culture (Harnessing Fortune, 2011), and forms of temporary possession in the global economy (Cultural Anthropology, 2019).
*********************************************
Politics and Literature in Mongolia (1921-1948), by Simon Wickhamsmith; 360 pages; €115 (Amsterdam University Press, 2020)
This study investigates the relationship between literature and politics during Mongolia's early revolutionary period. Between the 1921 socialist revolution and the first Writers' Congress, held in April 1948, the literary community constituted a key resource in the formation and implementation of policy. At the same time, debates within the party, discontent among the population, and questions of religion and tradition led to personal and ideological conflict among the intelligentsia and, in many cases, to trials and executions. Using primary texts, many of them translated into English for the first time, Simon Wickhamsmith shows the role played by the literary arts - poetry, fiction and drama - in the complex development of the "new society," helping to bring Mongolia's nomadic herding population into the utopia of equality, industrial progress and social well-being promised by the Mongolian People's Revolutionary Party.
Simon Wickhamsmith is a scholar and translator of modern Mongolian literature. He teaches in the Writing Program and the Department of Asian Languages and Cultures at Rutgers University.
*********************************************
Beyond the Steppe Frontier: A History of the Sino-Russian Border, by Sören Urbansky; 392 pages; $39.95 (Princeton University Press, 2020)
The Sino-Russian border, once the world's longest land border, has received scant attention in histories about the margins of empires. Beyond the Steppe Frontier rectifies this by exploring the demarcation's remarkable transformation—from a vaguely marked frontier in the seventeenth century to its twentieth-century incarnation as a tightly patrolled barrier girded by watchtowers, barbed wire, and border guards. Through the perspectives of locals, including railroad employees, herdsmen, and smugglers from both sides, Sören Urbansky explores the daily life of communities and their entanglements with transnational and global flows of people, commodities, and ideas. Urbansky challenges top-down interpretations by stressing the significance of the local population in supporting, and undermining, border making.
Sören Urbansky is a research fellow at the German Historical Institute in Washington, DC. He is the author of Kolonialer Wettstreit: Russland, China, Japan und die Ostchinesische Eisenbahn.
*********************************************
Landscape Dynamics of Drylands across Greater Central Asia: People, Societies and Ecosystems, Gutman, G., Chen, J., Henebry, G.M., Kappas, M. (Eds.); 230 pages; €117.69 (Springer International Publishing, 2020)
This volume is a compilation of studies on interactions of changes in land cover, land use and climate with people, societies and ecosystems in drylands of Greater Central Asia. It explores the effects of collapse of socialist governance and management systems on land use in various parts of Central Asia, including former Soviet Union republics, Mongolia and northern drylands of China. Often, regional land-atmosphere feedbacks may have large global importance. Remote sensing is a primary tool in studying vast dryland territories where in situ observations are sporadic. State-of-the-art methods of satellite remote sensing combined with GIS and models are used to tackle science questions and provide an outlook of current changes at land surface and potential scenarios for the future.
Dr. Garik Gutman is a Program Manager for the NASA Land-Cover/Land-Use Change (LCLUC) Program. He received his Ph.D. in Climate Modeling in 1984, was a National Research Council of the National Academy of Sciences Fellow at National Oceanic and Atmospheric Administration (NOAA) and then worked there 14 years as a research scientist. His research focused on remote sensing of the Earth's land surface and atmosphere from space. In 1996, for developing an original technique using satellite data for reliable analyses of the Earth's vegetation cover and its long-term variations, Dr. Gutman received the U.S. Department of Commerce Bronze Medal Award.
*********************************************
The State, Popular Mobilisation and Gold Mining in Mongolia, by Dulam Bumochir; 180 pages; FREE (UCL Press, 2020)
Mongolia's mining sector, with its environmental and social costs, has been the subject of prolonged and heated debate. This debate has often cast the country as either a victim of the 'resource curse' or guilty of 'resource nationalism'.
In this book, Dulam Bumochir aims to avoid the pitfalls of this debate by adopting an alternative theoretical approach. He focuses on the indigenous representations of nature, environment, economy, state and sovereignty that have triggered nationalist and statist responses to the mining boom. In doing so, he explores the ways in which these responses have shaped the apparently 'neoliberal' policies of twenty-first century Mongolia, and the economy that has emerged from them, in the face of competing mining companies, protest movements, international donor organisations, economic downturn, and local and central government policies.
Applying rich ethnography to a nuanced and complex picture, Bumochir's analysis is essential reading for students and researchers studying the environmental and mining, especially in Central and North East Asia and the post-Soviet regions, and also for readers interested in the relationship between neoliberalism, nationalism, environmentalism and the state.
Dulam Bumochir completed his PhD in Philology at the Mongolian Academy of Sciences in 2000, and in Social Anthropology at Cambridge University in 2006. He has been conducting research on a wide range of topics, exploring folk and shamanic practices, rituals and chants, and tracing the historical construction of the Mongolian concepts of shamanism and shamanic religion. In work on Qinghai, in north-western China, he looked at ethnic politics and the power of respect in the social production of identity, politics and the state.
*********************************************
Shaping Urban Futures in Mongolia: Ulaanbaatar, Dynamic Ownership and Economic Flux, by Rebekah Plueckhahn; 190 pages; FREE (UCL Press, 2020)
What can the generative processes of dynamic ownership reveal about how the urban is experienced, understood and made in Ulaanbaatar, Mongolia? Shaping Urban Futures in Mongolia provides an ethnography of actions, strategies and techniques that form part of how residents precede and underwrite the owning of real estate property – including apartments and land – in a rapidly changing city. In doing so, it charts the types of visions of the future and perceptions of the urban form that are emerging within Ulaanbaatar following a period of investment, urban growth and subsequent economic fluctuation in Mongolia's extractive economy since the late 2000s.
Following the way that people discuss the ethics of urban change, emerging urban political subjectivities and the seeking of 'quality', Plueckhahn explores how conceptualisations of growth, multiplication, and the portioning of wholes influence residents' interactions with Ulaanbaatar's urban landscape. Shaping Urban Futures in Mongolia combines a study of changing postsocialist forms of ownership with a study of the lived experience of recent investment-fuelled urban growth within the Asia region. Examining ownership in Mongolia's capital reveals how residents attempt to understand and make visible the hidden intricacies of this changing landscape.
Rebekah Plueckhahn is Research Associate in the Anthropology Department at UCL. Trained in anthropology, as well as ethnomusicology and history, Rebekah has conducted research in Mongolia since 2008, researching subjectivity, ethics, economy, capitalism, urbanism, performance, ownership, music and postsocialist cultural practice. Her latest research interests include the making of urban forms in Mongolia, the ways urbanism intersects with financialisation and the ways that understanding the urban in Mongolia can contribute to urban theory more generally. Rebekah obtained her PhD from the Australian National University. Her past awards include the 2014 Article Prize from the Australian Anthropological Society (AAS).
*********************************************
Young Mongols: Forging Democracy in the Wild, Wild East, by Aubre Menarndt; Pre-order link (Penguin, 2020)
In 1990, Mongolia's youth-led revolution threw off the Soviet yoke, ushering in multi­party democracy. Thirty years later, the country's youth are still leading Mongolia's democratic development.
This powerful, inclusive book introduces readers to modern Mongolia through the stories of young leaders fighting to make their country a better, more democratic place. Its intersectional perspective explores the complexity of Mongolia today: the urban planning and pollution issues that plague the capital city of Ulaanbaatar; the struggles of women, the LGBTQIA population, people with disabilities, and ethnic minorities to claim their equitable places in society; the challenge of providing education in the world's least densely-populated country to prepare the workforce of tomorrow; and how to fairly divide the spoils of the country's vast mineral resource wealth.
This rising generation of Mongolians is already wielding real power and shaping their country's future. Their work will determine whether the country is able to overcome its development and democratization challenges, its relationship to the world, and who the winners (and losers) will be in Mongolian society.
Aubrey Menarndt lived in Mongolia as a Luce Scholar from 2015 to 2016. She's worked on democracy and governance issues in Asia, sub-Saharan Africa, Europe, Central America, and the United States.
Aubrey is an expert on political transitions, elections, and democracy. She's been published in the New York Times, Washington Post, Al Jazeera, Politico, the South China Morning Post, and more.
Aubrey earned an MPhil in Politics from the University of Oxford and a Bachelor's degree from Smith College. She is a Critical Language Scholar (Russian) and a Truman National Security Project Fellow. Young Mongols is her first book.
*********************************************
Great State: China and the World, by Timothy Brook; 512 pages, $23.89 (Profile Books, 2019)
China is one of the oldest states in the world. It achieved its approximate current borders with the Ascendancy of the Yuan dynasty in the 13th century, and despite the passing of one Imperial dynasty to the next, it has maintained them for the eight centuries since. Even the European colonial powers at the height of their power could not move past coastal enclaves. Thus, China remained China through the Ming, the Qing, the Republic, the Occupation, and Communism.
But, despite the desires of some of the most powerful people in the Great State through the ages, China has never been alone in the world. It has had to contend with invaders from the steppe and the challenges posed by foreign traders and imperialists. Indeed, its rulers for the majority of the last eight centuries have not been Chinese.
Timothy Brook examines China's relationship with the world from the Yuan through to the present by following the stories of ordinary and extraordinary people navigating the spaces where China met and meets the world. Bureaucrats, horse traders, spiritual leaders, explorers, pirates, emperors, invaders, migrant workers, traitors, and visionaries: this is a history of China as no one has told it before.
Timothy Brook was Shaw Professor of Chinese at Oxford when he first saw the Selden Map, and is now professor of history at the University of British Columbia. The author of eight books on Chinese history, including Vermeer's Hat and Mr Selden's Map of China, which are both published by Profile.
********************************************