Subject: Please Help Us Help Our Neighbors!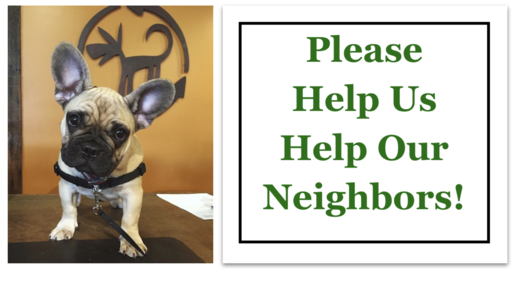 When you own your own business, You accept the fact that it's always hard, and there are often setbacks. In our 14 years, we've had plenty of challenges we never anticipated and a few break-ins that broke our doors and our hearts, but luckily only a few real moments when we really wanted to jump ship. However, we can't imagine what Prince Coffee and Beaumont Barber are going through right now. On August 30th there was a fire in the Beaumont Barber space (just down the street), and both stores suffered great losses. All merchandise was lost, and every surface coated with soot. Walls even need to be replaced due to water damage and the fact that they become impregnated with carcinogenic chemicals. All of this results in at least a full month of closure, with no revenue coming in for staff or the business. (Not to mention the hundreds of details to deal with related to insurance, rebuilding, professionally cleaning every inch of the space, etc!)

We really feel moved to help, so we came up with a plan.

On Saturday Sept 22nd, we will donate a percentage of our sales to Prince Coffee and Beaumont Barber Co.
These are both small businesses run by super nice people who are dedicated to what they do, and are doing it so very well! Please consider coming in and supporting this effort.

We've also created coupons for both businesses to give away to each of you who purchase items on this day, so that you can score a discount at both businesses after they reopen. Please help us make this a big donation! And Tell Your Friends!
#CommunityNotCompetition #SupportYourLocalBusinesses
Green Dog Turns 14!
Please Mark your Calendars for

Saturday Oct 13th.

We'll be having a party celebrating 14 years in business! More details to follow in the next newsletter.
Ruff Wear Running Belt


The Ruffwear Trail Runner™ Belt offers a hands-free option for running on leash while allowing runners to carry all the essentials for a day on the trail. Built with a bounce-free, load-dispersing design, the Trail Runner Belt feels lightweight and comfortable from the first mile to the last. The intuitive leash-attachment is compatible with any leash (we recommend pairing it with the shock-absorbing Ridgeline™ Leash), and allows dogs to roam side to side as they explore the trail. A zippered, water-resistant pocket and a stretch mesh pocket on each side of the belt have plenty of room for pick-up bags, treats and snacks, keys, and other essentials, while a structured holster on the back keeps a water bottle securely in place. BPA-free Ruffwear water bottle is included.
Through the end of September, mention the newsletter at the register and take 15% off of a Ruff Wear Running Belt!
Peanut Butter can be a fun treat for dogs (smear some on the inside of a Kong or West Paw Toppl toy), but many have ingredients that aren't great for dogs or are just unnecessary. Skippy peanut butter has a super long list of ingredients, including corn syrup solids, sugar, soy protein and hydrogenated oils. Other more natural brands can contain palm oil which is very environmentally unfriendly, and worst of all, some peanut butters can contain Xylitol, a sweetener which can be deadly to dogs. We've brought in a new peanut butter that just contains peanuts and flax seed! Like all natural peanut butters, Pawnut Butter does separate, but it is easy to stir! 



Pro Tip:

store it upside down and oil will be at the bottom).


Training Pro Tip:

silicone travel tubes designed to hold shampoo or salad dressing are great to fill with peanut butter and use as a training treat - just give little licks as rewards. This peanut butter is a great consistency for this.


Another funny tip from a customer:

When you need to let a flea shampoo sit before rinsing it off, smear a line of peanut butter along the inside edge of the tub to keep them busy while they wait. Like all treats, use peanut butter in moderation - a little goes a long way!

Through the end of September, mention the newsletter at the register and take 15% off of a jar of Pawnut Butter!
Hilarious! Hipster Dog Tug
We couldn't help but order these great made in the USA flyer/tug dog toys made by Buckle Down in the USA with guitar strap material. (It feels a lot like seatbelt type material). I call them hipster toys as they're printed with the pattern of our old iconic PDX airport carpet! Like any fabric (including kevlar) this sort of toy can be chewed by dogs if they settle down and work on it (especially because it has squeakers), but this sort of material has great tensile strength. This makes it an awesome tug toy, a good flyer, and a great present for Portland nerds in your life.

Through the end of September, mention the newsletter at the register and take 15% off of his new toy!
Open Farm Wet Food
Free with Purchase!

We love "canned" food that comes in Tetrapak boxes instead of cans. They're non toxic, free of any hormone disrupting chemicals like BPA or BPF. They're recyclable in our curbside bin. They're lighter and you can fit more into a smaller space, meaning they're cheaper to ship and use fewer fossil fuels in the process. They're also so tidy to use, as they open easily and fold closed again if you want to return part of it to the fridge. Of course Open Farm would be one of the first companies to use them, as sustainability is part of their ethic, in addition to using only certified humanely sourced meats.

Right now we're running 2 specials through the end of the month: Buy Two Boxes of Open Farm cat or dog wet food Get One Free, or Buy a bag of Open Farm cat or dog kibble, Get a Free Box!

It's a great way to try!
Fun! You Can Help Fluff and Tuff Give Toys to Dogs In Need!
Fluff and Tuff is a great brand. Their adorable toys are so well loved by dogs, and often stand up amazingly well to dogs that are hard on their toys. Now don't get me wrong - dogs can destroy just about any material if they decide to, and they're not a "guaranteed" toy. But boy, the number of people that give amazing testimonials about their dogs adoring these toys and treating them like babies, or that their dog usually shreds other toys but not these, outweighs anything else we've ever carried. For us (as a Green store), durability is an important attribute. The longer a toy lasts

the fewer of them wind up in landfill.

Now for the fun part: Through the end of September, if you post a photo of your dog with a Fluff and Tuff toy, and use the hashtag #Igiveafluff, they're donate a toy to a dog in need. Last year they donated over 850 toys!
Newsletter Special - now through the end of the month, take 15% off of any Fluff and Tuff Toy!
for your continued support!
Located in Beaumont Village
4327 NE Fremont Street, Portland, Oregon 97213
© 2007 - 2015 Green Dog Pet Supply. Green Dog Pet Supply® is a Registered Trademark.