Subject: Metro ECSU - September 2019 edNews
September 2019, Vol. 27, No.

1
edNews

is a quarterly publication of the Metropolitan Educational Cooperative Service Unit
Metro ECSU -

2 Pine Tree Drive, Suite 101 - Arden Hills, MN 55112



edNews

Editor:
Colleen Feller
Educators: feed your brain with Metro ECSU's excellent fall workshop lineup

English Learners (EL) Best Practices Training for Paraprofessionals
presented by Miriam Yang
8:30am – 3:00pm at Metro ECSU

As your responsibilities as a paraprofessional increase, do you feel prepared to work with the students you serve? Demographics of students across the state are changing and more often, the students we work with have a multilingual background. Students who have more than one language are truly an asset to our communities but they need extra language support to be truly successful in the classroom. Join us to enhance your understanding of English language learners and leave with strategies you can use to increase their academic success.
Miriam Yang is a professional educator with 15 years of experience teaching English Learners (ELs). She has worked with ELs at all levels, grades K-12, as well as one-on-one tutoring with adult ELs. Miriam is a dedicated advocate for Best Practices in EL instruction; sheltered instruction, co-teaching, racial equity and culturally responsive instruction. She has led professional development for mainstream and EL teachers alike in various topics as a consultant and a teacher leader. Miriam has a Master's degree in English as a Second Language and a Bachelor's degree in Linguistics.
Co-Teaching Basics
presented by Martina Wagner
8:30am – 3:30pm at Metro ECSU
This session is ideal for those co-teachers who are new to co-teaching, beginning a new co-teaching partnership, or have not yet had formal professional development on co-teaching.Bring your co-teaching partner! Register

Martina Wagner, Ed.D.

has served English Language learners for over twenty years in grades pre-K through adult education. Her expertise includes best practice and programming for ELs, sheltered instruction, co-teaching, special education identification of ELs, WIDA standards, and English Language Learning assessments and data. Martina's background in
co-teaching spans from classroom to district implementation, professional developer, instructional coach, as well as strategic district action planning and implementation. Martina has done extensive research throughout the United States on co-teaching and currently serves public, private, and charter schools as a professional development consultant.
presented by Angie Ellsworth
8:30 am – 3:00 pm at Metro ECSU

Can't teach because of misbehavior? Already predicting how the year might end? Join us for motivation and inspiration with practical, easy to use verbal and non-verbal strategies that will build your confidence and capacity in handling students who misbehave. Register

Angie Ellsworth,

MS, LSW, LSC,

began her career working with people with disabilities and has spent the past 18 years working with children ages 5-16 with academic, behavioral, and mental health challenges. She maintains her licenses while working as a behavior specialist at a Rochester elementary school and provides staff development district wide, as well as training and coaching around the state. Angie is trained in PBIS systems implementation and interventions, Love and Logic (R), Restorative Justice, Crisis Prevention and De-escalation, Why Try? Resiliency Education and is an ENVoY (R) non-verbal behavior management coach and certified teacher. She embeds research on brain functioning and growth mindset into her approach and incorporates culturally responsive and trauma-sensitive experiential learning techniques.

Amplifying the Will & Skill Needed to Address

Educational Inequity
presented by Seema Pothini
8:30 am – 3:30 pm at Metro ECSU


This workshop will offer an unique opportunity to go beyond what we have learned about equity and diversity to focus on sresponse strategies and ways to redress inequities in classrooms, schools and the greater educational community.

Seema G. Pothini's passion for creating equitable classrooms and schools drives her commitment as an advocate for underserved youth. She has extensive experience improving student success in historically underperforming schools and while teaching in Houston, was elected

Teacher of the Year

in her region and appointed to the superintendent's committee to address the opportunity gap. In addition to teaching, she has worked as a K-12 cultural integration specialist and consultant. Seema served as board president for Avenues for Homeless Youth and currently serves as president of the Minnesota chapter of the National Association for Multicultural Education. She is also co-author of

Case Studies for Equity and Social Justice Education

(with Paul Gorski).
Curious about SBC's student programs?
Check out our Virtual Open House!
SBC launches its first Senior High Young Authors Conference (YAC)!
SBC is very excited to announce that its first

Senior High (9th-12th grade) Young Authors Conference

will be

March 20, 2020

at Bethel University.

This pilot conference will be limited to 120 students and will run concurrently with our 4th-8th grade YAC (participants will attend separate sessions in a different part of campus than the 4th-8th grade writers).

The Senior High YAC keynote is

Michael Torres (pictured above)

, a writer and poet with a great story.
At the Young Authors Conference, students strengthen their writing skills and learn new strategies. Breakout sessions are taught by Minnesota authors and professional writers.

SBC's "Creatives" cultivate curiosity, divergent thinking, and creative freedom!
The Creativity Festival is an eye-opening field trip for students in 3rd through 5th grades that takes place at Ted Mann Concert Hall on the University of Minnesota campus. Students attend a dynamic opening and 3 interactive break-out sessions led by professionals in the arts and STEM fields.
93% of students at Creativity Festival learned that creativity and problem-solving is a skill that can be practiced and strengthened (2018-2019 evaluation data).

School groups can select availability for January 7 or 8, 2020.

CreativeCon challenges students in 5th through 8th grades to learn that creativity is an essential part of problem solving. T
his year, CreativeCon is moving from a November date at the Science Museum to January 9, 2020 at University of Minnesota, which means:
Students will experience an energizing opening performance/keynote in addition to three interactive breakout sessions

More breakout sessions will be offered

Students will experience a day on a college campus
92% of students thought CreativeCon presenters provided real-world examples of how to use creativity and problem solving (2108-2019 evaluation data).

School groups can sign up to attend January 9, 202
0.
The opening performance at the Creatives this year is the Sampson Brothers (pictured below), demonstrating and educating about Indigenous Hoop Dancing.
Breakout Sessions at the Creatives include (more to come!):
Indigenous Hoop Dancing by the Sampson Brothers

Animating the Impossible Machine by John Akre

Pewter Mini-Sculptures by Pedal to the Metal

Theater for the Heart & Mind by Stuart Pimsler Dance & Theater


OzoBot Bits and OzoBot Evos by the UMN Computer Sci & Engineering Department

The Art in Advertising by Heidi Everett

Build a Hand by Healthforce Minnesota
Knowledge Bowl: A power competition!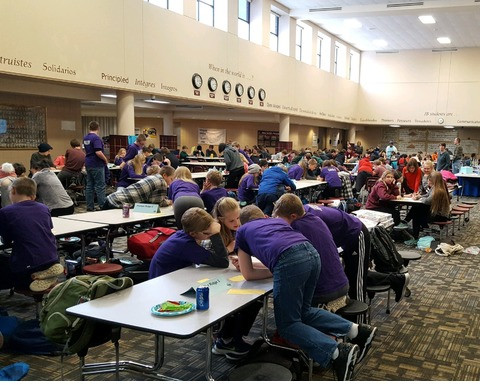 Middle Grades Knowledge Bowl (grades 6-8)
Join us forGREAT after-school academic competition that focuses on teamwork, strategic thinking, and leadership.
Work as a team to flex your recall, build critical thinking skills, and practice problem solving while increasing your knowledge of just about everything.

Go head-to-head against hundreds of other students this season and join the KB excitement! The Middle Grades season runs November – February.
Senior High Knowledge Bowl (grades 9-12)
Senior High Knowledge Bowl is an after-school smarts and strategy competition. It runs from January through April (including post season schedule). About 130 teams from across the metro area play-- St. Francis to Prior Lake, Hastings to Waconia. Each team competes in three regular season meets and qualifying teams advance to post season play consisting of a Subregional meet, Regional meet and State meet. Coaches are required to accompany their team(s) to each meet and to act as meet officials (training provided).

Youn
g Authors Conference (YAC) celebrates 30th Anniversary!

2020 YAC Theme:
Words Have Power
At the Young Authors Conference (lovingly, YAC) students in grades 4-8 adopt new strategies, ideas, and skills to become a better writer.
The 2020 YAC theme is

Words Have Power

. Words and stories hold tremendous power: they spark imagination, inspire confidence, help heal, honor family, show gratitude, demonstrate kindness, and share truth.
Geoff Herbach

, our March keynote, is the author of 10 novels, including those in the Stupid Fast trilogy, Fat Boy vs. The Cheerleaders, and Hooper. His new book, Cracking the Bell, hits shelves in September of 2019. Geoff's accolades include the Cybils Award for best YA fiction and the Minnesota Book Award. In the past, Geoff wrote and performed comedy and traveled around the country telling weird stories in rock clubs. Geoff teaches writing at Minnesota State, Mankato and loves presenting at YAC.
Kevin Kling

, renowned Minnesota storyteller, will keynote the May conference. Kevin has written plays for children that have premiered at the Children's Theatre Company in Minneapolis and Seattle Children's Theater. His one-person shows and full cast plays have been produced at regional theaters such as The Guthrie and The Kennedy Center. Kevin has written 5 books and appears often on PBS and Minnesota Public Radio. Kevin is most proud of his work as a teacher, playwright and performer with Interact Center, a company that creates art in the spirit of radical inclusion.
STEMLink registration opens September 24 at 10:00am

This 5th and 6th grade higher-ed and career readiness program fills fast... so don't forget to make a plan to reserve your spots! Registration links will be posted on the STEMLink homepage

95% of STEMLink students said they were provided with real-world examples of STEM work and workers (2018-2019 evaluation data).

90% of STEMLink students described the sessions they attended as interesting, hands-on, or challenging (2018-2019 evaluation data).

This year, STEMLink takes place at 3 colleges and registration opens September 24 for the following program dates:

March 12, 2020 at Dunwoody College

May 15, 2020 at Normandale College

May 21, 2020 at Century College
Have a large group? If you are interested in registering 80+ students for the same date, please email or call Betsy Narr at 612-638-1536 for priority registration.
Clean Water: Tap Into Tomorrow

is the 2019-2020 Future City Competition theme

Students in grades 6-8 are invited to participate in the annual

Minnesota Future City Competition.

Students teams are guided by an educator and a volunteer engineer mentor to imagine, design, and create a city of the future. This year, students are challenged to choose a threat to their city's water supply and design a resilient system to maintain a reliable supply of clean water.
Minnesota's first place team will compete at the National Future City Competition in February 2020.

Introducing SBC's U of MN intern

SBC is participating in the University of Minnesota's Community Service Program and is thrilled to introduce you to our student intern,

Megan Felton

! Megan is a third-year student at the University of Minnesota Twin-Cities. She is studying to teach 5th-12th grade English.

She says, "I attended the Young Author's Conference as a young student, and the opportunity to coordinate this amazing event and many events like it will be a life changing experience. I am eager to work with bright students at our events, and intrigued to observe the great minds at work!"
Metro ECSU Networks: An opportunity to learn from colleagues around the metro

Metro ECSU currently hosts four different professional networks, offering members time to meet on a monthly basis or bi-monthly basis to discuss current trends and share ideas. Each network was created in response to requests from member district staff.
Affinity Group: Staff of Color
Network meetings: October 1, 2019; January 28, 2020; May 19, 2020
8:30am - 11:30pm at Metro ECSU

This network is for staff of color and others interested in these conversations. This network supports on-going dialogue on issues impacting professional and career development for staff of color, while creating a space for staff of color to gain insights and support from others around the metro.
Registe
r
Bicultural Liaison Network
Network meetings: October 29, 2019; December 10, 2019; February 4, 2020; April 14, 2020
10:00am - 12:00pm at Metro ECSU


The Bicultural Liaison Professional Network is designed to support liaisons and interpreters that work in a school setting. Bicultural liaisons serve as bridges between staff and families. By building a strong community of professionals, the network will work to solve current issues and provide professional development opportunities for attendees.
Register
Friday Forum Network
Network meetings: September 20, 2019; November 22, 2019; January 17, 2020; April 17, 2020 from 1:00pm - 3:00pm - location rotates between Metro ECSU and Bloomington Education Services Center
Collaborate with other gifted and talented professionals to discuss current issues in gifted education. Register
Homeschool Liaison Network
Network meetings: September 18, 2019; November 13, 2019; January 15, 2020; April 15, 2020 from 1:00pm - 3:00 pm at Fairview Community Center in Roseville



District liaisons to families who are homeschooling are invited to join in the collegial sharing of ideas, resources and concerns through the Metro ECSU Homeschool Liaison Network.

Register
PBIS in Minnesota by the numbers

In August 20 teams from PBIS Cohort 14 and 16 NEW Cohort 15 teams prepared for the start of their 2019-20 school year with PBIS Cohort Training. These 36 school teams from across the metro area have been added to the ever-growing total of 321 schools in 69 districts!
SW-PBIS (School-Wide Positive Behavioral Intervention and Supports) is a framework or approach for assisting school personnel in adopting and organizing evidence-based behavioral interventions into an integrated continuum that enhances academic and social behavior outcomes for all students. The first SW-PBIS training in Minnesota was offered to schools in 2005. As of August 2019, 769 Minnesota schools are in training or have completed the two-year cohort training. The Minnesota SW-PBIS initiative now includes 37% of Minnesota schools, impactin over 353,075 students, or 40% of MN students.
Is PBIS a part of the culture at your school or district? NO? Contact your Regional Implementation Coordinator for the metro area, Lauren Sparr, or visit the MN PBIS website to learn more!
Field Trip for Educators! PBIS School Tour!
Interested in seeing what a PBIS school looks like? Sounds like? Feels like? Witness PBIS in action at five diverse, sustaining schools around the metro. Share ideas & learn with other PBIS Coaches.

Schools included in the tour:
Humboldt High School (6-12), Randolph Heights Elementary (K-5), Ramsey Middle School (6-8), Farnsworth PreK-4 Lower Campus, Riverview West Side School (PreK-5 English/Spanish Dual Immersion)
What: PBIS School Tour
When: September 20, 2019 at 7:45am
Where: Meet at the First Covenant Church parking lot, 1280 Arcade Street, St. Paul, MN 55106
Cost: Free
Details: School Tour Flyer
Get more with Cooperative Purchasing!
Cooperative Purchasing Connection (CPC), a program offered through the MN Service Cooperatives (MSC) and Metro ECSU, is excited to announce that

Julia Dangerfield and Jerome Evans

have joined the CPC team.

Jerome is here to help Region 11 schools and districts save time and money by connecting them with competitively solicited contracts that can be accessed at no cost. Julia performs the same role for the other MSC regions. CPC contracts currently cover more than 2,500 brands from well-known

companies l

ike CDWG, Lakeshore Learning, and Innovative Office Solutions. See all of the contracts at

www.purchasingconnection.org/category
Thank you for supporting CPC and Metro ECSU!
Maximize your leadership effectiveness with Metropolitan Education Leaders Network workshops!
The series is designed for all education leaders – Instructional Leaders, Instructional Coaches, Curriculum Coordinators, Principals, Assistant Principals, Q Comp Coordinators, Lead Teachers, Peer Reviewers, and other interested district/school leaders. All workshops take place at Metro ECSU, 2 Pine Tree Drive, Arden Hills, MN 55112.
The first workshop,

October 24, 2019

, features

The Five Voices: Transforming Team Communication

with
Rynell Schock, Giant Worldwide.
Two identical sessions are offered, 8:30-11:30am, and 12:30-3:30pm.
Experience the power of the 5 Leadership Voices. All five leadership voices come with their own particular set of strengths, and all have areas for growth. In this workshop Rynell will share simple tools and strategies that immediately transform how leaders see themselves and others in their circles of their influence.
Participants will:
Identify the foundational Voice you use.

Celebrate the contribution your Voice brings.

Learn the negative impact your Voice can have on others.
Two follow-up sessions will be offered to dig deeper into creating healthy communication in teams.
The second workshop in the series is

Leading with Intention

with

Jeanne Spiller

on

November 6, 2019.

Two identical sessions are offered, 8:30-11:30am, and 12:30-3:30pm.
Join us and discover actionable steps for staff collaboration, evidence-based decision making, and change leadership that will ensure student learning comes first. Explore eight interrelated areas of school leadership that make it easy for leaders to focus on strategies that get results.
Participants will acquire 40+ specific instructional leadership actions that they can put into practice immediately.
Metro ECSU welcomes new staff members

Ann Mayes is the new Statewide DeafBlind Specialist.
Ann is a licensed teacher in the areas of deaf/hard of hearing education and elementary education. Ann has been teaching students who are deaf/hard of hearing, including those with special learning and communication needs, for 30 years in all placement settings. She has been an itinerant, resource, self-contained, and day school teacher.

Ann has served in leadership roles as both a lead teacher and a dean of special education. Along with mentoring teachers, paraprofessionals, educational interpreters, and deafblind interveners, Ann has provided specialized support to teams in the area of deafblindness for the past nine years. She is also fluent in American Sign Language (ASL) and has been learning ProTactile from her friends in the deafblind community. Ann is also highly skilled at using Cued Speech as a tool to support English language development.

Ann has provided many professional development workshops and support to teachers of special education, district deafblind interveners, sign language interpreters, cued language transliterators and paraprofessionals throughout the state. Ann has also been involved with the Collaborative Plan facilitated by the Minnesota Commission of the Deaf, DeafBlind & Hard of Hearing, as a lead contributor in the development of webinars and a discussion guide for parents and professionals.

In her spare time, Ann is a deaf mother of four adult children, an avid reader, and a happy gardener.

Contact Ann at
612-638-527 (Videophone) or 612-314-9130 (Text only) or ann.mayes@metroecsu.org
Bianca Virnig is the new Health and Safety Specialist at Metro ECSU.
Bianca previously worked for MN OSHA Compliance and Consultation, specializing in healthcare and schools. She transitioned from OSHA to Hennepin County where she spent the last eight years as a Workplace Safety Specialist in Facility Services.
At Hennepin County, Bianca oversaw the health and safety program for approximately 3500 Human Services and Public Health employees. She developed online training, managed and participated in multiple safety committees, investigated accidents and injuries, provided counsel on OSHA investigations, developed programs and policies and so much more. Beyond safety, she led an effort to improve access to lactation rooms for staff and supported an effort to provide and identify single- user restrooms in county locations.
Over the years, Bianca's work expanded beyond health and safety to also include accessibility. She is a Certified Accessibility Specialist and a Certified ADA Coordinator. At Hennepin County, she managed a capital budget to address ADA modifications. She also worked with Design and Construction as well as Building Management to address health, safety and accessibility concerns in county spaces. She evaluated reasonable accommodation requests for space modifications, worked to develop design standards, partnered with a consulting firm to conduct ADA site reviews and worked with facilities staff to determine how to prioritize modifications.
Bianca has extensive knowledge and experience in implementing practical solutions to health, safety and accessibility challenges. She is very excited to join the Metro ECSU team and looks forward to putting her skill set to work for our members. Contact Bianca at 612-638-1512 or bianca.virnig@metroecsu.org
Highlights on Health and Safety
Upcoming Health and Safety Events at Metro ECSU
10/10/19

- Health and Safety Meeting, 9am-11am, Active Shooter Protocols

11/14/19

- Health and Safety Meeting, 9am-11am, Evacuation of Mobility Impaired Students/Fire Code Updates

11/18/19

- Reg Unlicensed Electrician Training, 8am-11am

12/05/19

- Health and Safety Meeting, 9am-11am, Machine Guarding
As summer wanes, fall slowly emerges with the change of color and we begin our descent into winter and the holidays. Cooler weather means fewer mosquitoes, but it's important that you and your family are aware that the risk of mosquito-borne diseases is highest in August and September. Go to the
MN Dept of Health
, to learn more about protecting yourself and the environment from mosquitoes.
September - National Preparedness month
Disasters and emergencies can happen at anytime and it's important to be prepared. A basic supply kit, family plan, being informed and knowing your community can help you better plan for the unexpected. To be prepared and not scared, check out
Ready.gov
or
download the FEMA app
to get tips on how to survive a disaster, create an emergency checklist, receive emergency alerts, locate resources, share photos and stay connected.
October 6-12, 2019 - National Fire Prevention week
"Not Every Hero Wears a Cape. Plan and Practice Your Escape!" campaign aims to educate everyone on simple ways to keep safe. Preplanning your escape route, testing your smoke alarms, having an outside meeting place, regular reminders, and practicing can help you make the most of the little time you have to get out safely in a fire. To learn more,
check out Fire Prevention Week
.

Metro ECSU wishes you a fabulous start to the school year!