Subject: Life in the Time of Covid
Life In The Time of Covid
Some Coping Tips



Hello All! What a strange time to try to write a newsletter. Normally we have events to publicize, news to share, exciting new products, etc. My inclination of course it to whine about how much this sucks (but we

all

know how much this sucks) and especially to complain about how hard our new business model has been - we've never been more exhausted! Ahem...that's enough complaining from us. We're doing OK!





Whether you're stuck at home and feeling isolated, or stuck on the front lines working your buns off and feeling anxious about exposure, there are a lot of us (all of us?) that feel bad right now. It's a stressful time, and that stress can feel overwhelming at times. Is that an understatement? I think it is. Patterns of thought seem hard to modify, but purposefully bringing your attention to your thought patterns can help. Just nudging yourself towards a shift towards positivity can start to change those patterns. One of the most wonderful things that seems to have become widespread as a result of this stupid virus is the desire (and time) to actually connect more with the people we care about. Zoom has really been a lifesaver for many. The old fashioned phone works well too. It can really be a solace to have a chat with someone you love or someone you always think about but never call. You can, with very careful consideration for safety, meet up with someone and have a chat with distance. BYOL (bring your own lawn chair) and beverage, find a nice spot outdoors, wear your PPE and keep 10 feet of space between you. It's amazing how much better I feel when I get to chat with a friend. There's science behind it!


Neuroscientist Natalie Geld explains it well: "When humans get lonely, a genetic cascade of changes happen in your body. Loneliness increases inflammation and turbocharges your fight-or-flight stress response, which stresses you out. Your immune system starts getting weaker. You subconsciously respond to this chemical change by isolating yourself from other people, which can lead to depression, which can mean you get stuck in a biological feedback loop. Healthy friendships improve your emotional intelligence. A powerful cocktail of oxytocin, dopamine, and serotonin (all your feel-good hormones) elevate your mood and optimize your hormonal response to stress. When you experience this emotional connection, oxytocin - the trust and love hormone - is released into your bloodstream. Oxytocin triggers a fountain of serotonin and dopamine. When you laugh your ass off with someone, neurochemicals called endorphins are released. These chemicals clear your cell memory and open a natural flow of information chemicals. Suddenly, you feel super happy!" 





A recent study demonstrated that people with strong social ties had comparatively low concentrations of something called fibrinogen, a protein associated with the kind of chronic inflammation thought to be the source of many diseases. Wow - cool, right?






These same biochemical systems are undoubtedly triggered when we interact with our pets!

There's no wonder why there's been such an uptick in pet adoptions due to the virus. We need our social contact, and we need to be needed! That's why we're so happy to see some of these new puppies in the store. There are so few opportunities for socialization of new puppies during Covid that we've tried to make ourselves a resource for new puppy owners to get some help with this. We still try to keep visits fairly short, especially if there are others waiting outside, but these visits are essential for exposing shy puppies to nice people with treats, laying some groundwork for confidence and positive experiences with strangers. These visits are helpful for our psyche too! Puppy therapy is good medicine, and we're often grateful for the mini break in our day.
Actually, being grateful has been proven to positively affect your brain chemistry!

An amazing MRI study showed that the simple act of searching your mind for things to be grateful for (even if you can't seem to find a single thing to be grateful for at first) triggers this same lovely cascade of neurological chemicals that help us to feel happier. Wow! Here's to a roof over my head and ice cream on a spoon, and that our fluffy kitty Otis who's turning 19 this month is still helping me write this newsletter.
THINGS WE'RE GRATEFUL FOR:
Our staff have been incredible troopers.
Two of our missing quarantined workers (due to immune system issues) are sneaking in after hours on different evenings to help with administrative issues, because they miss their jobs so much. It really helps us out and tells you something about their dedication. For the ones still working during business hours, there's a lot to juggle. It's fast paced, the phones ring off the hook, and the work is physically harder. Those employees that wear smart watches tell us we're all walking at least 4 or 5 miles during our work day, mostly carrying heavy things and also unpacking loads of freight. Who needs Zoom gym classes? We're so impressed with their dedication, their ability to continue to be nice to each other, and to be flexible throughout the day and quickly jump in and help each other out when it's needed. We're so grateful to have been able to give them a few dollars more per hour hazard pay due to our PPP loan.
Our neighbors (Umpqua Bank, Beaumont Vision, and Blackbird wine) are all open for business in some form or another.
Each has worked out a system that feels safe for them and allows them to continue serving their customers. Blackbird is doing takeout wine and food, including lunch sandwiches which we've been enjoying too. They even have had certain wines on sale and then coordinated a virtual tasting event of those wines via Facebook live. Clever! Beaumont Vision is back by appointment only with masks required, and Umpqua is appointment only as well. Employees of all the stores in the building have been looking out for each other - we're grateful for our happy building community that can always ask each other for favors.
We're so grateful that this terrible time has in fact had a very positive impact on our planet.
Though we feared it was just temporary, it looks like many people have had a positive experience with working from home and plan to continue in the future. This will definitely mean fewer cars on the road and therefore fewer emissions.
Most importantly we're grateful for the relationships we've built with our customers over the years
. Yesterday Abbie, one of the first dogs that was ever a customer of ours, celebrated her 16th birthday! (Photo above). We miss visiting with all of the wonderful friends we've made over the years, but we're happy when we're able to sneak in tiny visits on the sidewalk, give pups treats through the car windows, and see some of you in the store peeking out over your masks. We know you're all still out there! Though our numbers are down, we're still head above water, glad to be open, and we're very grateful for every one of your purchases.
We have the best customers!
AN IMPORTANT ANNOUNCEMENT:



Tully has some technical difficulties wearing a mask, but luckily he doesn't need to do it.
However, starting next week, masks will be required in the store, and we'd like to ask you to use the hand sanitizer at the front door as you come in.
These measures will make Mike and I more comfortable about the safety of our employees and ourselves. We really are exposed to hundreds and hundreds of people every week. Due to the very real risks of asymptomatic transmission, our willingness to accept cash, allowing customers to open freezers and handle merchandise, our necessity to touch your credit cards,etc etc, there are just too many ways that we can become exposed to this virus. As restrictions relax, there could be an uptick in cases again. Even though we disinfect everything as often as possible we do get very busy and might miss something.
We feel like our exposure level has become an issue we need to address in order to allow us to continue to do business safely.
If you arrive without a mask in the first few weeks, don't worry! We'll be prepared to give you one.
Many of the other independent stores in Portland
have restricted all purchases to curbside only
to protect their staff. We don't want to do that if we can avoid it, as we know the value of being able to pick out the right collar or read ingredient lists on supplements.
However, the terrible truth is that if any one of us tests positive, we would have to close the whole store for two solid weeks, as we and our employees unavoidably work closely together. This would be a terrible financial blow to us, and a big inconvenience for you.
NIFTY NEW TAG SILENCER!

No more jangling collar tags! Say goodbye to annoying tag noise and nail-breaking split rings! This innovative screw-and-nut tag holder secures up to 4 tags inside a unique quieting strap that snaps onto a D-ring, making it easy to add new tags or move them from collar to collar. People can easily move the tags in the stack into view if needed. They are weatherproof, odor-proof, flexible, and made in USA. Available in blue, black, pink and red.

BISON SPLIT SHINS!

These are one of our most favorite long lasting chews. Baked Bison bones provide an all natural outlet for a dog's desire to chew. The all natural shin bones are healthier alternatives to rawhide or synthetic chews. The Split Shin is the distal end of the shin bone, 4-6 inches in length, with baked marrow exposed where the bone is cut. There's a good deal of dried connective tissue on the outside, which gives them an interesting new way to chew a bone. It can be a good bone for aggressive chewers, though all chewers should be supervised when consuming chews and bones, including this product. The bones have a deep golden brown color and a tantalizing taste that dogs love. There are no added colors or preservatives. They are slow roasted and hickory smoked. These bison come from free-range herds in the United States and Canada, without added hormones, antibiotics or steroids. They are not feedlot finished. Proudly made in the USA.

SILVERVINE FOR CATS!
Have you heard of Silvervine? It's a a plant in the Kiwi family that is safe for cats and has similar effects as catnip.

The interesting thing is that it seems to be exciting even to many cats that don't react to catnip

. This neat concoction is a mix of loose catnip and silvervine leaves for sprinkling, as well as sticks from the silvervine plant. The sticks are fun to toss, roll and chew. Otis likes us to hold a stick so he can scrape his face on it and bite it. Chewing these sticks has some dental benefits as well. Made in Washington.
ORBEE TUFF TREAT PUZZLE!

This toy is perfect for puppies! The multiple award-winning Orbee-Tuff® Snoop from Planet Dog challenges the brain in fun and stimulating ways. Snoop is translucent and squishy with a deep crevice that conceals the treasure. Filled with treats, dogs will pounce, nudge, nose, and nibble to release the hidden reward. This interactive puzzle toy offers hours of long-lasting, brain-stimulating entertainment. Larger dogs can enjoy it too, though I would supervise it with tough chewers. Non-toxic, BPA free, phthalate free, FDA approved. It's bouyant and bouncy, and is infused with natural mint oil. To empty and clean, just pull the entry tunnel inside out. All Orbee Tuff toys are made in the USA by a company committed to sustainability.

PUPPY TIP:
You can teach your puppy not to damage their toys! Whenever you give them a stuffed animal or any other toy, watch them. All playing is fair game, but starting to destroy the material makes them lose the toy. No punishment, just removal of the toy saying something like "Oops! Too Bad!"at the moment they start the ripping. You can trade that toy for something else as you take it. Being consistent with this policy can create a dog that is more careful with his toys, saving you money and helping to keep them safe from ingesting shreds and pieces.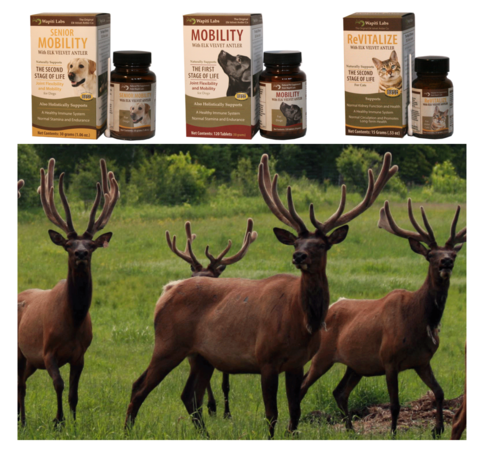 WAPITI MOBILITY SUPPLEMENT!

This is one of our favorite supplements in the store. Wapiti Labs is an industry-leading producer of natural supplements for pets that pair Elk Velvet Antler (EVA) with traditional herbs to produce optimal health results in canines and felines. (Wapiti is the First Nation word for Elk). The EVA used in their supplements comes from pasture raised elk that are monitored and cared for by veterinary experts, ensuring superior-quality EVA. Each spring, antlers are humanely removed from healthy bulls under the direction of their herd veterinarian and harvested of EVA. Christine (who has a background as a zookeeper familiar with the sensitivity of hooved animals to handling stress) researched this process thoroughly and was pleased at all of the lengths they go to to avoid stress and discomfort. Two people that had attended the procedure both said that the older elks actually push their way ahead the others into the barn where annual removal is done, and leave kicking up their heels at their new feeling of freedom from their heavy antlers! These elk start to regrow their antlers at a rate of about an inch per day, making Elk Velvet Antler an entirely renewable resource.

Rich in compounds like glucosamine, hyaluronic acids, collagen, amino acids, and essential minerals and elements (in a whole food form), which help to maintain the integrity of existing joint tissue while reducing pain and inflammation created by joint tissue degradation. EVA is also a natural adaptogen. Great, you might say—what does that mean? Essentially, this substance works to correct aspects of the body that are out of balance. Instead of forcing the body to react to it, it works with what the body is already doing to create equilibrium. The other herbs included also are

very supportive for the kidneys, for cats and for dogs.

The use of elk velvet antler as a health treatment isn't new. EVA has been a key ingredient in traditional Chinese medicine for thousands of years, with historical findings showing it was used as a natural remedy and employed to treat a variety of conditions, from arthritis to insomnia. We were disappointed when a nearby vet told one of our customers that she was wasting her money (when she was trying to tell her how dramatically it had helped her senior dog's mobility), as it has proven to help so many of our customers' dogs who have had mobility issues, and the products are endorsed, recommended and distributed by veterinarians practicing both Eastern and Western herbal medicine across the nation. If only she had been interested in researching products new to her that have fewer side effects and better efficacy than traditional NSAIDS!

Over and over our staff and customers have found that these joint supplements have started showing their positive effects in as few as five days, with symptoms of pain and stiffness continuing to improve over the next few weeks.

True stories: 1) Not long ago an old pug was carried into the store who couldn't support any weight on his back legs. A few weeks later, that pug though wobbly, could walk! 2) I mailed some to my best friend, who was contemplating having to put her wonderful dog down due to back end problems, and at my next visit almost a year later, she was able to walk with us down a steep trail to the river and she scrambled down into the water and got back out again! She really credits Wapiti for giving them extra time with her. 3) When we first brought Wapiti into the store, we asked a customer with a stiff old greyhound to try a bottle for us and report back. She said that her dog was acting like a puppy and able to move better, and that she had discovered that Wapiti had supplements, had ordered some and her sore hip had never felt better!


Note: for serious pain, any joint product can be safely paired with CBDs for enhanced relief if necessary.
RANDOM SNIPPETS OF GOOD NEWS
Primal Pet Food

heard that we had donated a portion of our sales to Australian wildlife rescue a few months back and stepped forward to say they'd donate 10% of our Primal sales for a month. They were able to send us an additional $150 to donate to WIRES wildlife rescue!
Nulo Pet Food

did a great thing for the Pongo Fund (Portland's amazing emergency food bank for pets) by choosing 10 stores and matching a percentage of pounds of food sold in two months to be donated to Pongo. In the end,
4,225 pounds of dry dog food,
1,271 pounds of dry cat food, and
515 cases of canned food were donated, with a t
otal retail value of $27,500! It's badly needed right now!! Thanks Nulo!
We have some store specials to share with you:
Through the rest of the month:



Free Krill Oil

with the purchase of a 32oz container of Grizzly Joint Aid pellets (a $19.99 value).
$5 off large bags of Nulo Pet Food

(24lb dog and 12lb cat bags)
$3 off Primal Raw Cat Food

(3lb frozen nuggets, 14 oz Freeze Dried)
-----------------------------------------------------------------------------------------------
Remember, we give new dog and cat owners

our puppy or kitten packet filled with helpful tips, coupons, and samples. This just in: we now have the ability to give you a free small bag of Nulo or First mate pet food, as well as a free Primal beef marrow bone or a free Grizzly fish oil! We also give you 15% off the first time you shop for your new pet.

Have a neighbor with a new pet? Send them our way!
Here's a good article by veterinarian Dr. Karen Becker listing some fun activities to keep your pets busy and lower their stress levels
THANK YOU FOR SUPPORTING LOCAL, INDEPENDENTLY OWNED PET SUPPLY STORES!
Shopping local keeps money in our local economy, and independent stores are generally committed to supporting their community in a variety of other ways. Mud Bay lot of ahas been doing a lot of advertising lately to "shop local". I suppose they are local to the same degree that Petco is local, as it can be found near you, but people may be fooled that Mud Bay is like Portland's small independent stores.With 70 stores and 6 more "coming soon", I think they'll be just fine. We are thankful when you make the choice to support us.
Located in Beaumont Village
4327 NE Fremont Street, Portland, Oregon 97213
© 2007 - 2015 Green Dog Pet Supply. Green Dog Pet Supply® is a Registered Trademark.