Subject: Leaning on the Evolution of Meanings
Having trouble viewing this message? Click here to view it online.
To unsubscribe or change contact details, scroll to the bottom and follow the link.
Your #1 Source for Grammar and Punctuation
Leaning on the Evolution of Meanings
Words and their meanings change as people and society do. Just as we replaced travel by horse with motorized transit, so have we altered words to serve what we want and need from the era we live in. In some cases, those words have even become the opposites of what they used to signify.

At the same time, with the world's most total speakers (about 1.3 billion, including those who speak it as a second language), English is bound to have disparate preferences. Consensus about whether changes are useful or desirable will vary; contemporary utility will determine a word meaning's lifespan.

As a meaning transforms over many years, often up to centuries, it may often co-exist with the original definition for a long period before replacing it. The following are words with currently enduring, accepted meanings that time has notably altered. Each word's approximate century of first use is noted as well.
| | | |
| --- | --- | --- |
| Word | Early Meaning | Current Meaning |
| awful (13th) | worthy of awe (awe-full) | extremely bad |
| backlog (17th) | largest log in the hearth | large number of jobs to be done |
| bully (16th) | sweetheart | intimidating, quarrelsome person |
| clue (9th) | ball of yarn | bit of evidence for a solution |
| dapper (15th) | brave | stylish, neat, trim |
| egregious (16th) | distinguished, eminent | flagrantly bad |
| fathom (9th) | to encircle with one's arms | to understand after much thought |
| flirt (16th) | to flick something away, act briskly | to act amorously without seriousness |
| girl (13th) | young person (either gender) | young female |
| guy (19th) | frightful figure | man, boy, fellow |
| naughty (14th) | having nothing (naught) | disobedient, improper |
| nice (13th) | foolish, simple, ignorant | kind, pleasing, agreeable |
| matrix (14th) | female breeding animal | pattern of lines and spaces |
| prestigious (16th) | involving trickery or illusion | honored |
We may not always be able to predict the future, but we can safely assume that some of the words we use with conviction now will mean something else in generations to come. Until then, we will continue to embrace and apply what our present words provide us for the awe-full power of human writing and speech.


View and comment on this
article on our website.
A Note to Teachers and Parents
We at GrammarBook.com want to help make teaching English grammar and punctuation less stressful during this potentially difficult period when many students are sheltering in place and schools are closed due to the COVID-19 pandemic. From March 25, 2020, through May 31, 2020, we are cutting the price in half for any new Quiz Subscriptions for Teachers, Parents, and Employers. Click on Subscription Quizzes for the details.
Free BONUS Quiz for You!
Donna, because you are a subscriber to the newsletter, you get access to one of the Subscribers-Only Quizzes. Click here to take a Who vs. Whom Quiz and get your scores and explanations instantly!

We will be adding many more quizzes this year to our already substantial list of quizzes. If you have suggestions for topics we have not yet covered, please send us a message at help@grammarbook.com.
Hundreds of Additional Quizzes
at Your Fingertips
Subscribe now to receive hundreds of additional English usage quizzes not found anywhere else!
Teachers and Employers
Save hours of valuable time! You may assign quizzes to your students and employees and have their scores tallied, organized, and reported to you! Let GrammarBook.com take the hassle out of teaching English!
"Fun to test my skills."

"The explanations really help ... thanks!"

"I can select the quizzes to assign to my students, and then the results are reported to me automatically!"


Don't need all the quizzes?

You can now purchase the same quizzes individually for ONLY 99¢ each.

Purchase yours here.
If you think you have found an error in a quiz, please email us at help@grammarbook.com
The Blue Book of Grammar and Punctuation




by Jane Straus, Lester Kaufman, and Tom Stern
The Authority on English Grammar! Eleventh Edition Now Available
An indispensable tool for busy professionals, teachers, students, homeschool families, editors, writers, and proofreaders.

Available in print AND as an e-Book! Over 2,000 copies are purchased every month!

The publisher of The Blue Book, Jossey-Bass, A Wiley brand, is offering a 35 percent discount for those of you who order the book through Wiley.com. Shipping and tax are not included. Simply go to bit.ly/1996hkA and use discount code E9X4A.

Offer expires December 31, 2020.
Wordplay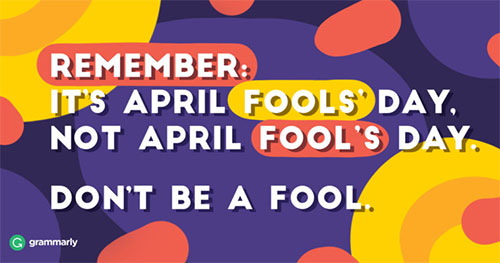 English In A Snap:
68 One-Minute English Usage Videos FREE
Learn all about who and whom, affect and effect, subjects and verbs, adjectives and adverbs, commas, semicolons, quotation marks, and much more by just sitting back and enjoying these easy-to-follow lessons. Tell your colleagues (and boss), children, teachers, and friends. Click here to watch.