Subject: News & Views - November 2019
Tips for Celebrating the Holidays with Recovering Family Members and Friends
View this email
online
if it doesn't display correctly
Tips for Celebrating the Holidays with Recovering Family Members and Friends
Celebrate the Holidays Safely, Comfortably, Joyously
This time each year can be stressful for anyone, but the holidays present a special challenge for people recovering from an addiction.
Those in long-term recovery typically are adept at navigating the minefield of temptation at holiday social gatherings. But many of those in their first year of recovery, their friends, and family members wonder how best to celebrate the holidays safely, comfortably, and joyously.
Here are some tips for family members and friends who may be celebrating with someone in early recovery this holiday season.
Gift Ideas for Those In or Working With Recovery
SMART Recovery's Suggested Reading List
Looking for gift ideas for a friend or family member in recovery? Or for someone who works or volunteers in the realm of addiction?
Check out our suggested reading list for a selection of books that would be great gift ideas for the holidays. Categories of books include addictive behavior self-help,
general self-help,
Family & Friends, and reading for facilitators, treatment providers, and/or volunteers.
Giving Tuesday is a global generosity movement unleashing the power of people and organizations to transform their communities and the world. Over the past seven years, this idea has inspired hundreds of millions of people to give, collaborate, and celebrate generosity.
On December 3, 2019, you can join the movement and support your favorite charities.
MAT is Not Just Medication
Understanding the Full Scope of Addiction Treatment and Recovery
There is a growing concern in the addiction community surrounding the
term 'medication-assisted treatment' (MAT). The concern comes from a perception outside of the addiction community that MAT (methadone, buprenorphine, naltrexone) is a stand-alone treatment for opioid use disorder. The implications are important because behavioral therapy, psychosocial change, and earnest personal work are all critical cornerstones of addiction treatment and recovery. It is a disservice to the community of stakeholders (including policymakers, government officials, criminal justice workers, insurance providers, healthcare providers, patients, and their loved ones) to allow the perception that medications alone are enough for recovery to happen.
Read more about this concern, the history of MAT, and other potentially better suited descriptions for this method of treatment in this recent guest article, submitted by Mark Pirner, M.D., Ph.D. from US WorldMeds.
TIPS AND TOOLS for RECOVERY that WORKS!
Hierarchy of Values (HOV)
In our newest episode of TIPS and TOOLS for RECOVERY that WORKS!, we examine a tool that can help anyone build and maintain their motivation to stay on track in their recovery. It's called the Hierarchy of Values Exercise, or HOV for short.
Using the
HOV tool, you can begin to dig deep to identify your most important values, which you can then use as a foundation for building a fulfilling life in recovery.
Announcing the World-Wide Premiere of
Authentics
You're Invited to an Online Viewing Party!
Authentics is a 25-minute film that was shot in 4½ days with professional actors in and around Atlanta. It centers around a young photographer struggling with addiction who books a job to shoot a wedding. She meets a man who is no stranger to addiction himself who gently introduces her to the principles of SMART Recovery. He inspires her to change and, in the process, he changes too.
Join us for a LIVE screening of

Authentics

on Wednesday, December 11 at 8:00 p.m. ET. We'll be LIVE on YouTube during the showing of the film, chatting with viewers as you watch.
We encourage you to invite your network and community to join us.
Watch your inbox in the coming weeks, as we will be sending an email with the link you will need to access the premiere. More details coming soon ... Stay tuned!
This film was made possible by the generous support of The Chris and Debbie Swain Charitable Foundation.
National Veterans and Military Families Month
Join Online SMART Meetings for
Veterans and Family & Friends
In the SMART Recovery Online (SROL) community, we hold several daily meetings for individuals with addiction, and several weekly Family & Friends meetings for concerned significant others.
In honor of National Veterans and Military Families Month, we would like to remind you of our online Military Veterans meetings that happen on Saturdays.
Additionally, our online community holds Family & Friends meetings four times per week, on Mondays, Tuesdays, Wednesdays, and Thursdays.
Help Get SMART Recovery In
Your
Local Veterans Affairs (VA) Hospital
VA facilities find it beneficial to offer SMART Recovery meetings to their clients. VA staff are invited to join in our Distance Training and start SMART Recovery meetings at their facilities. For groups of 10 or more, we offer on-site training.
A Meeting-Ready Format for InsideOut® Meetings in a Correctional Environment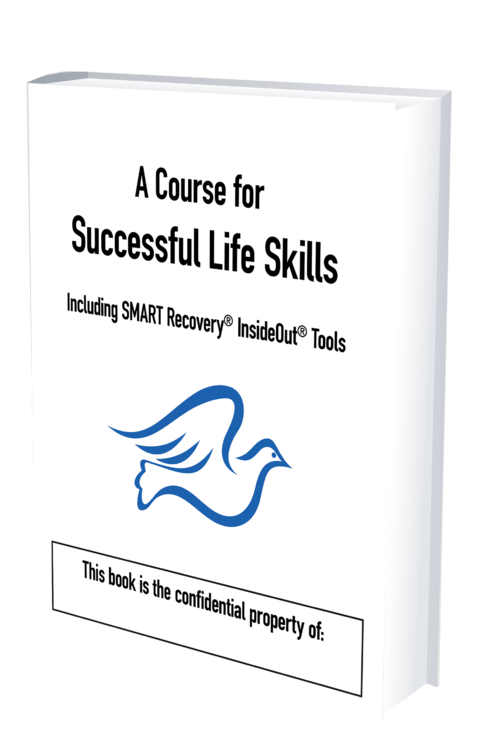 SMART Recovery is pleased to announce the sale of our new publication!
Successful Life Skills is a turnkey, meeting-ready format that trained volunteers can use to competently and confidently facilitate discussion meetings in a correctional environment.
The book lays out a flexible, robust 12-week approach that gives meeting participants proven life skills and helps them define their power to change behaviors that aren't working for them. It also provides insights that can enhance social re-entry and reduce reconviction.
The most popular SMART Recovery tools based on the latest feedback and documented behavioral science research

Updated approaches to topics within REBT, CBT, DBT, Locus of Control, Mindfulness, our Habit Loops, etc. in a concise array

Proven methods to explore many common upsets: anger, stress, depression, urges, and more

Discussions: The Nature of "Recovery" – What can your recovery look like?, and Who gets to say? – Who has the power in making decisions regarding recovery as we know it?
Although this book was created for the correctional environment, the authors now understand this format has the potential to support other SMART Recovery and science-based meetings. While it is more powerful in the hands of our experienced facilitators, it can be a helpful icebreaker for new meeting facilitators. With proper SMART training, it can also be used to augment 12-step group meetings and family support.
Special thanks to authors and SMART Recovery InsideOut® facilitators Charles True and Ron Lott for their contribution to SMART Recovery through the creation of this book. They have also dedicated this book and all its proceeds to SMART Recovery to support the organization's next 25 years.
Subscribe to the SMART Recovery Blog
Do you want to see this type of helpful, educational information more often?
Subscribe to the SMART Recovery Blog
and receive a blog digest email every Friday with links to the blog articles published during that week.
Self-Management And Recovery Training
Founded in 1994, SMART Recovery uses science-based techniques that have proven to be effective in helping people recover from addiction problems involving any substance or behavior, including alcohol, drugs, gambling, overeating, shopping and internet use.
Participants use SMART to take ownership of their recovery and become empowered through its 4-Point Program®: Building motivation; Coping with urges; Managing thoughts, feelings and behaviors; and Living a balanced life.