Subject: This Month in Mongolian Studies - February 2020
| | |
| --- | --- |
| Having trouble viewing this email? Click here to open in your browser. | |
This Month in Mongolian Studies

is a monthly listing of selected academic activities, resources and other material related to Mongolia. This list is based on information the ACMS has received and is presented as a service to its members. If you would like to submit information to be included in next month's issue please contact the ACMS at

info@mongoliacenter.org

This publication is supported in part by memberships. Please consider becoming a member of the ACMS, or renewing your membership by visiting our website at

mongoliacenter.org/join

. Thank you!
YOU ARE INVITED TO ACMS AGM 2020
We are pleased to announce that our 2020 Annual General Meeting (AGM) will be held during XIV Annual Mongolian Studies Conference in Washington D.C. Amb. Jonathan Addleton and Dr. William Fitzhugh will offer an overview of ACMS programs and fellowships to support Mongolian Studies. All are welcome.

Time: February 8, 2020. Beginning at 4:30 pm.
Location: Smithsonian National Museum of Natural History (Q?rius Auditorium, West Lobby)
10th Street and Constitution Avenue NW | Washington D.C. 20560

**********************************************
QUESTIONS ABOUT MONGOLIA FIELD SCHOOL 2020?
Then sign up for our second information webinar of our annual interdisciplinary Mongolia Field School, slated for Wednesday, February 5 at 7 pm PST. This year, we are offering 7 courses in Mongolia to be held over three sessions. The webinar will have all course teachers and is a great way to get answers to your questions. You can save the date by registering your interest on Facebook.
A full description of course topics and program leaders.
**********************************************
BRIEF VIDEO OF MFS 2019 PARTICIPANTS' TESTIMONIALS


**********************************************
ACMS TEXTILE CONSERVATION DIRECTED FELLOWSHIP DEADLINE EXTENDED!
The fellow will have the opportunity for in-depth examination and treatment of fabrics and textiles, costumes, and accessories representing Eurasian steppe cultures roughly spanning 2,000 years. Applicants must be U.S. citizens with a graduate degree in conservation from a recognized program, or have equivalent work experience, at least one year of practical experience beyond graduation, and experience with a variety of analytical instruments and information technology.
Application materials (CV, Personal Statement, 2 Letters of Recommendation) must be received by May 1, 2020.
**********************************************
2 WEEKS LEFT: ACMS FIELD RESEARCH FELLOWSHIP 2020
This program provides awards of up to $4,000 to students and/or faculty from US universities to conduct academic field research in Mongolia between May and October 2020. Student applicants can be at an advanced undergraduate, masters, or doctoral level, and all fields of study are eligible.
All applicants must be US citizens currently enrolled in or teaching at a college or university in the United States. Deadlines for receipt of complete applications: February 15, 2020.
**********************************************
1 MONTH LEFT: ACMS INTENSIVE MONGOLIAN LANGUAGE PROGRAM 2020
We invite students and scholars to enroll in our eight week program from June 8 to August 7, 2020 in Ulaanbaatar, Mongolia. This summer language program will provide Intermediate-level students of the Mongolian language with an opportunity to enhance their communicative competence through systematic improvement of reading, writing, listening and speaking skills, in an authentic environment.

Applicants are encouraged to apply for fellowships to cover the cost of tuition. Deadlines for receipt of complete applications: March 1, 2020.
**********************************************
2 WEEKS LEFT: ACMS LIBRARY FELLOWSHIP 2020

This fellowship supports US advanced graduate students or faculty members in library science or related fields from US colleges and universities to conduct short-term projects and/or research in Mongolia between May and October 2020. Applicants must be US citizens.
Fellows will spend up to twelve weeks onsite in Mongolia at the ACMS library; prior experience working in Mongolia is not a requirement. Fellowships will be awarded to fund travel and living expenses of up to $4,000.
Deadlines for receipt of complete applications: February 15, 2020.
ACMS Sponsored Programs and Events



INTRODUCING AFCP NOMADIC TEXTILES
CULTURAL HERITAGE EXCHANGE PROGRAM!

The ACMS, with support from the U.S. Ambassador's Fund for Cultural Preservation (AFCP), is organizing an exchange program which will send 3 textile conservation professionals from Mongolia to the United States for a targeted program of meetings, site visits, networking opportunities, mentorships, and/or workshops in textile conservation.

This program builds off relationships between the participants and several institutions and organizations in the United States. Our participants are leaving on February 3, and will visit some of the leading textile conservation institutions and experts in New York City and Washington D.C.




**********************************************


ACMS SPEAKER SERIES:

DR. BADAMKHATAN ZORIGT: "DECIPHERING DINOSAUR GROWTH"

5:30 PM ON TUESDAY, JANUARY 7 AT THE AMERICAN CORNER, UB PUBLIC LIBRARY

In this illuminating presentation, Dr. "Badma" Zorigt presented his research on bone histology of numerous psittacosaurus specimens he discovered at a mysterious site in Mongolia.

Dr. Badamkhatan's lecture was prefaced by debunking of common misconceptions about analysis of dinosaur fossils, which helped the audience understand and become engaged with the topic beforehand. The video recording of the lecture will be published on our YouTube channel soon.

Dr. Badamkhatan (Badmaa) Zorigt is vertebrate paleontologist at the Institute of Paleontology, Mongolian Academy of Sciences. He graduated from Mongolian University of Sciences and Technology, with bachelors in engineering and masters in geology/paleontology. He received his Ph.D. in Earth Sciences from Montana State University. His research is focused on dinosaur bone microstructure. Dr. Badmaa has been conducting research on growth strategy of early Cretaceous, herbivorous dinosaur, Psittacosaurus, using their limb bone histology (tissue data).

**********************************************

DANIEL MILLER: "WHAT IS THE FUTURE FOR MONGOLIA'S RANGELANDS AND HERDERS?"

5:30 PM ON TUESDAY, JANUARY 14 AT THE AMERICAN CORNER, UB PUBLIC LIBRARY



In this presentation, Mr. Daniel Miller spoke about the huge increase in livestock numbers that has led to widespread overgrazing, range degradation, and the subsequent questions, such as, what is the future for Mongolia's rangelands and herders? Can new livestock production systems be designed that build on traditional knowledge and age-old practices in order to meet emerging markets for livestock products while sustaining the rangelands?

Daniel Miller grew up on a dairy farm in Minnesota in the USA; served as a Peace Corps Volunteer in Nepal where he lived and worked with yak herders and learned to speak Tibetan; worked as a cowboy on large cattle ranches in the USA; and earned a Master's Degree from the University of Montana. He first came to Mongolia in 1992 as a livestock specialist for the Asian Development Bank. After retiring from a career with USAID in August 2017, he worked for Mercy Corps in Mongolia. More recently, he has been engaged by the World Bank/International Finance Corporation to assist in developing an agriculture investment strategy. He has published numerous scientific articles about rangelands and pastoralists of the Himalaya, Tibetan Plateau and Mongolia.

**********************************************

ACMS MONGOLIA YOUTUBE CHANNEL RELEASES IN JANUARY, 2020:
The Louis Frieberg Center for East Asian Studies offers post-doctoral fellowships for the 2020-2021 academic year. The post-docs are open to scholars in the humanities and social sciences specializing in East Asia, especially China, Japan, Korea and Mongolia.
Fellowships are granted for one academic year or one semester. The starting date of the visit should not be later than four years after receipt of the doctoral degree; the fellow must hold a valid doctoral degree no later than October 2020.
The fellowship consists of a monthly stipend (tax free) of $1,800, paid in Israeli currency and linked to the representative rate of exchange. Fellows are entitled to one airline ticket (economy class, up to $1,500) for a direct flight from their hometown to Israel and back. The fellows are expected to teach one semester-long course at the Hebrew University (for additional payment, according to the Hebrew University regulations). The ability to teach a course in Hebrew is welcome, but is not a prerequisite for attaining the fellowship. The fellows will also actively participate in the life and activities of the Louis Frieberg Center for East Asian Studies and will present their research at the seminar of the Department of Asian Studies, and possibly at other relevant forums. Any work outside the Hebrew University would be allowed only after specific approval by the Frieberg Center. Applicants should submit one hard copy and an electronic copy—in one file—of their application to the address below, no later than March 8, 2020.
The application must include:
1. CV
2. Research plan (up to 5 pages)
3. A sample of applicant's publications (if relevant)
4. Two letters of recommendation
The applicant should indicate the names and positions of the recommenders, but the letters of recommendation should be sent by the recommenders directly to the email address below.
Please send materials to email: eacenter@mail.huji.ac.il
For questions and further info please contact eacenter@mail.huji.ac.il or Prof. Michal Biran at biranm@mail.huji.ac.il
To read more on the Department of Asian Studies: http://en.asia.huji.ac.il/; On the Frieberg Center https://eacenter.huji.ac.il/
**********************************************
FULBRIGHT HAYS-DOCTORAL DDRA FELLOWSHIPS: DEADLINE FEB 18, 2020
The Fulbright-Hays Doctoral Dissertation Research Abroad (DDRA) Fellowship Program provides opportunities to doctoral candidates to engage in full-time dissertation research abroad in modern foreign languages and area studies. The program is designed to deepen research knowledge and increase the study of modern foreign languages, cultural engagement, and area studies not generally included in U.S. curricula.
International and Foreign Language Education Office expects to make 100 new awards totaling approximately $3.5 million under the fiscal year (FY) 2020 DDRA program competition.
The FY 2020 application is available online through this link until Feb. 18, 2020.
CALL FOR PAPERS FOR THE MONGOLIA SOCIETY ANNUAL MEETING AND PANELS AT MIT ANTHROPOLOGY (MARCH 19-22, 2020)
The 2020 Annual Meeting and Panels of The Mongolia Society will be held on Sunday, March 22, 2020 at MIT (Massachusetts Institute of Technology) Anthropology in Cambridge, MA. Our event will take place while the AAS (Association for Asian Studies) is meeting in Boston (March 19-22, 2020) and not at its conference hotel, but on the MIT campus in Cambridge, Massachusetts. Further information on the Society's Annual Meeting will be available at a later date.
The Mongolia Society is placing a CALL FOR PAPERS for the 2020 Annual Meeting and Panels at MIT Anthropology. Please submit your abstract. In addition to papers on general humanities, arts, education and social science topics, we invite papers on ethno-botany, environmental studies, medicine, public health, economic development, and science and technology studies in contemporary and historical periods, no later than February 10, 2020 to The Mongolia Society office. Your abstract must contain the paper title, be no more than 300 words, and have contact information, including email address. If your abstract is accepted, you will have 20 minutes to present your paper.
You must be a Mongolia Society member to present a paper. To join the Society⃰, please either contact the Society office or go to our website www.mongoliasociety.org
Please send your abstract to Susie Drost, The Mongolia Society, 304 Eigenmann Hall, Indiana University, 1900 E. 10th St., Bloomington, IN 47406; Telephone and Fax number: 812-855-4078; E-Mail address: monsoc@indiana.edu; Web: www.mongoliasociety.org
ATTENDANCE DONATION for the 2020 Mongolia Society Annual Meeting and Panels: $15 for Mongolia Society Members, $25 for Non-Members⃰; $10 for students with ID. Please pay by going to our website (www.mongoliasociety.org) and clicking the Donation button, making the notation annual meeting. Attendance Donation fee must be paid by March 15, 2020 to attend our meeting and panels. You will be sent a receipt for your donation that you can use as your entry pass to these events.
⃰The Society is offering a special discounted membership rate when new members join and pay The Mongolia Society Annual Meeting Attendance donation at the same time. It will only cost $40 for new members to join the Society and attend The Mongolia Society Annual Meeting and Panels.
*********************************************

CALL FOR PROPOSALS FOR 5TH INTERDISCIPLINARY DESERT CONFERENCE AT UNIVERSITY OF OXFORD (APRIL 22-24, 2020)
The School of Geography and Environment at the Oxford University will be hosting the 5th Oxford Interdisciplinary Desert Conference, April 22-24, 2020.
The Oxford Desert Conference brings together academics and non-academics who research, work and live across the world's desert and semi-desert regions for two days of vibrant talks, presentations, panels and networking opportunities.
For the 2020 Desert Conference, we encourage presentations, panel and roundtable proposals on issues related to social and physical sciences. Topics may include mobile pastoralism (including veterinary sciences), health, heritage, interdisciplinary methodologies, migration (mobility), conflict and development broadly conceived. Environment, remote sensing, archaeology, climate, water and related topics are most welcome.
We encourage participants from the Humanities to join us. Also, we will accept poster presentations as well as proposals for exhibitions and films.
Registration


1. Please enter your information into this EventBrite form. The form will ask you to submit a 200 word abstract, a bio (up to 150 words) and a summary of research interest (up to 150 words). If you wish to organise an exhibit, show a film, or present a poster, please also include an abstract in this section of the form.

2. Please pay your conference fees via the Oxford Desert Conference page on the Oxford University Stores website.
Deadline for abstracts: Monday February 10, 2020


For further queries please contact Dr Troy Sternberg and Dr Ariell Ahearn via deserts@ouce.ox.ac.uk.
*********************************************

CALL FOR APPLICATIONS AT ASIA PACIFIC WORKSHOP 2020 BY EARLY CAREER SCHOLARS (JULY 5-11, 2020)
The American Political Science Association (APSA) is pleased to announce a Call for Applications for early-career scholars who would like to participate in the 2020 APSA Asia Pacific Workshop. The program is an opportunity to connect with scholars from across East and Southeast Asia and advance research related to contentious politics in Asia.
The workshop is part of a multi-year effort to support political science research among early-career scholars in East and Southeast Asia, and to strengthen research networks linking Asian scholars with colleagues overseas.
The workshop will be held from July 5–11, 2020 in partnership with City University of Hong Kong. Leading the workshop will be Teri L. Caraway (University of Minnesota), Edmund W. Cheng (City University of Hong Kong), Jai Kwan Jung (Korea University), and Teresa Wright (California State University-Long Beach). The organizers will cover participation costs (including airfare, lodging, and materials) for up to 22 qualified applicants. The working language of the workshop is English.
Further information on the Asia Pacific Workshop program and a link to the 2020 Application Form can be found at https://connect.apsanet.org/asia/.
The deadline for applications is Saturday, March 14, 2020.
*********************************************
CALL FOR PROPOSALS AT CENTRAL EURASIAN STUDIES SOCIETY 7TH REGIONAL CONFERENCE (JUNE 25-28, 2020)
Since 2008, CESS has held a number of Regional Conferences in the Central Eurasian region. The 2017 Regional Conference, held jointly with the European Society for Central Asian Studies, at the American University of Central Asia (Bishkek, Kyrgyzstan), was our largest yet.
In 2020, the 7th CESS Regional Conference will be held at the University of World Economy and Diplomacy, Tashkent, Uzbekistan from June 25-28, 2020.
For the CESS 2020 Regional Conference, we invite submissions relating to all aspects of humanities and social science scholarship. The geographic domain of Central Eurasia encompasses Central Asia, the Caucasus, Iran, Afghanistan, Tibet, Mongolia, Siberia, Inner Asia, the Black Sea region, the Volga region, and East and Central Europe. Practitioners and scholars in all fields with an interest in this region are encouraged to participate.
How to Submit a Proposal
We invite the following types of proposals for the Regional Conference: individual paper, pre-organized panel, author-critic forum, book-in-progress panel, roundtable and workshop. Our website provides more information about the requirements of each proposal type.
Please read the conference rules and language policy before submitting a proposal. The primary language of the conference is English. Individual paper proposals are accepted only in English. Panel proposals that involve other languages may be accepted, if well-justified.
Submissions to the Regional Conference are made online at https://www.centraleurasia.org/conferences/regional/#submit. The submission system is now open. The deadline for proposal submissions is February 29, 2020 (11.59pm Eastern Standard Time).
We expect to notify applicants of the outcomes of their submission in early April 2020. For inquiries regarding the conference, contact CESS at: info@centraleurasia.org.
*********************************************
CALL FOR PROPOSALS FOR 2020 AAS-IN-ASIA CONFERENCE (JUN 29-JUL 1, 2020)
The Association for Asian Studies (AAS) and The International Academic Forum (IAFOR) are now accepting proposals for the 2020 AAS-in-Asia conference, to be held June 29-July 1, 2020 in Kobe, Japan.
The AAS-in-Asia Program Committee welcomes proposals for organized panel sessions and roundtables. Individual papers will not be considered. Organized panels consist of formal paper presenters (3-5 papers maximum) each delivering a 15-20 minute presentation, a chair, and a moderator (discussant). Roundtables provide opportunities for participants with specific expertise to discuss with each other, and with members of the audience, issues or themes concerning a discipline or an Asian regional area. This session type consists of a chair and 4-5 panelists that serve as discussants.
Please see the Call for Proposals for complete information about proposal requirements and submission instructions.
Session organizers who submitted a proposal to the postponed Hong Kong AAS-in-Asia conference must re-submit to have their proposals considered for inclusion on the Kobe program. This is an entirely new Call for Proposals, with no relationship to the Hong Kong CFP. Organizers are free to edit their previous proposals in any way, and the Kobe Program Committee will not have access to the prior version. Session organizers who wish to download a copy of their Hong Kong proposal may do so by logging in to the old CFP portal, which has been maintained for their reference.
The deadline for proposal submission is February 10, 2020.
Please contact IAFOR at aasinasia@iafor.org if you have any questions about preparing or submitting a proposal. We look forward to meeting you in Kobe!

Digital collections related to Mongolia we discovered in January, 2020:
University of Cambridge: "Kalmyk Cultural Heritage Documentation at MIASU (2014-19)"

-- a database of Kalmyk and Oirat cultural heritage in Russia and China, namely video (with summary essays), audio, photographic images of rituals, ceremonies, methods and objects.
Some scholarly papers published in January, 2020:

HOW GREAT POWER GEOPOLITICS IS CHANGING THE GEOPOLITICS OF MONGOLIA
This article was written by Jeff Goodson and former Executive Director Jonathan Addleton. Some of the highlights include how the great power competition among China, Russia and the United States is changing the calculus on Mongolian sovereignty; the most visible feature of that competition is China's emergent regional and global hegemony.
*********************************************
MONGOLIA AND VATICAN COOPERATING IN HISTORICAL RESEARCH
His Excellency L. Purevsuren, Ambassador of Mongolia to the Holy See met with Secretary for Relations with States within the Holy See's Secretariat of State, Archbishop Paul Richard Gallagher. Archbishop Paul Richard Gallagher expressed readiness of Vatican to teach Latin language to Mongolian scholars to enable them to study resources related to Mongolian history.
*********************************************
COLORADO STATE UNIVERSITY SIGNS RESEARCH, EDUCATIONAL AGREEMENTS WITH NATIONAL UNIVERSITY OF MONGOLIA
Colorado State University and the National University of Mongolia have had an informal yet fruitful education and research partnership over the last 30 years. And now, they're making it official: on Jan. 23, the universities signed a memorandum of understanding.

Interesting Links -- A variety articles related to Mongolia were posted during January 2020; here are some of the more notable ones:
Xinhua, posted on January 1: "

High-speed rail connects Inner Mongolia, Beijing

"

AKIPress, posted on January 1: "British citizens run Christmas campaign to help Mongolian children"
Ohio's Country Journal, posted on January 8: "To outer Mongolia and back"

Hood River News, posted on January 8: "Travelogue: Mongolia: The nomadic life among Kazakh eagle hunters"
East Asia Forum, posted on January 10: "Preserving the political status quo in Mongolia"

VICE, posted on January 9: "Portraits of Young Mongolians Who Got Arrested for Smoking Weed"
Foreign Policy, posted on January 11: "Why Does China Have 1.4 Billion People and No Good Bands?"
Popular Mechanics, posted on January 12: "What I Learned On My 10,000-Mile Road Trip From London to Mongolia"
Toronto Sun, posted on January 12: "BRAUN: Mongolian adventure helped with cellphone withdrawal"
The Guardian, posted on January 12: "'The Godfather of trains': the Trans-Mongolian from Moscow to Beijing"

Financial Express, posted on January 12: "India is in talks with Mongolia and Russia for importing coking coal: Dharmendra Pradhan"
AKIPress, posted on January 15: "Mongolia among 52 places recommended to visit in 2020 by The New York Times"

Stratfor, posted on January 24: "
*********************************************
Transnational Law and State Transformation: The Case of Extractive Development in Mongolia, by Jennifer Lander; 284 pages; $49.95 as ebook (Routledge, 2019)
This book contributes new theoretical insight and in-depth empirical analysis about the relationship between transnational legality, state change and the globalisation of markets.
Mongolia's recent transformation as a mineral-exporting country provides a rare opportunity to witness economic and legal globalisation in process. Based on careful empirical analysis of national law and policy-making, the book traces the way distinctive processes of transnational legal ordering have reorganised and reframed the governance of Mongolia's mining sector, specifically by redistributing state power in relation to the market, sub-national administrations and civil society.

Jennifer Lander is a Lecturer in Law at De Montfort University, UK.
*********************************************

Long Song Heritage of Inner Mongols (Өвөр Монголчуудын уртын дууны өв) by Dorjdagva Myagmarjav (Erdenezul, 2019)
Based on a survey done in 2009 across 5 banners of Inner Mongolia (Ordos, Alasha, Chahar, Horchin-Zarud, Buryat, Barga), the book categorizes long song styles of over 271 songs by 139 singers. The book comes with a DVD of the said singers.
ISBN: 978-99978-4-888-8
To purchase or order this book, please write to: info@nomadic.mn
*********************************************
Multispecies Households in the Saian Mountains: Ecology at the Russia-Mongolian Border, edited by Alex Oehler and Anna Varfolomeeva (Lexington Books, 2019)
Multispecies Households in the Saian Mountains brings together new ethnographic insights from the mountains of Southern Siberia and Mongolia. Contributors to this edited collection examine Indigenous ideas of what it means to make a home alongside animals and spirits in changing alpine and subalpine environments. Set in the Eastern Saian Mountain Region of South Central Siberia and northern Mongolia, this book covers an area famous for its claim as the birthplace of Eurasian reindeer domestication. Using ethnographic nuance, the contributors highlight the many connections between humans and other species, stressing the networks of relationships that transcend idioms of dominance or mutualism. This book is recommended for students and scholars of anthropology, environmental studies, and Asian studies.
"Multispecies Households in the Saian Mountains: Ecology at the Russia-Mongolia Border highlights the complex attunements between humans, animals, and invisible entities in the taiga, using a historical and anthropological perspective. Through rich and original ethnographical vignettes, this volume offers subtle insights into the taiga landscape, perceived as a home shared by human and non-human sentient beings, and adds to our understanding of the shaping of multispecies coexistence in a time of change and uncertainty in Inner Asia" • Charlotte Marchina, Institut National des Langues et Civilisations Orientales
Alex Oehler is assistant professor of anthropology at the University of Northern British Columbia.
Anna Varfolomeeva is assistant professor at School of Advanced Studies at Tyumen State University.
*********************************************
The Anti-Social Contract: Injurious Talk and Dangerous Exchanges in Northern Mongolia by Lars Hojer: (Berghahn, 2019)
Set in a remote district of villagers and nomadic pastoralists in the northernmost part of Mongolia, this book introduces a local world where social relationships are cast in witchcraft-like idioms of mistrust and suspicion.

While the apparent social breakdown that followed the collapse of state socialism in Mongolia often implied a chaotic lack of social cohesion, this ethnography reveals an everyday universe where uncertain relations are as much internally cultivated in indigenous Mongolian perceptions of social relatedness, as they are externally confronted in post-socialist surroundings of unemployment and diminished social security.
"This book is a very important and vibrant ethnographic work… By emphasizing the dynamics of distancing, suspicion and avoidance in anti-social relations, the author introduces a new, and much fuller, conceptual purchase onto the anthropological term 'other', which has underpinned a great deal of classical and contemporary analysis in the discipline." • Katherine Swancutt, King's College London
Lars Højer is an associate professor at the Centre for Comparative Culture Studies, Department of Cross-Cultural and Regional Studies at the University of Copenhagen. He has carried out extensive fieldwork in Mongolia and Inner Asia. His previous anthropological research has mainly focused on social, economic, religious, and political aspects of transition processes in urban and rural post-socialist Mongolia.

*********************************************
The Mongols and the Armenians (1220-1335) by Bayarsaikhan Dashdondog: 270 pages; Open Access (Brill, 2011)
This book is an invitation to a journey to the medieval world, which, in author's opinion, is the most picturesque period of human history to embark back to, and it is definitely one of the fascinating moments of the Great Mongol Empire. It is an interesting journey in many way: historically, geographically and culturally. It will take the reader from the Inner Asian plateau to the Caucasus, Anatolia, Middle and Near East; from a nomadic culture to sedentary civilizations; from a warrior's mindset to the subjects' survival policy.
The present work tries to understand the connection between the various aspects of East and West in Medieval times by exploring relations between two nations, the Armenians and the Mongols, who began interacting with each other during the thirteenth century. During that time the Mongols became widely known to the world for building the most extensive land empire in human history that stretched from the Pacific Ocean to the Adriatic Sea, covering mosts of Asia all the way to Korea, excluding India and Eastern Europe, but including Hungary.
Bayarsaikhan Dashdondog currently works at the History Department at the National University of Mongolia. Bayarsaikhan does research in History of Mongol Empire; Mongol-Armenian Relationship; History of Religion and Historiography of the Mongols. Her current project is 'Chancellery Practice of the Mongols.'
*********************************************
Urban Hunters: Dealing and Dreaming in Times of Transition by Lars Hoger and Morton Axel Pederson; 288 pages; $85 (Yale University Press, 2019)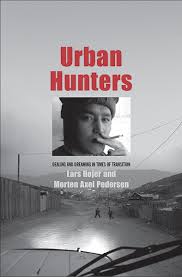 Urban Hunters is an Ethnography of the Mongolian capital, Ulaanbaatar, during the nation's transition from socialism to a market-based economic system. Following the Soviet collapse in 1991, Mongolia entered into a period of economic chaos characterized by wild inflation, disappearing banks and closing farms, factories and schools. During this time of widespread poverty, a generation of young adults came of age. In exploring the social, cultural and existential ramifications of a transition that has become permanent and acquired a life of its own, the authors present a new theorization of social agency in post- socialist as well as post-colonial contexts.
Lars Hoger is Associate Professor and Deputy Head at the Department of Cross-Cultural and Regional Studies, University of Copenhagen.
Morten Axel Pederson is Professor of Social Anthropology at the University of Copenhagen and Vice Director of the Copenhagen Center for Social Data Science.
*********************************************
Mongolia: A Political History of the Land and its People by Michael Dillon; 232 pages; $29.95 (IB Tauris, 2019)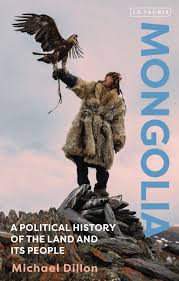 In the words of pre-publication material from the publisher, "Mongolia remains a beautiful barren land of spectacularly clothed horse riders, nomadic romance and windswept landscape. But modern Mongolia is now caught between two giants: China and Russia; and known to be home to enormous mineral resources they are keen to exploit. China is expanding economically into the region, buying up mining interests and strengthening its control over Inner Mongolia.
"Michael Dillon, one of the foremost experts on the region, seeks to tell the modern history of this fascinating country. He investigates its history of repression, the slaughter of the country's Buddhists, its painful experiences under Soviet rule and dictatorship, and its history of corruption. But there is hope for its future and it now has a functioning parliamentary democracy which is broadly representative of Mongolia's ethnic mix. How long it can last is another question. Short, sharp and authoritative, Mongolia will become the standard text on the region as it begins to shape world affairs.
Michael Dillon was founding director of the Center for Contemporary Chinese Studies at the University of Durham where he taught modern Chinese history. He is a Fellow at the Royal Historical Society and the Royal Asiatic Society and was Visiting Fellow at Tsingha University in Beijing. He has travelled throughout China and Central Asia for over 40 years and speaks and reads both Chinese and Mongolian. He is the author of China: A Modern History.
*********************************************
Several non-traditional books on Mongolia have been published this year or are anticipated in 2020. Though entirely non-academic in nature, some of these titles may nonetheless be of interest to ACMS members.
Examples of the types of unusual, offbeat, interesting and at times intriguing English language books related in some way to Mongolia that find their way into print include Easy Mongolian Cookbook: Enjoy Authentic Mongolian Cooking with 50 Delicious Mongolian Recipies (Independently Published, 2019); The Mongolian Conspiracy by Rafael Bernal (Kindle Edition, 2019); Girl Forward: A Tale of One Woman's Unlikely Adventure in Mongolia by Heather Wallace (Water Horse Press, 2019); Tend My Sheep: A Veterinarian in Mongolia by Gerald Mitchum (Independently Published, 2019); and a new Lonely Planet Mongolian Phrase Book and Dictionary (Lonely Planet, 2020).