Subject: This Month in Mongolian Studies - March 2020
a
| | |
| --- | --- |
| Having trouble viewing this email? Click here to open in your browser. | |
This Month in Mongolian Studies

is a monthly listing of selected academic activities, resources and other material related to Mongolia. This list is based on information the ACMS has received and is presented as a service to its members. If you would like to submit information to be included in next month's issue please contact the ACMS at

info@mongoliacenter.org

This publication is supported in part by memberships. Please consider becoming a member of the ACMS, or renewing your membership by visiting our website at

mongoliacenter.org/join

. Thank you!
STATEMENT REGARDING COVID-19
The ACMS is closely monitoring the situation regarding COVID-19 (corona virus). While there are currently no cases of COVID-19 in Mongolia, the U.S. State Department issued a travel advisory for Mongolia on February 26, 2020 due to travel and transport restrictions related to Mongolia's response to the outbreak in neighboring countries. Please visit The U.S. Embassy Ulaanbaatar's new webpage for the most accurate and up-to-date information: https://mn.usembassy.gov/covid-19-information/
These closures add some uncertainty to travel plans for summer 2020, but the ACMS is continuing to make preparations for all of our summer programs. The ACMS will continue to monitor the situation closely and places the highest importance on the health and safety of our program participants and staff. The ACMS will announce any changes in the status of our programs via our website and social media accounts.
**********************************************
WEBINAR RECORDING ABOUT MFS2020 AVAILABLE ONLINE
If you are interested in learning more about our upcoming summer field school--from the instructors, our Feb 5 webinar recording is now available online! The second information webinar of our annual interdisciplinary Mongolia Field School was led by ACMS Executive Director, Dr. Charles Krusekopf, and featured two participants from last year, and course leaders of the 7 upcoming courses.
**********************************************
MONGOLIA FIELD SCHOOL 2020 ACCEPTING APPLICATIONS
The priority deadline for our flagship summer program has passed, but don't forget that our regular deadline is on April 30.
The Field School is open to all participants, including undergraduate and graduate students, teachers at all levels and life-long learners interested in academic studies and research that explore Mongolia's unique history, culture and contemporary issues.
Applicants can apply for any of our seven interdisciplinary courses, #MediaJournalism, #LiteratureMusic, #ClimatePastoralism, #ClimatePublicHealth, #BuddhismNaturalWorld, #GobiFutures, and #MiningEnvironment.
All applications must be submitted online by April 30, 2020.
**********************************************
ACMS TEXTILE CONSERVATION DIRECTED FELLOWSHIP (FALL, 2020)
The fellow will have the opportunity for in-depth examination and treatment of fabrics and textiles, costumes, and accessories representing Eurasian steppe cultures roughly spanning 2,000 years. Applicants must be U.S. citizens with a graduate degree in conservation from a recognized program, or have equivalent work experience, at least one year of practical experience beyond graduation, and experience with a variety of analytical instruments and information technology.
Application materials (CV, Personal Statement, 2 Letters of Recommendation) must be received by May 1, 2020.
ACMS Sponsored Programs and Events
**********************************************

MINUTES OF THE ACMS ANNUAL GENERAL MEETING

The 2020 ACMS AGM took place beginning at 4:30 PM on Saturday, February 8 in the Smithsonian's Museum of Natural History in Washington, DC.

In contrast to previous years when the AGM was scheduled to coincide with the annual Association for Asian Studies (AAS) meeting, this year's AGM was held at the conclusion of the XIV Annual Mongolian Studies Conference, sponsored by the Embassy of Mongolia, Mongolian Cultural Center and Smithsonian Institute, among other organizations (ACMS also played a supporting role in this year's conference).

Participants at the closing session of the Annual Mongolian Studies Conference were also invited to attend. Most elected to stay, ensuring an audience of more than 100 consisting of some ACMS members and many "Friends of ACMS" interested in both Mongolia and the work of the organization.

ACMS Executive Board Members present included Bill Fitzhugh and Paula DePriest. ACMS institutional members present included Christopher Atwood (UPenn) and Jonathan Addleton (Mercer University). As an aside, the two-day XIV Annual Mongolian Studies Conference was notably successful, focusing this year on "Art and Culture Among the Mongols". Most papers have been included in a published volume accompanying the conference and a number of ACMS-related scholars and presenters were included in the proceedings.

Erik Noble also attended, representing the White House (his wife is from Hovd). Bill Fitzhugh opened the AGM in his role as ACMS Board Chairman. He presented a financial overview, based largely on information provided by ACMS Treasurer Meredith Giorgiano who noted arrangements made to contract with a professional bookkeeper recommended by the ACMS auditor and based in Bellingham, WA. Outgoing ACMS Executive Director then presented the required membership report followed by an Annual Report highlighting major ACMS-related activities conducted during 2019. The report was followed by a short slide presentation, based on material provided by the ACMS office in Ulaanbaatar.

As of February 2020, paid-up individual ACMS membership consisted of 70 "regular" members (nine of them Mongolian) and 39 student members (one of whom is Mongolian), for a total individual membership of 109.

Also, the following 12 organizations are considered paid-up members of ACMS at this point in time (it is hoped that several additional institutions whose membership have recently lapsed will renew their memberships during the coming weeks):

Bioregions International (paid through 2020) (Clifford Montagne)

Colorado State University (paid through 2020 (Maria Fernandez-Gimenez)

Mercer University (provides services in kind) (Jonathan Addleton)

Principia College (paid through 2020) (John Williams)

Royal Road University (provides services in kind) (Charles Krusekopf)

Rutgers University (paid through 2020 (Olaf Jenson)

School for Int'l Training (paid through 2020) (Brian Hammer)

Smithsonian Institute (paid through 2022 (Bill Fitzhugh)

University of Arizona (paid through 2022 (John Olsen)

University of Kansas (paid through 2022) (Alexander Diener)

University of Nebraska-Lincoln (paid through 2021 (Scott Gardner)

University of Pennsylvania (provides services in kind) (Christopher Atwood)

The ACMS Executive Board currently consists of the following:

President – Dr. William Fitzhugh,

Smithsonian Institute

Vice President for External Relations,

Dr. Charles Krusekopf, Royal Roads University

Vice President for Member Services, Dr. Paula DePriest, Smithsonian Institute

Treasurer, Meredith Giordano, Peace Corps

Secretary, Caverlee Cary, University of California-Berkeley

At-large ACMS Board Members include Marissa Smith and Bryant Harden, both with significant in-country experience in Mongolia. There are at least three vacancies for additional At-large ACMS Board Members and nominations are welcome.

Other items covered in the Annual Report presented by Jonathan Addleton included the following:

Importance of CAORC connection

Importance of UB Office

Grant from Dept of Education, making office presence in UB possible

Grant from Dept. of State, funding the Research Fellowship Program

Grant from Ambassador's Fund for Cultural Preservation, making the visit of the three textile specialists from UB to the US possible (all three participants were present at the Mongolia Studies Conference and were introduced during the AGM)

Grant from the Henry Luce Foundation, important both for the previous Cultural Heritage Program and the current Summer Field School initiative

Variety of other activities supported by ACMS in UB including library, language programs, lecture series, assistance in various programs involving US university students (UPenn, Mercer, Bryn Mawr, ROTC program), etc.

The floor was opened for questions, with one participant asking for information on the new Executive Director. Bill Fitzhugh replied that a new Executive Director had not yet been selected or appointed but that Charles Krusekopf was undertaking essential duties ordinarily assumed by the Executive Director. ACMS Board Chairman Bill Fitzhugh then closed the meeting, thanking Jonathan Addleton for his service as ACMS Executive Director and wishing him the best in his prospective return to South Asia where he expects to take up an academic appointment beginning in fall 2020.

Also, at the request of the Mongolian Embassy, Bill Fitzhugh presented a statement of support for Mongolian Studies, requesting comment; none being received, the statement was approved by those present, with the caveat that Professor Atwood from UPenn would work on polishing the wording further before the statement is considered finalized. As Bill Fitzhugh described it, the XIV Annual Mongolia Studies Conference was the "best ever". While most of the presentations took place at the Smithsonian, the event also included a spectacular exposition of long song at the Library Congress involving a textual interpretation; an explanation by a musicologist; and a long-song singer from Mongolia, followed by a book exhibition, also arranged by the Library of Congress.

Attendance at the Mongolian Studies Conference exceeded 150 throughout most of the two days. A third day was also arranged involving a well attended "Family Day" program celebrating all things Mongolians back at the Smithsonian Institute. Next year's Mongolia Studies Conference will again represent a joint effort involving the Smithsonian, Library of Congress and Mongolian Embassy and potentially providing an appropriate venue for the 2021 ACMS AGM as well.

**********************************************

AFCP NOMADIC TEXTILE CULTURAL HERITAGE EXCHANGE PARTICIPANTS SHARE THEIR EXPERIENCES

The three textiles conservation specialists chosen to participate in our AFCP Nomadic Textiles Cultural Heritage Exchange program have successfully completed the program in the U.S. and are homebound. The participants of this pilot program, funded by the U.S. Embassy's Ambassadors Fund for Cultural Preservation, had the chance to visit the leading textile conservation institutions in DC and NYC for a targeted program of meetings, site visits, networking opportunities, mentorships, and/or workshops.

This program builds off relationships between the participants and several institutions and organizations in the United States. The trio have been sharing the practices and insights they had learned with ACMS (e.g. this video), and we are pleased to note that a video compilation is coming soon.

The ACMS hopes this enriching cultural exchange program will continue after this year.

**********************************************

ACMS MONGOLIA YOUTUBE CHANNEL RELEASES IN JANUARY, 2020:
The Louis Frieberg Center for East Asian Studies offers post-doctoral fellowships for the 2020-2021 academic year. The post-docs are open to scholars in the humanities and social sciences specializing in East Asia, especially China, Japan, Korea and Mongolia.
Fellowships are granted for one academic year or one semester. The starting date of the visit should not be later than four years after receipt of the doctoral degree; the fellow must hold a valid doctoral degree no later than October 2020.
The fellowship consists of a monthly stipend (tax free) of $1,800, paid in Israeli currency and linked to the representative rate of exchange. Fellows are entitled to one airline ticket (economy class, up to $1,500) for a direct flight from their hometown to Israel and back. The fellows are expected to teach one semester-long course at the Hebrew University (for additional payment, according to the Hebrew University regulations). The ability to teach a course in Hebrew is welcome, but is not a prerequisite for attaining the fellowship. The fellows will also actively participate in the life and activities of the Louis Frieberg Center for East Asian Studies and will present their research at the seminar of the Department of Asian Studies, and possibly at other relevant forums. Any work outside the Hebrew University would be allowed only after specific approval by the Frieberg Center. Applicants should submit one hard copy and an electronic copy—in one file—of their application to the address below, no later than March 8, 2020.
The application must include:
1. CV
2. Research plan (up to 5 pages)
3. A sample of applicant's publications (if relevant)
4. Two letters of recommendation
The applicant should indicate the names and positions of the recommenders, but the letters of recommendation should be sent by the recommenders directly to the email address below.
Please send materials to email: eacenter@mail.huji.ac.il
For questions and further info please contact eacenter@mail.huji.ac.il or Prof. Michal Biran at biranm@mail.huji.ac.il
To read more on the Department of Asian Studies: http://en.asia.huji.ac.il/; On the Frieberg Center https://eacenter.huji.ac.il/
**********************************************
RESEARCH ASSISTANT/ASSOCIATE (FIXED TERM)
The Mongolia & Inner Asia Studies Unit, Department of Social Anthropology, University of Cambridge, invites applications for an Early-Career Postdoctoral Fellowship tenable for four years from 1 September 2020 or as soon as possible thereafter. Applicants should be completing or have recently completed a doctorate and intend to pursue research on one or more of the societies or cultures of the area covered by the Unit (see further particulars) with a preference for the western part of the Mongolian cultural area.
The Early-Career Postdoctoral Fellow will be expected to pursue learning and research in their chosen field and publish the results. The Fellow will also be expected to play a full role in the MIASU's research activities, including seminars, workshops, conferences and developing future grant applications. The fellow may also be asked to contribute to the teaching of the Department and Unit.
Candidates should have specialist knowledge of one or more of the societies or cultures of the area covered by the Unit (the Republic of Mongolia, some areas of China [Tibet, Xinjiang, Inner Mongolia, Heilongjiang] and Russia [Buryatia, Tuva, Altai, Kalmykia), and the areas of the Himalayan region [including Sikkim, parts of Nepal, and Bhutan]). Preference will be given to candidates with a plan for research on the western part of the Mongolian cultural area.
The salary for the Research Associate starts at £32,816 to £40,322 per annum. If you have not yet received your PhD you will be appointed as a Research Assistant and the salary will be starting at £26,715 to £30,942 per annum until the PhD is awarded. This includes those who have submitted but not yet received their PhD (in which case appointment will initially be made at research assistant and amended to research associate when the PhD is awarded).
Applicants should provide: (i) a curriculum vitae with details of the applicant's education record, any publications and a brief statement of eligibility for this early-career post; (ii) academic transcripts of undergraduate degree and for any higher degrees awarded; (iii) a statement of not more than 1,000 words outlining present and proposed research; (iv) A sample of the candidates writings in the English language of between 10,000 and 20,000 words in length e.g. selected chapters of a doctoral dissertation or publications; (v) the names and contact details of two referees familiar with the applicant's work. The referees of short-listed candidates will be contacted and asked to supply a reference by the end of May 2020.
The closing date for applications is Wednesday 15 April 2020.
Enquiries may be addressed to: Libby Peachey, MIASU Administrator at eaup2@cam.ac.uk
Learn more at: http://www.jobs.cam.ac.uk/job/25326/
CALL FOR PAPERS FOR THE MONGOLIA SOCIETY ANNUAL MEETING AND PANELS AT MIT ANTHROPOLOGY (MARCH 19-22, 2020)
The 2020 Annual Meeting and Panels of The Mongolia Society will be held on Sunday, March 22, 2020 at MIT (Massachusetts Institute of Technology) Anthropology in Cambridge, MA. Our event will take place while the AAS (Association for Asian Studies) is meeting in Boston (March 19-22, 2020) and not at its conference hotel, but on the MIT campus in Cambridge, Massachusetts. Further information on the Society's Annual Meeting will be available at a later date.
The Mongolia Society is placing a CALL FOR PAPERS for the 2020 Annual Meeting and Panels at MIT Anthropology. Please submit your abstract. In addition to papers on general humanities, arts, education and social science topics, we invite papers on ethno-botany, environmental studies, medicine, public health, economic development, and science and technology studies in contemporary and historical periods, no later than February 10, 2020 to The Mongolia Society office. Your abstract must contain the paper title, be no more than 300 words, and have contact information, including email address. If your abstract is accepted, you will have 20 minutes to present your paper.
You must be a Mongolia Society member to present a paper. To join the Society⃰, please either contact the Society office or go to our website www.mongoliasociety.org
Please send your abstract to Susie Drost, The Mongolia Society, 304 Eigenmann Hall, Indiana University, 1900 E. 10th St., Bloomington, IN 47406; Telephone and Fax number: 812-855-4078; E-Mail address: monsoc@indiana.edu; Web: www.mongoliasociety.org
ATTENDANCE DONATION for the 2020 Mongolia Society Annual Meeting and Panels: $15 for Mongolia Society Members, $25 for Non-Members⃰; $10 for students with ID. Please pay by going to our website (www.mongoliasociety.org) and clicking the Donation button, making the notation annual meeting. Attendance Donation fee must be paid by March 15, 2020 to attend our meeting and panels. You will be sent a receipt for your donation that you can use as your entry pass to these events.
⃰The Society is offering a special discounted membership rate when new members join and pay The Mongolia Society Annual Meeting Attendance donation at the same time. It will only cost $40 for new members to join the Society and attend The Mongolia Society Annual Meeting and Panels.
*********************************************

CALL FOR APPLICATIONS AT ASIA PACIFIC WORKSHOP 2020 BY EARLY CAREER SCHOLARS (JULY 5-11, 2020)
The American Political Science Association (APSA) is pleased to announce a Call for Applications for early-career scholars who would like to participate in the 2020 APSA Asia Pacific Workshop. The program is an opportunity to connect with scholars from across East and Southeast Asia and advance research related to contentious politics in Asia.
The workshop is part of a multi-year effort to support political science research among early-career scholars in East and Southeast Asia, and to strengthen research networks linking Asian scholars with colleagues overseas.
The workshop will be held from July 5–11, 2020 in partnership with City University of Hong Kong. Leading the workshop will be Teri L. Caraway (University of Minnesota), Edmund W. Cheng (City University of Hong Kong), Jai Kwan Jung (Korea University), and Teresa Wright (California State University-Long Beach). The organizers will cover participation costs (including airfare, lodging, and materials) for up to 22 qualified applicants. The working language of the workshop is English.
Further information on the Asia Pacific Workshop program and a link to the 2020 Application Form can be found at https://connect.apsanet.org/asia/.
The deadline for applications is Saturday, March 14, 2020.
*********************************************
GOOGLE'S SPEECH-TO-TEXT APP GBOARD NOW SUPPORTS MONGOLIAN
Google has added the Mongolian voice-to-text AI in its mobile keyboard app. The news trended on Facebook and Twitter this past week when Battulga Bayarsaikhan, a prominent Mongolian software engineer at Google, announced this news, prompting many users who have tried to app to laud its accuracy and ease of use.
The app is available on both Android (link here) and iOS (link here), and also has Google Translate embedded, so one can voice-type in Mongolian, and have it be translated into English or any of the 200 languages the app supports.
*********************************************
HOW BOULDERS IN MONGOLIAN MOUNTAINS REVEAL THE PACE OF CLIMATE CHANGE
A team of glacial geologists from University of Maine worked on the moraines, or landforms carved into the landscape by glaciers, at the Altai Tavan Bogd National Park. Their research is concerned with finding out what caused the climate to warm and cool all on its own before humans had a hand in increasing greenhouse gas emissions.

*********************************************
WHAT BACTERIAL CULTURES REVEAL ABOUT OURS
The Heirloom Microbes project team has been working to identify and preserve rare microbes used in transforming milk into yogurts and cheeses. In the process, they hope to understand which microbes were unique to specific early dairy communities.
In Mongolia, most herders have no idea that the khöröngo is, in fact, made up of a wealth of microbes. And that lack of knowledge could be a problem. Not only do these microbes bring benefits to the health, diet, and food practices of Mongolians—as well as a distinctive taste endemic to their cuisine—but they could be lost as Western industrial practices come to the country..
*********************************************
A RENAISSANCE IS UNDERWAY FOR MONGOLIA'S LITERATURE LOVERS
As Mongolia marks the 30th anniversary of its transition from state socialism to a free market economy, its publishing market has evolved to reflect the priorities of a more internationally connected society.
Bookshelves in Ulaanbaatar are heaving with international literature in translation, and new local authors writing in their native language.


Interesting Links -- A variety of articles related to Mongolia were posted during February 2020; here are some of the more notable ones:
*********************************************
Transnational Law and State Transformation: The Case of Extractive Development in Mongolia, by Jennifer Lander; 284 pages; $49.95 as ebook (Routledge, 2019)
This book contributes new theoretical insight and in-depth empirical analysis about the relationship between transnational legality, state change and the globalisation of markets.
Mongolia's recent transformation as a mineral-exporting country provides a rare opportunity to witness economic and legal globalisation in process. Based on careful empirical analysis of national law and policy-making, the book traces the way distinctive processes of transnational legal ordering have reorganised and reframed the governance of Mongolia's mining sector, specifically by redistributing state power in relation to the market, sub-national administrations and civil society.

Jennifer Lander is a Lecturer in Law at De Montfort University, UK.
*********************************************

Long Song Heritage of Inner Mongols (Өвөр Монголчуудын уртын дууны өв) by Dorjdagva Myagmarjav (Erdenezul, 2019)
Based on a survey done in 2009 across 5 banners of Inner Mongolia (Ordos, Alasha, Chahar, Horchin-Zarud, Buryat, Barga), the book categorizes long song styles of over 271 songs by 139 singers. The book comes with a DVD of the said singers.
ISBN: 978-99978-4-888-8
To purchase or order this book, please write to: info@nomadic.mn
*********************************************
Multispecies Households in the Saian Mountains: Ecology at the Russia-Mongolian Border, edited by Alex Oehler and Anna Varfolomeeva (Lexington Books, 2019)
Multispecies Households in the Saian Mountains brings together new ethnographic insights from the mountains of Southern Siberia and Mongolia. Contributors to this edited collection examine Indigenous ideas of what it means to make a home alongside animals and spirits in changing alpine and subalpine environments. Set in the Eastern Saian Mountain Region of South Central Siberia and northern Mongolia, this book covers an area famous for its claim as the birthplace of Eurasian reindeer domestication. Using ethnographic nuance, the contributors highlight the many connections between humans and other species, stressing the networks of relationships that transcend idioms of dominance or mutualism. This book is recommended for students and scholars of anthropology, environmental studies, and Asian studies.
"Multispecies Households in the Saian Mountains: Ecology at the Russia-Mongolia Border highlights the complex attunements between humans, animals, and invisible entities in the taiga, using a historical and anthropological perspective. Through rich and original ethnographical vignettes, this volume offers subtle insights into the taiga landscape, perceived as a home shared by human and non-human sentient beings, and adds to our understanding of the shaping of multispecies coexistence in a time of change and uncertainty in Inner Asia" • Charlotte Marchina, Institut National des Langues et Civilisations Orientales
Alex Oehler is assistant professor of anthropology at the University of Northern British Columbia.
Anna Varfolomeeva is assistant professor at School of Advanced Studies at Tyumen State University.
*********************************************
The Anti-Social Contract: Injurious Talk and Dangerous Exchanges in Northern Mongolia by Lars Hojer: (Berghahn, 2019)
Set in a remote district of villagers and nomadic pastoralists in the northernmost part of Mongolia, this book introduces a local world where social relationships are cast in witchcraft-like idioms of mistrust and suspicion.

While the apparent social breakdown that followed the collapse of state socialism in Mongolia often implied a chaotic lack of social cohesion, this ethnography reveals an everyday universe where uncertain relations are as much internally cultivated in indigenous Mongolian perceptions of social relatedness, as they are externally confronted in post-socialist surroundings of unemployment and diminished social security.
"This book is a very important and vibrant ethnographic work… By emphasizing the dynamics of distancing, suspicion and avoidance in anti-social relations, the author introduces a new, and much fuller, conceptual purchase onto the anthropological term 'other', which has underpinned a great deal of classical and contemporary analysis in the discipline." • Katherine Swancutt, King's College London
Lars Højer is an associate professor at the Centre for Comparative Culture Studies, Department of Cross-Cultural and Regional Studies at the University of Copenhagen. He has carried out extensive fieldwork in Mongolia and Inner Asia. His previous anthropological research has mainly focused on social, economic, religious, and political aspects of transition processes in urban and rural post-socialist Mongolia.

*********************************************
The Mongols and the Armenians (1220-1335) by Bayarsaikhan Dashdondog: 270 pages; Open Access (Brill, 2011)
This book is an invitation to a journey to the medieval world, which, in author's opinion, is the most picturesque period of human history to embark back to, and it is definitely one of the fascinating moments of the Great Mongol Empire. It is an interesting journey in many way: historically, geographically and culturally. It will take the reader from the Inner Asian plateau to the Caucasus, Anatolia, Middle and Near East; from a nomadic culture to sedentary civilizations; from a warrior's mindset to the subjects' survival policy.
The present work tries to understand the connection between the various aspects of East and West in Medieval times by exploring relations between two nations, the Armenians and the Mongols, who began interacting with each other during the thirteenth century. During that time the Mongols became widely known to the world for building the most extensive land empire in human history that stretched from the Pacific Ocean to the Adriatic Sea, covering mosts of Asia all the way to Korea, excluding India and Eastern Europe, but including Hungary.
Bayarsaikhan Dashdondog currently works at the History Department at the National University of Mongolia. Bayarsaikhan does research in History of Mongol Empire; Mongol-Armenian Relationship; History of Religion and Historiography of the Mongols. Her current project is 'Chancellery Practice of the Mongols.'
*********************************************
Urban Hunters: Dealing and Dreaming in Times of Transition by Lars Hoger and Morton Axel Pederson; 288 pages; $85 (Yale University Press, 2019)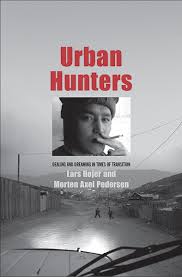 Urban Hunters is an Ethnography of the Mongolian capital, Ulaanbaatar, during the nation's transition from socialism to a market-based economic system. Following the Soviet collapse in 1991, Mongolia entered into a period of economic chaos characterized by wild inflation, disappearing banks and closing farms, factories and schools. During this time of widespread poverty, a generation of young adults came of age. In exploring the social, cultural and existential ramifications of a transition that has become permanent and acquired a life of its own, the authors present a new theorization of social agency in post- socialist as well as post-colonial contexts.
Lars Hoger is Associate Professor and Deputy Head at the Department of Cross-Cultural and Regional Studies, University of Copenhagen.
Morten Axel Pederson is Professor of Social Anthropology at the University of Copenhagen and Vice Director of the Copenhagen Center for Social Data Science.
*********************************************
Mongolia: A Political History of the Land and its People by Michael Dillon; 232 pages; $29.95 (IB Tauris, 2019)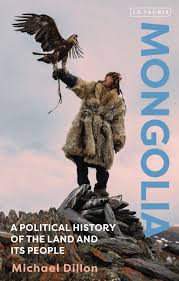 In the words of pre-publication material from the publisher, "Mongolia remains a beautiful barren land of spectacularly clothed horse riders, nomadic romance and windswept landscape. But modern Mongolia is now caught between two giants: China and Russia; and known to be home to enormous mineral resources they are keen to exploit. China is expanding economically into the region, buying up mining interests and strengthening its control over Inner Mongolia.
"Michael Dillon, one of the foremost experts on the region, seeks to tell the modern history of this fascinating country. He investigates its history of repression, the slaughter of the country's Buddhists, its painful experiences under Soviet rule and dictatorship, and its history of corruption. But there is hope for its future and it now has a functioning parliamentary democracy which is broadly representative of Mongolia's ethnic mix. How long it can last is another question. Short, sharp and authoritative, Mongolia will become the standard text on the region as it begins to shape world affairs.
Michael Dillon was founding director of the Center for Contemporary Chinese Studies at the University of Durham where he taught modern Chinese history. He is a Fellow at the Royal Historical Society and the Royal Asiatic Society and was Visiting Fellow at Tsingha University in Beijing. He has travelled throughout China and Central Asia for over 40 years and speaks and reads both Chinese and Mongolian. He is the author of China: A Modern History.
*********************************************
Several non-traditional books on Mongolia have been published this year or are anticipated in 2020. Though entirely non-academic in nature, some of these titles may nonetheless be of interest to ACMS members.
Examples of the types of unusual, offbeat, interesting and at times intriguing English language books related in some way to Mongolia that find their way into print include Easy Mongolian Cookbook: Enjoy Authentic Mongolian Cooking with 50 Delicious Mongolian Recipies (Independently Published, 2019); The Mongolian Conspiracy by Rafael Bernal (Kindle Edition, 2019); Girl Forward: A Tale of One Woman's Unlikely Adventure in Mongolia by Heather Wallace (Water Horse Press, 2019); Tend My Sheep: A Veterinarian in Mongolia by Gerald Mitchum (Independently Published, 2019); and a new Lonely Planet Mongolian Phrase Book and Dictionary (Lonely Planet, 2020).