Subject: NCC Newsletter: New COVID-19 Resources and the Call for Solidarity
View this email online if it doesn't display correctly
New COVID-19 Resources and the Call for Solidarity
Many years ago, I thoroughly enjoyed a fascinating book entitled

The Tipping Point: How Little Things Can Make a Big Difference

, by Malcolm Gladwell. Twenty years before Covid-19, he wrote, "Ideas and products and messages and behaviors spread like viruses do."

Gladwell noted a tipping point can be mysterious but described it as "the moment of critical mass, the threshold, the boiling point." There are various reasons why an idea, a product, a song, or a trend suddenly becomes accepted or popular but the role of socially gifted, influential people makes a big difference.

I have been and am part of a lot of campaigns intended to change hearts and minds. Decades ago, for instance, I became active in the anti-apartheid movement which was aimed at bringing down the white supremacist government of South Africa. This was an international effort facing implacable and extremely powerful governments and corporations. Many times, I feared apartheid would only fall via a bloody war.

However, the movement steadily gained strength and acceptance because it was a just movement whose goal of liberation and freedom was undeniable. A tipping point was finally reached, but it took a long time and a lot of hard work to get there. I will never forget watching on television on February 11, 1990 the magical moment when Nelson Mandela emerged from prison on his long walk to freedom.

As a longtime resident of the Commonwealth of Virginia, I celebrate the elimination this month of the death penalty in a state that has executed more people—over 1,300—than any other state. Although I have not been actively involved for a long time in the advocacy required to reach this moment, I am grateful it has finally come to fruition.

As we face multiple pandemics today including Covid-19, climate change, racism, and gun violence, I know that long-term work has been underway to find the tipping point. The forces of greed and paranoia sow conspiracy theories and doubt. They tell us nothing can change for the better, that you'll be just as unhappy no matter what happens--and many believe them.

But, we can, in fact, burn less carbon, create more clean energy, and set aside more land for nature. We can adopt sensible gun violence reduction measures. We can provide a universal basic income, reduce inequality, and cap personal income. We can end systemic racism. All of this is popular and all of it will take time.

It will require continued advocacy, and calm, transparent, non-defensive leadership that prioritizes treating people with dignity and valuing God's creation.

However, given the pace of environmental destruction and the rapidity of climate change, time is running out.
Reaching the tipping point requires determination and urgency on our part. When Jesus confronted those who had turned the temple into a den of robbers, he did so knowing the powers that be were coming for him. He didn't run and hide. He took the fight to them. That, too, is our task.
Statement on Senseless Deaths Due to the Lack of Gun Laws
The National Council of the Churches of Christ in the USA (NCC) laments the second deadly mass shooting in the United States in the last week. This time in a supermarket in Boulder, Colorado, where people were shopping. We cry in anguish that we cannot even purchase food without fearing for our lives in this country.

Our hearts grieve for the ten victims and we send our condolences to their families and friends who struggle now with a numbing wave of grief over the loss of their loved ones. May the heaviness of their sorrow be lifted and may they find peace.

If mass shootings are defined as a gun incident with four or more people dying or being wounded, then in the last week, since eight were killed in the Atlanta area shootings, there have been five other mass shootings in the U.S. including in Stockton, CA; Gresham, OR; Houston, TX; Dallas, TX; and Philadelphia, PA, totaling seven mass shootings in seven days.

The unchecked gun violence in this nation must end. In 1967, the NCC adopted a statement calling for Firearms Control while proclaiming at the time that it represented "a long overdue measure which might have prevented much tragic loss of life."

Over 50 years later, these basic common-sense changes to our gun laws still have not been enacted and they are far beyond overdue.

Today, we again reaffirm, as we did in our 1967 statement, that the God-given "right to life" as fundamental and sacred and hold that it is not possible to protect life and maintain public order when individuals have unregulated access to firearms.

In 1967, NCC called for permit requirements that incorporate "proper identification of applicant (by the fingerprint method if possible), and a waiting period prior to issuance so that an adequate check can be made of the prospective purchaser to verify such matters as age, absence of mental illness, and lack of a felony record."

In 2010, NCC called upon our local, state, and federal legislators "to enact reforms that limit access to assault weapons and handguns, including closing the so-called federal 'gun show loophole,' which allows for the purchase of firearms from private sellers without submitting to a background check, or providing documentation of the purchase."

"Enough is enough," declared Jim Winkler, President and General Secretary, "For over 50 years, NCC has professed the need for stronger gun laws in this country to protect lives. The time for action is now. We cannot make any more excuses, because each day that we do, more lives are lost."

"I stand firmly with the vast majority of Americans who are demanding an end to gun violence and the passage of legislation that requires greater screening, longer waiting periods for background checks, and the elimination of rapid fire guns," stated Rev. Dr. John Dorhauer, General Minister and President of the United Church of Christ and Chair of the NCC Governing Board. "While I do pray for the families whose loved ones were killed, those prayers mean little if they are not backed up with action and legislation that mitigate against the escalation of these domestic acts of terror and mass murder."
Watch NCC's COVID-19 Webinar: Vaccines, the Role of Faith Groups, & How to Stay Safe
During this webinar held on Wednesday, March 24, 2021, experts, medical professionals, and experienced faith leaders offered guidance and answered questions pertaining to the changing COVID-19 circumstances we face each day.
• Vaccine Information - What to expect when vaccinating, possible side effects, and the difference between the three available vaccines.
• What's in the COVID-19 American Rescue Plan Act of 2021?
• Access to Vaccine and the Role of Faith Groups
• Staying Safe: Guidance for Large Group Gatherings, Singing and Other Activities
• Mental Health and Spiritual Issues - How to deal with grief, anxiety, and stress as we go forward

Panelists:

Rev. Dr. Miriam J. Burnett, Senior Pastor, Historic Jones Tabernacle, Medical Director, AMEC Connectional Health Commission

Dr. Francis S. Collins, M.D., Ph.D., Director of the National Institutes of Health (NIH)
Rev. Dr. Jamie Frederika Eaddy is a Pastoral Theologian, Loss Navigation Specialist ™️, Death Doula, chaplain, author, adjunct professor and poet
Rev. Brenda Girton-Mitchell, Trusted Voices, Trusted Content, Trusted Spaces Project Manager, at the Conference of National Black Churches (CNBC)
Bishop Daniel Gutiérrez, Episcopal Diocese of Pennsylvania
Rev. Dr. Demetra K-M. Hutchinson, PhD, pastoral counselor and human resources and operations consultant
Ms. Lily Roberts, Managing Director, Economic Policy Team, Center for American Progress
Dr. Nathaniel Smith, Deputy Director for Public Health Service and Implementation Science, Centers for Disease Control and Prevention (CDC)
Dr. Uzma Syed, DO, FIDSA, Infectious Diseases Physician, Chair of COVID-19 Task Force at Good Samaritan Hospital Medical Center, Director of Antimicrobial Stewardship Center of Excellence
Dr. Leana Wen, public health professor at George Washington University and CNN medical analyst
Go to the New #Faiths4Vaccines Website and Join the Movement
In order to vaccinate the entire United States population and end the COVID-19 pandemic, faith leaders know we need to work together.
That's why the NCC is supportive of #Faiths4Vaccines, a multi-faith movement dedicated to advance equitable vaccine distribution and combat vaccine hesitancy. Surveys show that 76% of Americans identify with a faith tradition. We know that faith leaders hold a place of trust within their communities.
We encourage all of our church leaders to learn more, find out how to get involved, and join the effort by visiting the newly-launched website
Faiths4Vaccines.org
.
These resources will help you lead by example as you receive the vaccine, advocate on behalf of its equitable distribution, and mobilize your congregations to support administration of the vaccine.
NCC's 2021 Lenten Reflections follow the Committee on the Uniform Series plan for reading and studying the Bible. Each Wednesday, we will share the scripture from the week's Sunday Bible verses. We hope you will reflect on these passages of scripture during the seven weeks of Lent in light of your own experiences and relationships.
Wondering about the Christian Unity Gathering? RNS Has the Scoop!
The NCC's plans for our Christian Unity Gathering (CUG) were featured in the article "Religious conference planning continues amid COVID-19, socially distant or online" published by Religious News Service. The article by Adelle Banks provides insight into the socially-distanced events that have occurred and conventions that are being planned then reveals our aim for this year's Gathering. Mark your calendars! CUG will be held

virtually

on October 11-12, 2021!
Christian Church (Disciples of Christ)
Leaders Speak Out on Anti-Asian Violence
Rev. Dr. Teresa "Terri" Hord Owens, General Minister and President; Rev. Yvonne Gilmore, Interim Administrative Secretary, National Convocation; Rev. Lori Tapia, National Pastor, Central Pastoral Office of Hispanic Ministries; and Rev. Chung Seong Kim, Executive Pastor, North American Pacific/Asian Disciples condemned the rise in overt anti-Asian violence in the United States:
"We join with our Asian American siblings to call for an immediate end to xenophobic and racist rhetoric, hate crimes and violence against Asian Americans. Thousands of incidents of racism against the Asian American community have been reported since the COVID-19 pandemic began, and many more have gone unreported. The intentional use of such nomenclature for the COVID-19 virus such as "the China virus", has been perpetuated and promoted by leaders in the US with impunity. We denounce racist language against Black and brown communities, and we must insist that anti-Asian violence be called out and addressed as part of the systemic injustices laid bare in this time of global pandemic."

They stand in solidarity with Asian American Christians and community leaders to "call US leaders to account and demand justice and safety for Asian Americans" and state that "we must hold elected officials accountable for their words and inaction, as we must whenever such racist and bigoted injustice occurs. For the sake of the common good, (Jeremiah 29:7), we urge them to pursue justice and peace. (1 Timothy 2:2)"
A Call for Solidarity to Stop Asian American Hate
On March 20th, 2021, a group of Asian American Christian Faith Leaders gathered together to answer the Call for Solidarity.

We will not be silent.
Raise your voice.
We belong.
Stand with us
.
Today's WCC Service of Prayer During the COVID-19 Pandemic
The World Council of Churches (WCC) brought the global community together in solidarity and support during a service of prayer about the COVID-19 pandemic. Prayers of specific concerns were focused on praying for specific concerns: Lament and Grief, Hurting & Suffering Communities, Leaders, Healing, Protection, and Hope & Salvation.

NCC President and General Secretary, Jim Winkler, and NCC Chief Operating Officer, Leslie Copeland Tune, participated in today's service.
Rev. Dr. Copeland Tune prayed: "We affirm and recognize that you, our God, have been and continue to be present with us throughout this COVID-19 pandemic. In our lament, Oh God, may we not lose hope but even in the darkest night may we still be able to sing unto you a new song."
WCC Interviews the Primate of the Diocese of Artsakh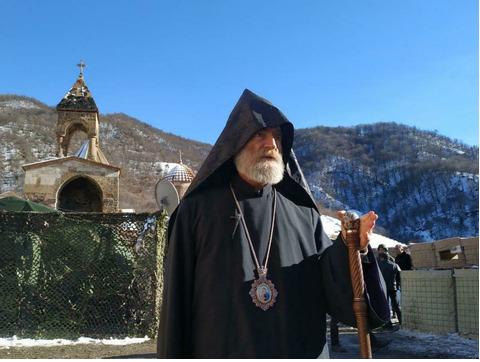 An article published by the World Council of Churches (WCC) provides insight into the recent war in Nagorno-Karabakh (Artsakh). Archbishop Pargev Martirosyan, the primate of the Diocese of Artsakh for nearly 33 years, has lived through three wars in the area.

He says the war in 2020 that ended in November was by far the worst because of the lethal weaponry and armies involved, "During this war, we saw thousands of officers and soldiers from Turkey. We saw many international terrorists, extremists; I think it was 4,000 terrorists against us."

"It was an ethnic war. The reason this conflict was born was due to a basic human rights problem stemming from great pressure from the authorities in Baku on the Armenian people in Artsakh," said Archbishop Pargev.

He notes that Turkey helped Azerbaijan along with Pakistan during the latest war, "and they used many modern new kinds of weapons, rockets, and drones from Russia, Belarus, Israel, and Turkey.

"It was the most dangerous war I saw during my 32 years."

Presbyterian Church (U.S.A.) Stated Clerk Calls for Compassion and Humanitarian Aid at the US Southern Border
Reverend Dr. J. Herbert Nelson, II asks, "How do we care for each other? Do we embrace the opportunity to carry each other's burdens or do we turn our face away in shame?"

In his statement, he describes the situation at the southern border of the United States as a great humanitarian concern, and notes we should be careful not to call it a crisis because it is not too much to handle. He calls on us to choose a different path.

"As people of faith in a church with a long history of welcome and refuge, we can urge decision makers to meet the challenge with compassion and mercy. We can urge that families stay united as they seek asylum in the United States. We can urge that children who do come unaccompanied be treated with great care and reunited with relatives quickly in the United States. We can urge that anyone who seeks refuge in the United States should have an opportunity to claim asylum and build their case in safety and not detention. This is our commitment to international law, to U.S. sanctioned law and to our understanding of our moral identity as God's faithful."
Link Up to End Gender-Based Violence
Rev. Aundreia Alexander, Esq., NCC Associate General Secretary, Action and Advocacy for Justice and Peace joined with allies, activists and holy agitators to have a deep dialogue on how we can end gender-based violence in faith communities & the public square. Panelists, co-sponsors, and co-organizers of this series are the UN Working Group on Girls, Samuel DeWitt Proctor Conference, Pathfinders Justice Initiative, Inc., CONNECT - Safe Families, Peaceful Communities, ACT Alliance, and Ecumenical Women.
Rev. Alexander's said, "There is power in collective rage!" Listen as they discuss how holy rage will fuel us to keep working to end gender-based violence in our lifetime. #ThursdaysInBlack
UCC Service of Remembrance and Healing for

the Victims of Slavery and the Transatlantic Slave Trade
The United Church of Christ held a service on the International Day of Remembrance of the Victims of Slavery and the Transatlantic Slave Trade to "honor the dead, to pray for healing, to celebrate the joy of African descendant people, and to affirm the commitment to eliminate the legacy of injustices that linger."

March 25 is one of few days that honors the memory of the millions whose lives were interrupted and disrupted by the Transatlantic Slave Trade.
The service created a space to honor those who are unknown and were not funeralized or ritualized. "In recalling the memories of those who have passed on, there is the acknowledgment that the atrocities of 400 years of movement of Africans into the Americas abroad ships designed to move people as chattel. These memories compel us to ensure that we eradicate the legacies of the enslavement of Africans that continues to manifest as racism, Afrophobia, and other forms of discrimination."
If this newsletter was forwarded to you, sign up to receive it.
------------------------------------------------
Your gifts
helps us build a more just and equitable community that chooses grace over greed, love over hate, and faith over fear.