Subject: This Month in Mongolian Studies - April 2020
| | |
| --- | --- |
| Having trouble viewing this email? Click here to open in your browser. | |
This Month in Mongolian Studies

is a monthly listing of selected academic activities, resources and other material related to Mongolia. This list is based on information the ACMS has received and is presented as a service to its members. If you would like to submit information to be included in next month's issue please contact the ACMS at

info@mongoliacenter.org

This publication is supported in part by memberships. Please consider becoming a member of the ACMS, or renewing your membership by visiting our website at

mongoliacenter.org/join

. Thank you!
STATEMENT REGARDING COVID-19
As the COVID-19 pandemic crisis unfolds, ACMS is endeavoring to provide, as far as possible, essential services to all our scholars, members, and fellows. The ACMS will continue to monitor the situation closely and place the highest importance on the health and safety of our program participants and staff. At the current time we continue to make preparations for our summer 2020 programs, but are monitoring conditions and will make a final determination by May 15, 2020 on whether these will take place. The ACMS will announce any changes on the status of our programs via our website and social media accounts.
As of March 30, 2020, the ACMS office and library has reopened with essential staff. Our individual Mongolian lessons in our classroom are resuming with more cautionary measures.
Please visit The U.S. Embassy Ulaanbaatar's new webpage for the most accurate and up-to-date information on COVID-19 as it pertains to Mongolia:
https://mn.usembassy.gov/covid-19-information/
**********************************************
RESOURCES FOR SCHOLARS AFFECTED BY COVID-19
In light of social distancing and other measures to protect against COVID-19, many organizations are offering their online resources to scholars around the world for free. Here is a quick compilation:
1) JSTOR and its participating publishers are making additional content freely available to participating institutions, and ACMS has recently acquired access to said content, available for its members to access from their home. The collections are open until June 30, 2020, and is expected to increase as more publishers opt in for the cause.
a) If you're a member of the ACMS, please email us at info@mongoliacenter.org to receive the ACMS pass for JSTOR.
b) Please note that JSTOR also has a separate portal on Open and Free content on JSTOR and Artstor, available worldwide.
2) The Humanities and Social Sciences online (H-Net) has created two new resources: Resources for Teaching Online to help scholars adapt to teaching online, and Remote Conference Presentations to give scholars an opportunity to share papers or presentations that were intended for now-canceled conferences.
3) Springer Nature has opened up COVID-19-related research articles from journals, relevant books, as well as additional commentary for worldwide access here.

4) ScienceDirect has made all Elsevier textbooks freely available online for the next three months.
5) University College London (UCL) has tweeted a list of temporarily available resources during COVID-19, and 12 of the 30 databases don't require institutional access.
6) Cambridge University Press has made all 700 textbooks on Cambridge Core free to access until the end of May. They are also producing free, online content for English learners/teachers to support distance learning for those coping with school closures.
7) Mongolian Academy of Sciences has been promoting its Mongolia Journals Online, a website of 7 Mongolian scientific journals, and 1,144 articles and others, all available as full text.
**********************************************
MONGOLIA FIELD SCHOOL 2020 ACCEPTING APPLICATIONS
The Field School is open to all participants, including undergraduate and graduate students, teachers at all levels and life-long learners interested in academic studies and research that explore Mongolia's unique history, culture and contemporary issues.
Applicants can apply for any of our seven interdisciplinary courses, #MediaJournalism, #LiteratureMusic, #ClimatePastoralism, #ClimatePublicHealth, #BuddhismNaturalWorld, and #MiningEnvironment.
All applications must be submitted online by April 30, 2020.
**********************************************
ACMS TEXTILE CONSERVATION DIRECTED FELLOWSHIP (FALL, 2020)
The fellow will have the opportunity for in-depth examination and treatment of fabrics and textiles, costumes, and accessories representing Eurasian steppe cultures roughly spanning 2,000 years. Applicants must be U.S. citizens with a graduate degree in conservation from a recognized program, or have equivalent work experience, at least one year of practical experience beyond graduation, and experience with a variety of analytical instruments and information technology.
Application materials (CV, Personal Statement, 2 Letters of Recommendation) must be received by May 1, 2020.
**********************************************
Learn Mongolian online with a professional tutor!

The American Center for Mongolian Studies (ACMS) has been teaching Mongolian to researchers and students of all levels since 2002 and our instructor Dr. Tsermaa has been teaching Mongolian language for 24 years!

Wherever you are located, our online lessons are always within reach. Our veteran instructor will help you improve with a program tailored for your level of Mongolian.

To book your Skype lesson, email us at info@mongoliacenter.org or call at +976 99170042.
ACMS Sponsored Programs and Events
ACMS NOMADIC TEXTILE CULTURAL HERITAGE EXCHANGE PROGRAM CONCLUDES SUCCESSFULLY

ACMS saw the successful completion of the pilot Ambassador's Fund for Cultural Preservation (AFCP) ACMS Nomadic Textiles Cultural Heritage Exchange Program, which was a gift of the United States Government. Implemented between February 3 and March 1, 2020, the program sent three Mongolian cultural heritage preservation specialists to the U.S. for a targeted program of meetings, site visits, networking opportunities, mentorships, and workshops in textile conservation.

The participants included specialists from Mongolia's Institute of Archaeology, the National Center for Cultural Heritage, and the National Museum of Mongolia, who were all visiting the U.S. for the first time. The itinerary featured workshops that taught best practices and included hands-on practice in textile handling, storage, and cleaning at the conservation laboratories of 19 museums and textile preservation organizations, such as the Smithsonian's Museum Conservation Institute in D.C. and the Fashion Institute of Technology in New York City. The participants will bring their know-how and critical cultural heritage preservation skills and techniques back to Mongolia to their respective institutions and to the wider textile preservation community.

As promised, the video compilation of the trio's documentation of the exchange has been published and can be viewed here.

The ACMS hopes this enriching cultural exchange program will continue after this year.

**********************************************

ACMS MONGOLIA YOUTUBE CHANNEL RELEASES IN MARCH, 2020:
RESEARCH ASSISTANT (FIXED TERM) AT CAMBRIDGE UNIVERSITY
The Mongolia & Inner Asia Studies Unit, Department of Social Anthropology, University of Cambridge, invites applications for an Early-Career Postdoctoral Fellowship tenable for four years from 1 September 2020 or as soon as possible thereafter. Applicants should be completing or have recently completed a doctorate and intend to pursue research on one or more of the societies or cultures of the area covered by the Unit (see further particulars) with a preference for the western part of the Mongolian cultural area.
The Early-Career Postdoctoral Fellow will be expected to pursue learning and research in their chosen field and publish the results. The Fellow will also be expected to play a full role in the MIASU's research activities, including seminars, workshops, conferences and developing future grant applications. The fellow may also be asked to contribute to the teaching of the Department and Unit.
Candidates should have specialist knowledge of one or more of the societies or cultures of the area covered by the Unit (the Republic of Mongolia, some areas of China [Tibet, Xinjiang, Inner Mongolia, Heilongjiang] and Russia [Buryatia, Tuva, Altai, Kalmykia), and the areas of the Himalayan region [including Sikkim, parts of Nepal, and Bhutan]). Preference will be given to candidates with a plan for research on the western part of the Mongolian cultural area.
The salary for the Research Associate starts at £32,816 to £40,322 per annum. If you have not yet received your PhD you will be appointed as a Research Assistant and the salary will be starting at £26,715 to £30,942 per annum until the PhD is awarded. This includes those who have submitted but not yet received their PhD (in which case appointment will initially be made at research assistant and amended to research associate when the PhD is awarded).
Applicants should provide: (i) a curriculum vitae with details of the applicant's education record, any publications and a brief statement of eligibility for this early-career post; (ii) academic transcripts of undergraduate degree and for any higher degrees awarded; (iii) a statement of not more than 1,000 words outlining present and proposed research; (iv) A sample of the candidates writings in the English language of between 10,000 and 20,000 words in length e.g. selected chapters of a doctoral dissertation or publications; (v) the names and contact details of two referees familiar with the applicant's work. The referees of short-listed candidates will be contacted and asked to supply a reference by the end of May 2020.
The closing date for applications is Wednesday 15 April 2020.
Enquiries may be addressed to: Libby Peachey, MIASU Administrator at eaup2@cam.ac.uk
Learn more at: http://www.jobs.cam.ac.uk/job/25326/
**********************************************
ASSISTANT PROFESSOR OF CHINESE AND EAST ASIAN HISTORY AT DEPAUW UNIVERSITY
The Department of History and the Asian Studies Program at DePauw University invite applications for a one-year term position beginning in August 2020 with rank of Assistant Professor. Ph.D. (completed by August 2020) in History or a closely related field required. A commitment to teaching undergraduates in a liberal arts setting and evidence of effective and inclusive teaching are essential. The department specifically seeks candidates to teach topics and survey courses in Chinese and East Asian History, Introduction to Asia and a topical course in Asian Studies. Teaching assignment is 6 courses (3 each semester), and funding is available for professional development and research with undergraduate students.
DePauw is a nationally-recognized, leading liberal arts university dedicated to educating 2,100 highly talented, motivated, and diverse students from across the country and around the globe. For more than 175 years, DePauw has created an atmosphere of intellectual challenge and social engagement that prepares students for lifelong success. Connected to the liberal arts college is one of the nation's first Schools of Music. DePauw is located in Greencastle, Indiana, a 45-minute drive west of Indianapolis. DePauw has exceptional faculty development programs, including a pre-tenure leave and funding for professional and curriculum development.
Candidates should submit through Interfolio (https://apply.interfolio.com/73882), a cover letter summarizing qualifications, teaching philosophy, and research interests, CV, a sample syllabus of a course in either History or Asian Studies. and graduate transcripts. Three confidential letters of recommendation will be solicited from short-listed candidates. Application materials should provide evidence of a commitment to successfully fostering and engaging with a diversity of ideas, disciplines, and experiences to create an inclusive environment in the classroom and at the University. Please contact David Gellman, History Department Chair, at dgellman@depauw.edu with any questions.
Closing date: May 31, 2020.
**********************************************
WORKING GROUP AND VISITING SCHOLARSHIPS AT MAX PLANCK INSTITUTE FOR THE HISTORY OF SCIENCE
Ability and Authority in East Asia/China 1200–1450: A new working group in Department III at the Max Planck Institute for the History of Science, Berlin (MPIWG), will run from September 2020 – August 2022.
We are inviting applications for working group members to participate in up to four working group meetings, (dates to be announced). Working group members will receive funding for travel expenses to enable participation in the four working group events during the period of affiliation. In addition we are offering up to Six Visiting (Residential) Scholarships for a duration of between one to three months each. Successful applicants will participate in the two working group meetings, one in 2020, one in 2021 (dates to be announced) as part of their two-year affiliation with the working group.
Chronologically, this project focuses on the Yuan and early to mid-Ming periods. Yuan put its own spin on practices inherited from Song, Liao, XiXia and Jin; and its practice in turn influenced Ming, until renewed commercialization overtook bureaucratic management of labor and expertise. Geographically, the cosmopolitan Yuan oversaw a greater mixing of knowledge cultures across Asia. This project therefore takes a cross-dynastic and cross-cultural approach to critical engagement with the question of how politics and political event history affected, were affected by, and failed to affect the development of greater China's knowledge cultures beyond literati preoccupations.
Visiting Scholars receive an honorary commensurate with experience for their period of residence, and reimbursement for a return ticket to and from their place of residence. They will also receive funding for travel expenses to enable participation in the four working group events during the period of affiliation. Attendance at the meetings is required.
It is possible to only apply for participation in the working meetings. If you are also applying for the Visiting Scholarship, please indicate in your cover letter your preferred periods of stay.
Visiting Scholars are expected to take part in the scientific life of the institute, to advance their own research project, and to actively contribute to the project group activities during their period of affiliation.
Information about the MPIWG can be found at: https://www.mpiwg-berlin.mpg.de/
Please apply here: https://recruitment.mpiwg-berlin.mpg.de/position/15269899 by uploading a cover letter of application, CV, and a research proposal (750 words maximum) by April 21, 2020.
Read more about this post here...
**********************************************
FULBRIGHT STUDENT PROGRAM FUNDED BY THE GOVERNMENT OF MONGOLIA
The Public Affairs Section of the Embassy of the United States of America is now accepting applications for the 2021-2022 Fulbright (Foreign) Student Program funded by the Government of Mongolia. The online application deadline is Monday, May 4, 2020 8:30 a.m. The Fulbright Student Program enables graduate students, young professionals, and artists from Mongolia to pursue graduate study degrees and conduct research in the United States. The Fulbright Program operates in more than 160 countries worldwide and approximately 8,000 grants are awarded annually.
The Government of Mongolia funded Fulbright scholarship will give priority to candidates who plan to pursue studies in the following fields:
Education

Engineering

Engineering Infrastructure

Agricultural Engineering

Environmental Studies

Information Technology

Public Health

Public Policy

Science and Technology

Arts and Culture Management
The program selection process is administered by the Embassy and the Ministry of Education, Culture, Science, and Sports. Applicants will be assessed on the contribution their studies would make to Mongolia's development and greater understanding between the United States and Mongolia, as well as the likelihood of the applicant performing successfully in a U.S. academic setting.
If selected for the Government of Mongolia funded Fulbright Student Program, the grantees will be asked to provide collateral in the form of real estate, excluding land. For more information about the collateral and its conditions, please refer to [here] (PDF 828KB) and/or contact the Education Loan Fund at elf.mn/contact.
To qualify, applicants must:
Be a Mongolian citizen, currently living in Mongolia;

Hold a university degree (at least B.A. or equivalent);

Have a minimum of 1.5 years of full-time work experience; and

Hold a valid English language test score (test score requirements vary depending on the field of study).
**********************************************
AMERICAN ENGLISH E-TEACHER SCHOLARSHIP PROGRAM FOR 2019-2020 ACADEMIC YEAR
The Public Affairs Section of the U.S. Embassy in Ulaanbaatar is now accepting applications for the Summer Term AE E-Teacher Scholarship Program.
The American English E-Teacher Program offers 8-week, online, university-level courses in Teaching English to Speakers of Other Languages (TESOL) developed by U.S. educational institutions.
All AE E-Teacher courses use the latest in instructional technology to provide participants with an interactive distance-learning experience and are designed to familiarize participating teachers with current methods and issues in the field of English as a Foreign Language. The AE E-Teacher Program also connects participants with U.S. English language teaching experts and creates a professional network of international colleagues.
Please submit the following documents by e-mail to englishprograms@usembassy.mn before the due date of 5p.m. Sunday, April 5, 2020.
Completed application with statement of purpose
Up to date CV

Only complete applications along with CV will be considered for the program.
**********************************************
LEADERS ADVANCING DEMOCRACY 2020 PROGRAM IS ACCEPTING APPLICATIONS IN MONGOLIA
USAID's Leaders Advancing Democracy (LEAD) Mongolia Program is a five-year initiative helping to build the next generation of democracy champions across Mongolia.
The LEAD Mongolia Program consists of three important and interconnected activities, designed to support promising young leaders to work collaboratively to solve the country's most pressing issues. The program includes a U.S.-Mongolia Emerging Leaders Exchange Program with 230 young leaders aged 25 to 40 from different sectors; an international LEAD Alliance, which connects Mongolian emerging leaders with like-minded peers in Bhutan, Kyrgyzstan and Myanmar, and positions them as regional leaders; and a civic education curriculum development and citizen engagement component with high school students
The program is open to Mongolian citizens aged 25-40, with a minimum of 3 years of professional experience, and driven by passion to solve social problems and create a positive change, and to strengthen the democracy in Mongolia.
The applicants are asked to submit 5 mini-essays and a 60-second video essay in their online application form.
The deadline of the online application is April 19, 2020 at 11:59 pm.
Any inquiries should be addressed to LEADMongolia@worldlearning.org.

CALL FOR BOOK PROPOSALS: MONOGRAPHS OR EDITED VOLUMES FOR OUR NEW SERIES IN EAST ASIAN STUDIES
Vernon Press invites book proposals for edited volumes, co-authored books and single-author monographs on East Asian Studies, with an interdisciplinary outlook.
Generally described as the subregion in Asia comprised by North Korea, South Korea, Japan, China, Macao, Mongolia, Hong Kong, and China, East Asia has always fascinated the Western world. The history, culture, art, and literature—to name but a few—of this area have been consistently studied in academic circles for many generations, frequently in departments called East Asian Languages and Cultures (EALC). However, and in recent decades, new outlooks have emerged to study these aspects and many others related to East Asia, especially in the wake of Edward Said's essential Orientalism (1978). The interest in this region and its study can also be observed by the increasing number of East Asian Studies programmes in universities all around the world.
This series will be of interest to scholars and students as well as independent researchers with an interest in East Asian studies from an interdisciplinary perspective.
Possible contributions include (but are not limited to):
Literary interpretations of East Asian countries

Cultural studies on the region

East Asian American literary studies

East Asian representation in media

Rediscovering and rewriting East Asian history

Forgotten East Asian women

Sociological studies on the region

East Asian archaeology

How to submit your proposal
Please submit one-page monograph proposals to submissions@vernonpress.com or victoria.echegaray@vernonpress.com, including a summary, a short biographical note and (if applicable) a list of similar titles. Proposals that treat other topics of relevance to the series in Irish Studies are also welcome. More information on what we look for in a proposal is available on our website.
About the publisher
Vernon Press is an independent publisher of scholarly books in the social sciences and humanities. We work closely with authors, academic associations, distributors, and library information specialists to identify and develop high quality, high impact titles.

**********************************************
ACCEPTING NOMINATIONS FOR TWO BOOK AWARDS AT CESS
The Central Eurasian Studies Society's (CESS) Book Awards committee is now accepting nominations for the 2020 Humanities and History, and 2020 Social Sciences Book Awards. The deadline for books to be received by the committee members is May 31, 2020 for both competitions.
The CESS Book Award and a monetary prize of $500 is presented to the author of the book or monograph that represents the most important contribution to Central Eurasian studies during the award period. An interdisciplinary panel of scholars of Central Eurasia, appointed annually by the CESS Board, consider scholarly merit, argumentative scope, and felicity of style in their deliberations.The winners will be announced at the CESS Annual Conference, which in 2020 is being held at Ohio State University in Columbus, OH, on October 15-18, 2020. It is expected that the winners will participate in the conference and accept their award in person. Note that the conference dates are subject to change based on the COVID-19 situation. However, the awards will still be offered in 2020 even if there are changes to the Annual Conference arrangements.
Rules and procedures for the competition are as follows:
1. Books must be scholarly monographs based on original research and published in English in 2019;
2. Books may be submitted in one category for one competition only, and no book may be considered more than once;
3. Scholarly monographs translated into English from other languages are eligible for consideration;
4. Edited volumes, new editions of previously published books, bibliographies, dictionaries, and textbooks are not eligible;
5. Nominations may be made by either the publisher, the author, or a CESS member.
To be considered, one hard copy of the book should be mailed to each of the committee members on the appropriate panel to reach them by the deadline specified on this webpage. Authors/publishers wishing to submit a book should contact CESS to obtain the mailing addresses.
See also: https://www.centraleurasia.org/awards/book/
Digital collections related to Mongolia we discovered in March, 2020:
Ger Community Mapping Center: "OpenDataLab.mn" A repository of geospatial and government financial data about several government entities of Mongolia, compiled to promote transparency and data journalism.
Some scholarly papers published in March, 2020:

OFFICIAL DOCUMENTS TO BE RECORDED IN TWO SCRIPTS FROM 2025
Image courtesy of Montsame.mn
The Government of Mongolia has ratified the "National Mongolian Script Program 3" as part of its efforts to institute dual-script (Cyrillic and Traditional Mongolian) record system in its legal papers and official documents from 2025.
The Program additionally focuses on fostering the public use of the traditional script.
*********************************************
MONGOLIA ANNOUNCES 3 NEW COVID-19 CASES, TOTALING 4: HOW THEY GOT CORONAVIRUS PRECAUTIONS RIGHT
Note: While as of March 30, Mongolia has 12 confirmed cases from airlifted Mongolian citizens, the article speaks to the cautionary measures the government has taken.
How is it that Mongolia, a land that borders China and one of the likeliest to be a country where the disease would spread quickly and viciously, still has only four confirmed case of COVID-19, three of which were just announced today? Well, they acted quickly.
The first case, detected just last week on March 9 was made public when a French national who entered the country for work purposes began to show symptoms while in Dornogobi province.
*********************************************
MONGOLIA'S ELECTORAL REFORM FEATURED IN UBC STUDENT MEDIA PODCAST
Professors Max Cameron and Julian Dierkes of University of British Columbia's School of Public Policy and Global Affairs spoke at a student-led podcast series to discuss electoral reforms in Mongolia. The conversation covered the mechanics of governance and how the way voters choose their representatives reflects the values of their cultural and national identity.
*********************************************
THE CURIOUS CASE OF MONGOLIA'S MISSING DINOSAUR FOSSIL AND HOW IT MADE ITS WAY HOME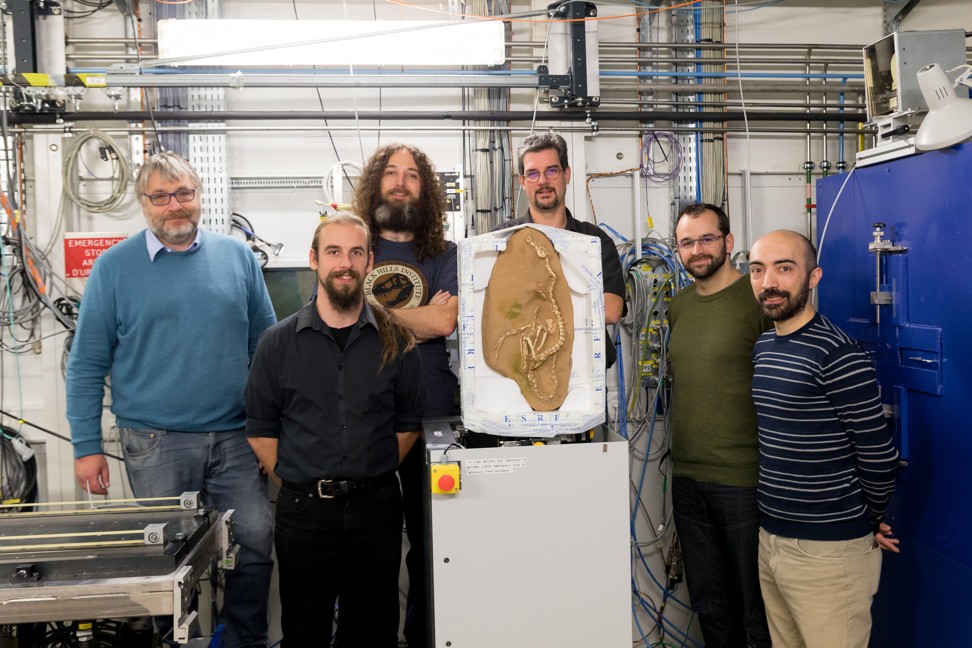 An interesting article about a planned repatriation of a goose-sized dinosaur specimen. When François Escuillié realized the Halszkaraptor escuilliei to be a fossil from Mongolia, he bought the specimen from the black market and had them inspected by the Royal Belgian Institute of Natural Sciences, which confirmed its provenance.
Thanks to this collaboration, the fossil was donated to Mongolia's Academy of Sciences, Institute of Paleontology and Geology, and is bound to be shipped to Mongolia.
*********************************************
YOUTUBER MAKES TWO VIDEOS ABOUT THE MONGOLIC LANGUAGES
You may know YouTube's famous linguistic historian NativLang from his videos such as what Genghis Khan's Mongolian sounded like and Altaic: Rise and Fall of a Linguistic Hypothesis. But now the talented linguist and animator is back with not one, but two videos about Mongolia. The first video, published on Feb 29, was about the Para-Mongolic language of the Khitan empire that preceded the Mongol Empire and had logogram-based writing like the Chinese language. Then came the second video about the Mongolic language family, which include dialects in Southern (Qinghai-Gansu), Western (Moghol) and Eastern (Dagur) branches of the family.
*********************************************
INNER MONGOLIANS IN CHINA FIGHTING COVID-19 WITH FOLKLORE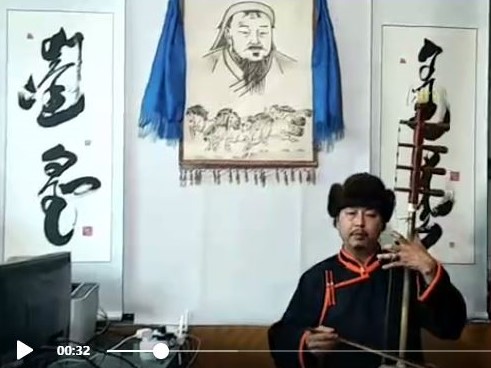 Nothing seems further from the fight against COVID-19 than traditional folklore. However, an ancient Mongolian art form, the khuuriin ülger ("fiddle story") can be found at the forefront of public health efforts.
Since late January around seventy Mongolian fiddle stories focusing on the prevention of and the fight against the coronavirus outbreak have been posted on the public WeChat account Khuuriin Ülger.

Interesting Links -- A variety of articles related to Mongolia were posted during February 2020; here are some of the more notable ones:
The Travel, posted on Mar 1: "Visit These Under-The-Radar Asian Locations In 2020"
BBC, posted on Mar 3: "Cashmere and climate change threaten nomadic life"
Global Press Journal, posted on Mar 8: "As Students Battle Vitamin Deficiencies, Mongolia Allocates More Money for Meals"
AKIPress, posted on Mar 9: "Mongolia banning entry from countries with widespread transmission of Covid-19"
AKIPress, posted on Mar 9: "Mongolia among 9 countries that achieved goals to reduce maternal mortality — UN"
Reuters, posted on Mar 10: "Mongolia confirms its first coronavirus case in French worker"

Minnesota Star Tribune, posted on Mar 10: "Sharing birds with Mongolia"
BuzzFeed News, posted on Mar 12: "Chinese Hackers Are Using The Coronavirus To Go After Mongolia

"

Sputnik News, posted on Mar 13: "4.8-Magnitude Earthquake Hits Mongolia Near Russian Border"
San Francisco Examiner, posted on Mar 11: "Mongolians in the Bay Area are optimistic about the future"
AKIPress, posted on Mar 13: "Mongolia imports 4.4 million face masks"
Horsetalk.NZ, posted on Mar 14: "How did the Mongolian empire feed its marauding horsemen?"
AKIPress, posted on Mar 16: "244 citizens of Mongolia return from South Korea"
Nature, posted on Mar 17: "Dodging bandits, eking out food: tracking wildlife in Mongolia"
GlobalPressJournal, posted on Mar 22: "In Mongolia, Yak Wool Is the New Cashmere"
News.mn, posted on Mar 25: "U.S. gives financial support to Mongolia in fighting COVID-19"
*********************************************
The State, Popular Mobilisation and Gold Mining in Mongolia, by Dulam Bumochir; 180 pages; FREE (UCL Press, 2020)
Mongolia's mining sector, with its environmental and social costs, has been the subject of prolonged and heated debate. This debate has often cast the country as either a victim of the 'resource curse' or guilty of 'resource nationalism'.
In this book, Dulam Bumochir aims to avoid the pitfalls of this debate by adopting an alternative theoretical approach. He focuses on the indigenous representations of nature, environment, economy, state and sovereignty that have triggered nationalist and statist responses to the mining boom. In doing so, he explores the ways in which these responses have shaped the apparently 'neoliberal' policies of twenty-first century Mongolia, and the economy that has emerged from them, in the face of competing mining companies, protest movements, international donor organisations, economic downturn, and local and central government policies.
Applying rich ethnography to a nuanced and complex picture, Bumochir's analysis is essential reading for students and researchers studying the environmental and mining, especially in Central and North East Asia and the post-Soviet regions, and also for readers interested in the relationship between neoliberalism, nationalism, environmentalism and the state.
Dulam Bumochir completed his PhD in Philology at the Mongolian Academy of Sciences in 2000, and in Social Anthropology at Cambridge University in 2006. He has been conducting research on a wide range of topics, exploring folk and shamanic practices, rituals and chants, and tracing the historical construction of the Mongolian concepts of shamanism and shamanic religion. In work on Qinghai, in north-western China, he looked at ethnic politics and the power of respect in the social production of identity, politics and the state.
*********************************************
Shaping Urban Futures in Mongolia: Ulaanbaatar, Dynamic Ownership and Economic Flux, by Rebekah Plueckhahn; 190 pages; FREE (UCL Press, 2020)
What can the generative processes of dynamic ownership reveal about how the urban is experienced, understood and made in Ulaanbaatar, Mongolia? Shaping Urban Futures in Mongolia provides an ethnography of actions, strategies and techniques that form part of how residents precede and underwrite the owning of real estate property – including apartments and land – in a rapidly changing city. In doing so, it charts the types of visions of the future and perceptions of the urban form that are emerging within Ulaanbaatar following a period of investment, urban growth and subsequent economic fluctuation in Mongolia's extractive economy since the late 2000s.
Following the way that people discuss the ethics of urban change, emerging urban political subjectivities and the seeking of 'quality', Plueckhahn explores how conceptualisations of growth, multiplication, and the portioning of wholes influence residents' interactions with Ulaanbaatar's urban landscape. Shaping Urban Futures in Mongolia combines a study of changing postsocialist forms of ownership with a study of the lived experience of recent investment-fuelled urban growth within the Asia region. Examining ownership in Mongolia's capital reveals how residents attempt to understand and make visible the hidden intricacies of this changing landscape.
Rebekah Plueckhahn is Research Associate in the Anthropology Department at UCL. Trained in anthropology, as well as ethnomusicology and history, Rebekah has conducted research in Mongolia since 2008, researching subjectivity, ethics, economy, capitalism, urbanism, performance, ownership, music and postsocialist cultural practice. Her latest research interests include the making of urban forms in Mongolia, the ways urbanism intersects with financialisation and the ways that understanding the urban in Mongolia can contribute to urban theory more generally. Rebekah obtained her PhD from the Australian National University. Her past awards include the 2014 Article Prize from the Australian Anthropological Society (AAS).
*********************************************
Ethnic Chrysalis: China's Orochen People and the Legacy of Qing Borderland Administration, by Loretta E. Kim; 364 pages, $73.30 (Harvard-Yenching Institute Monograph Series, 2019)
Ethnic Chrysalis is the first book in English to cover the early modern history of the Orochen, an ethnic group that has for centuries inhabited areas now belonging to the Russian Federation and the People's Republic of China. The Qing dynasty (1644–1911) was a formative period for Orochen identity, and its actions preserved the Orochen as a separate ethnic group. While incorporating the Orochen into the imperial political domain through military conscription and compulsory resource extraction, the Qing government created two Orochen subgroups that experienced disparate levels of social and economic autonomy.
The use of "Orochen" as an official modifier by Qing officials forms an early layer of the chrysalis that embodies various senses of ethnic identity for people who have been identified, or self‐identified, as Orochen. Since the Qing, the Orochen have continued to cherish the perception that their Qing‐period ancestors were key players in the defense and economy of northeast China. Tracing the evolution of Qing policies toward the Orochen along the Chinese‐Russian borderland, Loretta Kim examines how the impact of political organization in one era can endure in a group's social and cultural values.
Loretta E. Kim is Assistant Professor of China Studies in the School of Modern Languages and Cultures at the University of Hong Kong.

*********************************************
Young Mongols: Forging Democracy in the Wild, Wild East, by Aubre Menarndt; Pre-order link (Penguin, 2020)
In 1990, Mongolia's youth-led revolution threw off the Soviet yoke, ushering in multi­party democracy. Thirty years later, the country's youth are still leading Mongolia's democratic development.
This powerful, inclusive book introduces readers to modern Mongolia through the stories of young leaders fighting to make their country a better, more democratic place. Its intersectional perspective explores the complexity of Mongolia today: the urban planning and pollution issues that plague the capital city of Ulaanbaatar; the struggles of women, the LGBTQIA population, people with disabilities, and ethnic minorities to claim their equitable places in society; the challenge of providing education in the world's least densely-populated country to prepare the workforce of tomorrow; and how to fairly divide the spoils of the country's vast mineral resource wealth.
This rising generation of Mongolians is already wielding real power and shaping their country's future. Their work will determine whether the country is able to overcome its development and democratization challenges, its relationship to the world, and who the winners (and losers) will be in Mongolian society.
Aubrey Menarndt lived in Mongolia as a Luce Scholar from 2015 to 2016. She's worked on democracy and governance issues in Asia, sub-Saharan Africa, Europe, Central America, and the United States.
Aubrey is an expert on political transitions, elections, and democracy. She's been published in the New York Times, Washington Post, Al Jazeera, Politico, the South China Morning Post, and more.
Aubrey earned an MPhil in Politics from the University of Oxford and a Bachelor's degree from Smith College. She is a Critical Language Scholar (Russian) and a Truman National Security Project Fellow. Young Mongols is her first book.
*********************************************
Great State: China and the World, by Timothy Brook; 512 pages, $23.89 (Profile Books, 2019)
China is one of the oldest states in the world. It achieved its approximate current borders with the Ascendancy of the Yuan dynasty in the 13th century, and despite the passing of one Imperial dynasty to the next, it has maintained them for the eight centuries since. Even the European colonial powers at the height of their power could not move past coastal enclaves. Thus, China remained China through the Ming, the Qing, the Republic, the Occupation, and Communism.
But, despite the desires of some of the most powerful people in the Great State through the ages, China has never been alone in the world. It has had to contend with invaders from the steppe and the challenges posed by foreign traders and imperialists. Indeed, its rulers for the majority of the last eight centuries have not been Chinese.
Timothy Brook examines China's relationship with the world from the Yuan through to the present by following the stories of ordinary and extraordinary people navigating the spaces where China met and meets the world. Bureaucrats, horse traders, spiritual leaders, explorers, pirates, emperors, invaders, migrant workers, traitors, and visionaries: this is a history of China as no one has told it before.
Timothy Brook was Shaw Professor of Chinese at Oxford when he first saw the Selden Map, and is now professor of history at the University of British Columbia. The author of eight books on Chinese history, including Vermeer's Hat and Mr Selden's Map of China, which are both published by Profile.
*********************************************
Transnational Law and State Transformation: The Case of Extractive Development in Mongolia, by Jennifer Lander; 284 pages; $49.95 as ebook (Routledge, 2019)
This book contributes new theoretical insight and in-depth empirical analysis about the relationship between transnational legality, state change and the globalisation of markets.
Mongolia's recent transformation as a mineral-exporting country provides a rare opportunity to witness economic and legal globalisation in process. Based on careful empirical analysis of national law and policy-making, the book traces the way distinctive processes of transnational legal ordering have reorganised and reframed the governance of Mongolia's mining sector, specifically by redistributing state power in relation to the market, sub-national administrations and civil society.

Jennifer Lander is a Lecturer in Law at De Montfort University, UK, and she presented at the ACMS Speaker Series in 2019.
*********************************************

Long Song Heritage of Inner Mongols (Өвөр Монголчуудын уртын дууны өв) by Dorjdagva Myagmarjav (Erdenezul, 2019)
Based on a survey done in 2009 across 5 banners of Inner Mongolia (Ordos, Alasha, Chahar, Horchin-Zarud, Buryat, Barga), the book categorizes long song styles of over 271 songs by 139 singers. The book comes with a DVD of the said singers.
ISBN: 978-99978-4-888-8
To purchase or order this book, please write to: info@nomadic.mn
*********************************************
Multispecies Households in the Saian Mountains: Ecology at the Russia-Mongolian Border, edited by Alex Oehler and Anna Varfolomeeva (Lexington Books, 2019)
Multispecies Households in the Saian Mountains brings together new ethnographic insights from the mountains of Southern Siberia and Mongolia. Contributors to this edited collection examine Indigenous ideas of what it means to make a home alongside animals and spirits in changing alpine and subalpine environments. Set in the Eastern Saian Mountain Region of South Central Siberia and northern Mongolia, this book covers an area famous for its claim as the birthplace of Eurasian reindeer domestication. Using ethnographic nuance, the contributors highlight the many connections between humans and other species, stressing the networks of relationships that transcend idioms of dominance or mutualism. This book is recommended for students and scholars of anthropology, environmental studies, and Asian studies.
"Multispecies Households in the Saian Mountains: Ecology at the Russia-Mongolia Border highlights the complex attunements between humans, animals, and invisible entities in the taiga, using a historical and anthropological perspective. Through rich and original ethnographical vignettes, this volume offers subtle insights into the taiga landscape, perceived as a home shared by human and non-human sentient beings, and adds to our understanding of the shaping of multispecies coexistence in a time of change and uncertainty in Inner Asia" • Charlotte Marchina, Institut National des Langues et Civilisations Orientales
Alex Oehler is assistant professor of anthropology at the University of Northern British Columbia.
Anna Varfolomeeva is assistant professor at School of Advanced Studies at Tyumen State University.