Subject: Green Dog Turns 16!
SIXTEEN YEARS!


Hard to Believe




Hello all! 
In the "

Covid ruins everything

" category, we're pretty sad that we can't have a big party to celebrate our 16th Anniversary! The giant cake will be missed this year.

This summer is also the 10th anniversary of moving down to our current location!



To mark the occasion, I put together slide shows of the 3 different renovations we've done (links below). Here's our story:




In 2003 Mike and I had an idea

. We wanted find work we could do together. Mike hated having jobs he didn't really care about, and when I quit zookeeping and we moved out here, I found a job as a dog trainer at a big box store. I loved the training part and the ability to help dog owners with behavioral issues but I hated working for the big box. It did make us realize what a fun business pet supply retail could be, though!

As I learned more about the pet food industry, I was horrified at the crappy options that were sold there, and kept finding myself thinking "if I had a store I'd never have that". T

he fact that it would be a business that would likely enable long-term relationships with our customers was appealing to us, and we decided a pet supply store was a great idea.

We were soon surfing the internet for products that we might sell, and I pointed out a company that was making toys that were stuffed with scraps of fabric leftover from their raincoat manufacturing.

Mike posed this question: we were already gravitating towards sustainable products because that's the way we preferred to shop for ourselves, so did I think that there were enough products out there that we could make this a public mission? I was just starting to say "hmm, I don't know" and he blurted out "Green Dog!".

We both looked at each other with wide eyes knowing that we couldn't NOT do this with such a cool name on the table. We of course worried about the kitties, as we were hard core fans of cats who have always felt like they often get the raw deal compared to dogs when it comes to care and people's understanding of their behavior and needs. We knew right away that the name "Green Pet" had no ring to it, but hoped that Green Dog PET Supply would be enough to clarify. We desperately wanted to be in Beaumont Village as we lived in Roseway and it was where we hung out. We were thrilled to see a sign that a new building was going up in the dirt parking lot at 46th and Fremont. We rented the space before building construction even began. At the beginning of 2004, I quit the big box, while Mike worked to pay our bills. Our house was almost comically filling up with products with every nook and cranny stuffed with cardboard boxes full of leashes and toys, dog beds, and store fixtures. We'd bought an old truck and had started scavenging and shopping, as we decided to build everything from reclaimed/used materials, from walls to slat-wall to shelving, and had begun to amass a collection of baskets, boxes, wooden crates, doors, windows, old tables, etc that would be used to display products. I got to work entering all of the hundreds of products we'd sell into our new computer software while we waited for our space to have walls and a door. In June Mike was able to quit his job and we started renovating.
While found a table made with weathered wood that we liked, and we were able to contact the maker. We hit it off so well that he became our contractor. He had the skills, the tools, and the fabulous personality to handle the job. He ended up becoming a good friend to us as well. We ran into so many challenges and surprises of course, but we worked hard as a team to get the job done, and we had very optimistically set our opening for August 2004. On August 31st, even though we weren't quite set up yet, we opened the doors, and let customers come in and say hi and poke through boxes that hadn't been fully unpacked. We didn't have anything priced yet, and had just started to print price tags when the tag printer

fried

our motherboard. No computer! No way to sell things, or even tell people how much it would cost to buy!

And here comes the

news crew!

(sorry about the terrible quality of this video) They gave us a big fat news story, which they actually ran many times over the next few days. We had

tons

of people show up, but we couldn't sell a thing for days. We were so dead in the water! People were nice though, and they were able to check out the space and we could start getting to know our neighbors and their fabulous dogs.

Here's Album #1

(There are captions above each photo and arrow to the right to scroll through them)




Our one big design flaw in our space was a lack of storage. Without any experience, we had no idea how much room we'd need as our food business grew. Our tiny back room was soon crowded with bags stacked to the ceiling. In 2008 our neighbors moved out of the space next door and we quickly rented it and called Allen to come help us work on our new food room. Once again we were building and staining new food shelves, painting walls and getting creative with old wood.

Here's album #2

(captions above each photo and arrow to the right to scroll through them)




In 2010 we were badly in need of more space (thanks ya'll!) and we wanted

out

of that building. The space we're in right now was available, but it wasn't quite big enough. We really didn't know what to do. We were chatting with Andy from Blackbird Wine about it, and he mentioned that the space he had just moved Blackbird out of (on the side of the building) was available, and that it might just share a wall with the big vacant space. It was hard to picture how that was true, and we were thrilled to realize he was right. Andy saved the day!




The biggest challenge of our career now faced us, as we had a full time business with only 2 employees, and a giant-scale renovation to do

. We couldn't afford to close for even one extra day. Not only that, but we wanted to use all of our fixtures and other materials in the new space, while staying open in the old one. So, on Mondays, we slowly dismantled the larges fixtures and moved them up to the new space. Our pretty little store was steadily using its charm as the lovely hanging globe lights were swapped with the horrible florescent tube lighting that we scavenged from the vacant space, our food storage room wall disappeared, our beautiful built-in shelving at the back of the store was disassembled and left a giant white wall with red girders exposed, and our enormous cement-topped counter was relocated and replaced with a flimsy wooden table, etc. Moving that dang counter was a

major

project. The guy that had poured the cement top for us said that moving it couldn't be done. That though it's full of rebar, it wasn't designed to be moved and would likely crack apart if we tried to put it on a forklift. Mike realized that there must be specialty moving companies that would move things like printing presses that are both fragile and very heavy, and we actually found one. We waited until about a week before our opening to do it, and if it had failed there would not only be not enough time to build a new one, but the new one would cost thousands more than we had originally paid, and more than twice what it would cost to use the movers. We gambled. What a long tense day, but it was a success!




Besides the disassembly in the old space, we had sooo much work to do to build out that new space. We had ambitious ideas including a big loft above the back room, as the incredibly high ceilings called out for us not to waste the space. We also shipped in most of an old barn (the Drewes family barn built in the 1800s) from several states away to trim out the whole space. Each day I'd help Mike open the store in the morning, and at some point in the day he would man the busy store so I could slip away to work on the new space. Allen and a few of his friends were banging out the loft, new food shelves, and lots of big "new" shelves for treats, etc (made from salvaged lumber, old flooring, weathered gray fencing, wainscoting, picket fences, and more). I was checking in on all of that and doing all of the finish work (painting, staining

more

food shelves giving me permanently red hands for the

third

time in our career, etc) for 3 or 4 hours at a time, then running back to the store to help close up. We cut it really tight. The barnwood for the trim was delayed until just a few days before we opened (so stressful!) and I had to shellac all of them and let them dry. We were working on installing them the day before we opened. (next time you're in, look up and check out that beautiful old barnwood that wraps

around

the whole store). Luckily that day was July 4th, so we closed the old store and worked all day moving.




We are eternally grateful to friends like Doug and Meredith from Doggy Business and a handful of regular customers that volunteered to come help that day,

as though we had movers coming to move all of the big furniture, we still had to box up and move tons of product down to the new space. They helped clean up the construction mess, do some last minute touch up painting, tore down the old store and filled their own cars with boxes to bring up to the new store. One of our sweet delivery drivers had the day off and brought his big delivery truck and pallet jack and moved

all

of our food down to the new space. It was a massive job. Check out the photo of the pallets of food that stretched almost the entire length of the block! I don't know how we did it all, but it got pretty much done! It took a village. Here's

Album #3




A huge thanks to all of you who have supported us throughout these many years!
EXCITING NEW RECYCLING PROGRAM!!

We're happy to announce that

you can now recycle all pet food bags and pet treat bags here at the store!

Just give them a quick rinse

before you bring them back to us, and we'll do the rest.

The best part of this is that they'll turning the plastic into products like beds and toys that will be donated to shelter animals.

How fantastic is that? It's a program that's being piloted in the Pacific NW (of course) and then will go nationwide. Our shelves alone have so many plastic bags - picture the massive volume of waste that this sort of recycling will prevent as more stores are involved across the country!



NEW GENTLY COOKED OPEN FARM!

Small Batch had some production problems with their Lightly Cooked line, so we decided to bring in the Open Farm version. We've had a long history of carrying Open Farm, and we've always respected their use of certified humanely raised meats and sustainable fisheries, as well as other sustainable sourcing and business practices.
Dog River Pet Supplies told us, "We sell a ton of Open Farm gently cooked! In my estimation, Open Farm is the best option as far as quality goes. Like, you open a package and it smells really good and you can see real ingredients and the moisture content is wowie! Cost is roughly the same to feed a 50lb dog as Answers, just a wee bit more. They are even coming out with bulk boxes next."
Like SB, they come in beef, turkey and chicken, but are sold in 1lb packages or a cute 4.5# box that has six 12-oz packs.

Ask for a free sample!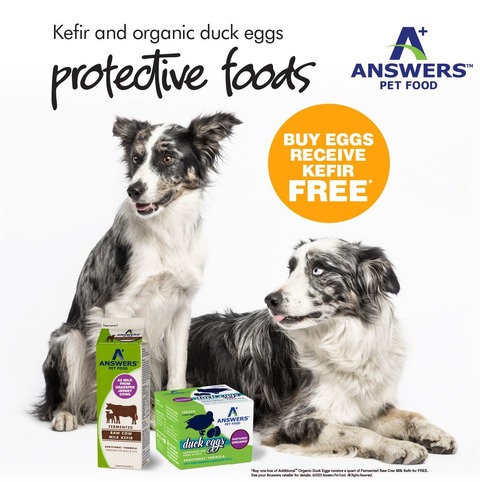 DELICIOUS NEW FOOD TOPPER - ANSWERS DUCK EGGS!


Answers company comes up with the most unique and fabulous foods! Their organically fed, pasture raised ducks make a lot of eggs, which are a superfood and an ideal supplementary aid that boosts any meal. Mix these with a fermented raw milk and serve as an alternative meatless diet once a week, or add as a topper to a kibble diet to add valuable nutrients lost in heat processing. Any way you feed it, you'll be adding one of Mother Nature's most complete and healthiest foods. Better yet, There are 4 frozen organic duck eggs per box. They're good for 14 days refrigerated, and can be left at room temp up to 12 hours. Serve with or without the shell (preferably with the shell). Michelle crushes the egg up a bit to keep Tully from carrying it around the house. Charity also has been mashing the shell up as otherwise Sophia just licks the egg until it breaks and licks up the egg part. It might be fun to crack the thawed egg into a Toppl and refreeze it!

Newsletter Special!
Buy a box of duck eggs and get a free quart of raw cow's milk Kefir!
MEET BRISTLY - A BRAND NEW DENTAL CHEW TOY!
• Made from tear-resistant rubber, Bristly is safe and durable.
• Bristle-lined grooves that brush dog's teeth down to the gum line
• Toothpaste reservoir below the bristles.
• Flavored & Scented for a yummy brushing experience
• Durable easy-to-hold nylon paw pads with brushing nubs.


We think that it would be ideal to give it to them each day (so it becomes a daily routine) for a supervised chew (these seem very durable, but no chew is indestructible)

TAKING A ROAD TRIP?

4 AMAZING PRACTICAL PRODUCTS TO BRING ALONG!
*
Kurgo Splash Free Water Bowl:
This clever bowl is designed specifically for car travel, with a unique shape that helps to keep it level on a carseat, and great design that keeps water inside the bowl.
*
Messy Mutt Stainless Water Bottle:

Time to take a break and take a walk, but it's hot!
This genius bottle has a silicone water bowl built right in that opens up when you need it and folds back when you don't. Click the "open" button to dispense water into the bowl and click "close" to keep slobbery water from getting back into the bottle. It has a wrist strap for handy carrying, and if you need a sip you can unscrew the bowl part and drink from the clean bottle.


*
Tailgate Dumpster: OK, so you've gone on a hike with your dog to stretch your legs, and you've taken the effort to pack out your poop bag, but what if there's no garbage can? No one wants to have a stinky poopie bag ride along with them in the car until you can make another stop. P.U.! Tailgate Dumpster to the rescue! It's an easily cleaned container that uses strong magnets to stick to the outside of your car. Just put the stinky poop bag in there and it will ride along behind you until you can find a can.
* Kurgo dog shower: But wait, don't get in the car - your dog has muddy feet! The dog shower has you covered. Open a plastic water bottle, pop this smart nozzle on there and squeeze. An excellent stream of water rinses off that mud. Now you're good to hop in and be on your way!
GORGEOUS GUATEMALAN FACE MASKS & MATCHING DOG BANDANAS!

These are so darned pretty. We also love the beautiful poop bag holders!! The company says this about their products: "Sales are generating a fair, sustainable income that empowers our independent partners to not only feed their families, but to help educate their daughters and sons. This promotes an inspiring and prosperous future for themselves, their family and community." These are flying out the door!
We're also swooning over their gorgeous beds, which we haven't brought in yet, but we might have to, especially if you see one you like! Check out the Sam and Nala
website
to see the patterns and let us know if you need one!
Newsletter Special! Buy a mask and get 15% off of a matching bandanna!
NEW BLOG POST FOR PUPPY/DOG TRAINING, AND LONGLINES!
The "Come!" command is one of the very most important things we can teach our dog.

A reliable recall is imperative to get them quickly to safety, to recover them if they happen to get out the door, and to proactively remove them from a situation at the dog park that might evolve into trouble. It's also a wonderful luxury when you are in a safe quiet place to be able to have your dog off leash and know you can get him right back when you want to. Like the command "Drop It!", it's easy to accidentally make mistakes when training this behavior that can undermine your success. Here's how to succeed in training a reliable recall.
Long Lines:
We've told you about how much we love the Trailblazing Tails leashes with their grippy rubber material. We also carry their amazing long lines!
These 20 foot lines with handles are perfect for working on training recalls with your pup in the park, or for letting it trail along behind them in areas that they're required to be leashed but you'd like to give them some room.
They can drag through the wet and the mud and the ocean water and remain grippy, rinsing easily when you're done, unlike a sopping wet muddy nylon leash. They're strong and made with high quality brass hardware that will stand the test of time. We carry a variety of colors, but I'm partial to the orange for its visibility. I decided this when my best friend and I took her reactive dog out to the woods to exercise him. It was very unlikely we'd see another dog out there, but she uses the long line just in case. We could throw his ball down a hill in the woods and he'd charge into the brush to get it. We could see the orange line perfectly as he ran to retrieve it even though we couldn't see him very well at all.
WED LIKE TO ENCOURAGE CURBSIDE!
We're still seeing so many people in person in the store. Though we love you, there are a lot of people that are here to pick up just a bag of food, or some other very specific item, and this type of shopping can so easily be done through email or phone. Curbside also helps you to skip the lines when we have them. A lot of our business (and I mean a LOT) are people with puppies who have many needs for
counseling
. This makes it hard for other people who then have to wait a long time in line to get in. The more people that do curbside, the fewer people that have to wait in line. It seems silly to stand in our line anyway when you could just be calling us to tell us you're here and driving right off with your food in the trunk, letting others have a shorter line. So in the evening, when you think, "I need to go to Green Dog tomorrow and pick up the food", drop us an email! First thing in the morning we can pull your order when it's nice and quiet (saving us the run-around chaos we live with during the daytime taking phone orders) and then call you when we open and process your payment over the phone. You'll help us stay calm and organized, and also to stay safe as case numbers rise. The healthier and less stressed out we are, the the smaller the chance that we'll have a closure if one of us is positive for covid. Thanks, everyone!
NEIGHBORHOOD NEWS!
- Have you seen the cool mural on the side of Amalfi's?
- A new Interior and exterior design store called Merchant's Collection has opened. "We are located at 3430 NE 41st Ave (Fremont and 41st) in the Dutch Annex Building. Come check out our unique selection of furniture, décor and statuary. We are very excited to be in the neighborhood and hope to serve the community for years to come."

- Researchers at Portland State University want to know about coyote sightings as they seek to uncover the mysteries of the urban coyote population. Those who provide information can become "citizen scientists" collaborating with the study. Information about the project here.

Located in Beaumont Village
4327 NE Fremont Street, Portland, Oregon 97213
© 2007 - 2015 Green Dog Pet Supply. Green Dog Pet Supply® is a Registered Trademark.