Subject: NCC Newsletter: Connecting Across North America and the Korean Peninsula
View this email online if it doesn't display correctly
Connecting Across North America and the Korean Peninsula
Last night was the 7th consultation between the National Council of Churches of Korea and the National Council of Churches in the USA. These consultations, dating back to 1970, have covered a wide variety of themes including the civil rights struggle in the United States and the struggle for democratization in Korea. Always, they have included prayer and worship, laughter and friendship, and careful analysist and strategy. This time, circumstances required us to meet virtually with the expectation we will be together in the same location when we meet again.

I have confessed in the past that too many in the United States have forgotten the history of the Korean War and its consequences, that we have been consumed by other matters and our self-centeredness. This neglect has enabled our political and military authorities to do terrible things in our name. I say this because I believe most Americans would welcome peace and reunification for the Korean people.

However, the United States today is a bitterly divided nation, marked by political hatred, racism, economic inequality, and militarism. If the US cannot address animosity, economic inequality, systemic racism, gun violence, and public health needs, as well as other major problems then it faces further decline and perhaps collapse. We have reached a tipping point. The US needs a sustained period of capable government leadership marked by competence and transparency, and the active engagement and good will of its population.

More than 50 years ago, the Rev. Dr. Martin Luther King, Jr. said, "We must rapidly begin the shift from a 'thing-oriented' society to a 'person-oriented' society. When machines and computers, profit motives and property rights are considered more important than people, the giant triplets of racism, materialism, and militarism are incapable of being conquered." We have yet to defeat these giant triplets.

If the United States is to make the decision to end its addiction to the military industrial complex and destructive myths of exceptionalism, it will require a process similar to that required to cope with withdrawal symptoms in order to avoid relapse and fall prey replacement addictions.

It is the role of the church of Jesus Christ to insist on a course correction, on repentance for what has taken place and a pledge to move in a new direction. We can utilize our Councils as agents of peace and reconciliation and unity. This is the moment to which God has called us.

North America Meets During the Convening of WCC's Central Committee
This week, the NCC participated in the World Council of Churches' central committee, which met virtually. The North American gathering was held on Thursday, June 24, 2021 with "prayers and discussion centered on issues that are both deeply painful and seemingly insurmountable: racism, division, vaccine hesitancy, genocide, war."
The WCC published an account of the discussions entitled, "In North America, can borders become shared spaces, even amid racism and division?" which begins,
"
Archbishop Mark MacDonald from the Anglican Church of Canada, who moderated the discussion, sadly noted that the meeting occurred the same day that news broke of an indigenous group finding the remains of as many as 751 people, mainly children, in unmarked graves on the site of a former boarding school in Saskatchewan."
The article describes NCC Governing Board member Archbishop Dr Vicken Aykazian's pleas on behalf of the Armenian people as he "shared his candid lamentation and frustration with the ongoing destruction of churches as well as religious and cultural monuments amid the conflict Nagorno-Karabakh/Artsakh and the wider region."
Also mentioned is NCC Governing Board Vice Chair, Bishop Teresa Jefferson-Snorton, who also serves on the WCC Central Committee, who explained, "It really feels a bit ironic to me that, a year later, when we have an effective vaccine, a lot our churches are having to spend so much time convincing people to get the vaccine when other parts of the world don't even have access to the medicine."

NCC President and General Secretary Jim Winkler described the recent
Pilgrim Team Visits in North America that he believes "will feed into the 11th WCC Assembly in Karlsruhe."

He's quoted as looking forward to the women's Pilgrim Team Visit that will be focused on North America, "They will examine issues that women face in the US, Canada, and Mexico, and explore how women, particularly women of color, fight for issues of justice, their families and their dreams."

Near the end of the meeting, Archbishop MacDonald reflected on the concept of borders, "For indigenous people, the border between Canada and the US has been a wound, not a border," he said. "I believe we should define borders the way indigenous people did: they found that the best way to keep peace was to define borders as shared spaces."
Keynote Address at the Jefferson City Heritage Celebration
A week of events led up to the 2021 In-Person and Virtual Juneteenth Heritage Celebration on Saturday, June 19, 2021 when Rev. Aundreia Alexander, Esq., NCC Associate General Secretary, Action and Advocacy for Justice and Peace, delivered the Keynote Address entitled, "We the People ...".
During the address, she remembers the snowy winter day when she interviewed for the job as assistant attorney general in Missouri. While "mesmerized" in the moment of walking up the stairs to the Supreme Court thinking about the "halls of justice, the purveyors of truth," she fell. When hired, she was the only Black employee in that office among mostly men. She explains that this memory came to her while preparing the address and that it illustrates her message about, "We the people stumbling between lived reality and the vision of fulfilled hope."
Reflection from the Episcopal Diocese of Virginia
Bishop Susan Goff of the Episcopal Diocese of Virginia delivered a reflection during the Juneteenth: Freedom Day celebration at St. Peter's and St. John's churches in Richmond on June 19, 2021 entitled, "We Remember, We Celebrate, We Tell the Truth."
H.R. 40, the Commission to Study and Develop Reparations Proposals for African Americans Act, is at a pivotal point in both congressional chambers. NCC calls on all our member communions and interfaith partners to take action to help pass the legislation. NCC has published our position on the Reparations legislation on our site with many resources and background information to inform campaigns of support.

Ways to voice support:
Call your Congressional Representative this week and advocate for their co-sponsorship of the legislation and for H.R. 40's passage, using the Capitol Switchboard at (202) 224-3121, and

Sign and share the faith leader and organization HR40 Faith Sign On Letter that was co-written by NCC.

Speaking Against the Filibuster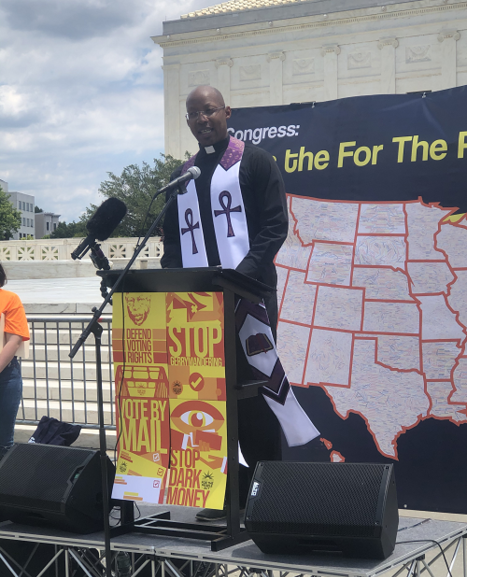 Minister Christian S. Watkins, NCC Justice Advocacy and Outreach Manager, spoke at a rally sponsored by the Declaration for American Democracy Coalition at the Supreme Court on Thursday, June 24, 2021. The coalition organized to advocate for ending the filibuster and passing the For the People Act to protect voters. In his comments, Minister Watkins lifted up NCC's history of fighting for voting rights, "Since Rev. Dr. Martin Luther King, Jr. marched this way back in 1963, the National Council of Churches has stood in solidarity and spoken prophetically about voting and civil rights among other social justice issues, and we're definitely not stopping now. The NCC supports both the John Lewis Voting Rights Act and the For the People Act, which will go a long way to safeguarding our Constitutional right to vote. And, with what has transpired once again in the US Senate earlier this week…the NCC echoes the clarion call for the abolition of the Jim Crow relic known as the filibuster. The filibuster must never again be used a threat in order to kill legislation. It is a cowardly tactic designed to forestall progress for the good of the nation."

"The filibuster is one of those old rules that keeps the Senate from getting the job done. Driven by the fear of losing power through the dismantling of white supremacist rules and institutions, the filibuster has long been used by avowed racists who strategically wields it as a weapon to kill any progress to secure voting and civil rights for people of color in our nation," he explained.

Speaking about the fear that seems to be driving some of the voter suppression tactics in this country, Minister Watkins reminded rally-goers of the scripture in 2 Timothy 1:7, "God has not given us a spirit of fear, but one of power, love and a sound mind."

According to Minister Watkins, "We must use that sound mind—that good sense God gave us—and the power of our unified voices and collective advocacy to move power for the benefit of ALL God's people, and for the edification of this country that we love. Beloved, if you love doing what is good, standing for what is right and racially equitable, and if you love seeing progress made for the people, contact your Senators and tell them to abolish the filibuster."

Members of Congress, their staffs, civil rights and community organizations as well as other advocacy groups all participated in the rally. Minister Watkins represented to voice of people of faith.
COVID-19 Pandemic Response:
Information to share if church members are facing eviction - the federal eviction moratorium issued by the Centers for Disease Control and Prevention (CDC) has been extended through July 31, 2021.
Participate in the Month of Action
The NCC encourages our churches and individual members to take action to get everyone vaccinated by holding an event or joining one of the organized events during the National Vaccine Month of Action. Resources on the direct actions you or your congregation can take are at this link. Trainings are available for all actions.

"

What's At Stake", "Know Your Rights" & Protect Your Vote Webinar
As part of Turnout Sunday/Lawyers & Collars' voter protection campaign entitled "Faiths United to Save Democracy," you are invited to an intergenerational, multiracial, and interfaith "What's At Stake?" and "Know Your Rights" Faith Leaders Voter Protection Webinar on Monday, June 28, 2021 from 6:00 - 7:00 PM ET.
Faith leaders will learn:
What's at stake
Your rights to vote
How to create robust campaigns on:
(1) Voter registration,
(2) Securing voter I.D.s,
(3) Mobilizing for a historic voter turnout in key races, and
(4) Massive voter protection campaign.

"Our democracy and the sacred right to vote are under the most severe attack we have witnessed in our time. Nearly 400 voter restriction measures in 48 states have been proposed or passed, making it even harder for people of color, the elders, and the poor to vote. This battle is far too big for any once racial, ethnic, or faith group to fight alone."
Turnout Sunday is an initiative of the Skinner Leadership Institute, the National African American Clergy Network (NAACN), and Sojourners.
UMC Online Gamer Ministry
The United Methodist Church reports that "when a video game-playing pastor realized the strong communities that gamers were building online, he saw an untapped opportunity for ministry" and founded
CrossFire.
The Rev. David Petty, senior pastor at St Paul's United Methodist Church in Colorado Springs, Colo., started his ministry with the gaming community in 2017.
Crossfire combines faith and gaming by utilizing a variety of online platforms to host both religious and nonreligious discussions because he thinks that "relationships are more important than content." The intent is to build community and it's working.
Job Listings
Legislative Coordinator

for the National Advocacy Center of the Sisters of the Good Shepherd - To advocate on social justice issues at the national level with a focus on issues that primarily impact women, children and families. These issues include poverty, immigration, human trafficking, and concerns identified by Good Shepherd agencies serving people in need and on the margin of society. See position description.
NCC's annual Christian Unity Gathering (CUG) will be held virtually on October 11 - 12, 2021 with the theme, "In New Wineskins: From Pandemics to Possibilities to Promises," based on the scripture in Luke 5:37-39.
If you find our newsletter informative, please forward it to friends and colleagues!
Your gifts helps us build a more just and equitable community that chooses grace over greed, love over hate, and faith over fear.