Subject: LorenPhotos Nov. Newsletter
During my Bucks County Autumn workshop earlier this month we were taking pictures at a historic house that is part of Pennsylvania's Washington Crossing State Park. The house wasn't one that Washington stayed at but was used as an infirmary for sick and wounded solders. We were there a couple of days before the big mid-term election and it hit me how I was standing on sacred ground where men died so we would have the freedom to vote. People have gone off to war ever since to fight for our freedom but the revolutionaries knew they really didn't stand a chance of winning, many of them were the wealthy elite who risked everything, their money, their property, their families and their lives for a concept that wasn't proven. Freedom and democracy were ideals people dreamed of but taking on the much larger British army was near insanity.




We frequently take our freedom and ability to speak freely for granted. The beauty of so many people voting in this year's elections is proof that the revolutionaries set us on the right path. It was really cool to be physically standing on their path in Pennsylvania.




I love the lights of the big city

I've done several workshops in New York City in the last couple of months and I've been having a ball. One of my favorite locations is in Brooklyn near some old pier pilings with Manhattan in the background. It is a great spot to photograph the setting sun and then the sky as darkness sets in and the lights of the city start twinkling. Many people hope for clear skies but I love when there are thin low clouds under heavier high clouds. The light emitted from the city bounces off the low clouds and creates great colors and patterns. I love leaving the camera open for 30 seconds and getting movement in the clouds. One night all the elements came together and I used a very wide angle lens to accentuate the clouds. There are more photos on my blog at https://lorenphotos.com/posts/

You can still go to Venice with us for Carnival!

I had a couple of last minute cancellations so I still have space in my Venice, Italy, workshop.

Friend and fellow photographer Ron Lake and I are leading the workshop in Venice during the most exciting time of year, Carnival! The workshop will feature the beauty of Venice at Carnival time, models wearing masks all around the city ready to be photographed and a spectacular fireworks show on the final nigh

t. The b

ridges over the canals are lit and make for brilliant color night photos. If you want to have some real fun and make great pictures, join us Feb. 28-March 6, 2019. Read More...




There are also openings for when we go to Tuscany in May while red poppies are growing everywhere making the countryside look different than during the summer with the wheat fields. We did a Tuscany workshop two years ago and we'll go back to the best places but we're adding places Florence and Chiante. Read about the details here..

Keep skills sharp during a drab winter

One of the bad parts of winter is many people don't want to get out in the weather to make pictures. I love the winter, which is why I do the Vermont Winter Workshop, but I know that it is harder to shoot in the winter and if there isn't snow on the ground the scenery can look pretty bleak for most of the country. By not shooting for a few months often people lose their skills and have to start over when spring arrives. I've created an inexpensive five session series that lasts from January through March designed to keep skills sharp and learn new things, without leaving the house. Participants will get instruction on techniques and fun assignments to complete. Photos will be uploaded and then I'll give feedback during each session. It will a lot of fun and a great way to get through the winter. The sessions will be on Jan. 8, Jan. 22, Feb. 5, Feb. 19, March 12 and will be recorded so you can watch a session if you miss it. Read more about it at https://lorenphotos.com/mevents/indoor-workshop-series/

Lightroom classes starting in January




Lightroom has become the standard for image processing and since all images now need some post processing, knowing Lightroom is as important as knowing your camera. I have three Lightroom seminars coming up, the first is a free overview of Lightroom on Jan. 10, which is great for those who don't know what Lightroom does or if you don't understand the basics of it. Then I have a three session Learning Lightroom class Jan. 23, 30 and Feb. 6 where you will learn everything you need to know to get going with Lightroom including organizing your images and making your photos pop. If you are already familiar with Lightroom but want to get more from it I have an Advanced Lightroom class on March 11. All of the classes can be attended in person or live online through a high quality service I use so you can ask questions as we go. It is just like being in the same room except you can be in your pajamas. I hope you can join me for one of the classes.

Upcoming workshops





ª Feb. 24 Using Your Flash Workshop

Somerville, NJ

• Aug. 17-23, Iceland Summer Photography Workshop,

Reykjavik, Iceland




Personal mentoring


If you want to improve your photography, learn more about your camera, get a better handle on Lightroom or Photoshop, or need help with your photo business, then I can help you with one-on-one mentoring that is customized to fit your needs. Read more..
Why we need to do post processing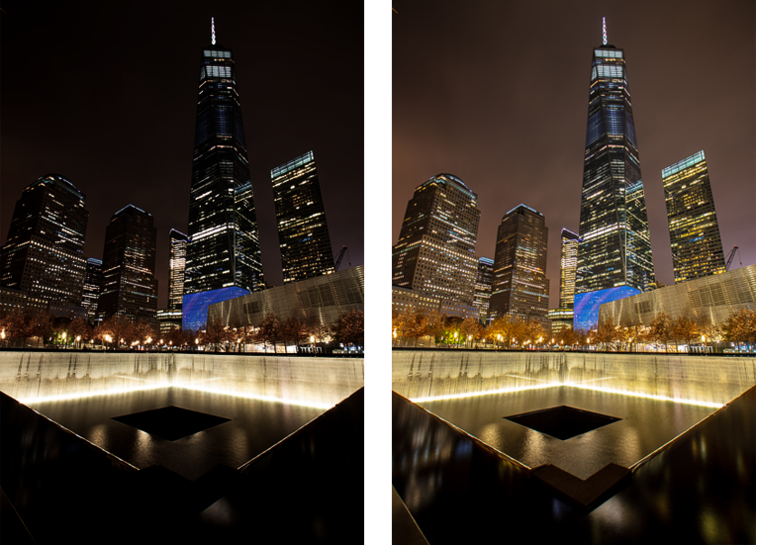 Many photographers think that if they need to do post processing (work on the photos in the computer) then they did something wrong when they shot the photo. That could be true but not usually. The reality is that our digital cameras are limited in what they can see and in what is captured to the disc. Most digital cameras are now at the point where they can record a wider variety of tones and colors than film does, especially contrasty slide film. And the way to record the most data possible is to shoot RAW files. Cameras can create files that are either RAW or JPEG. JPEG files are compressed, thus smaller, and the camera also does some post processing to the files. It may add sharpening, contrast, color saturation and more to the files and also creates a lower quality file. RAW files don't get any of that done by the camera but it needs to be done. And that is why we need to do something to pretty much every RAW file we shoot if we want to get the most out of it. When you look at the two photos of the World Trade Center memorial that I shot during one of my NYC workshops, you can see the one on the right looks much better. They are the same file, the one on the left is before I did any work on it. You can see the information was there, I just needed to use LIghtroom to bring out detail and color that was hiding in the original. I spent about three minutes making the adjustments on this photo to make it look the way I saw the scene rather than the way the camera saw it. The sad reality of the digital world is that to be a good photographer you now need to be equally good at post processing. Or pay someone else to do it.