Subject: Family Promise Winter News
The Gift of Love is Contagious:
a story of taking a risk on a stranger
During this season of giving, we hear many heartfelt stories of people helping friends, neighbors and strangers in need. Regardless of one's faith, Christmas evokes a sense of gratitude and strengthens our connections with others. At Family Promise of Butler County, we love hearing stories from our volunteers of generous giving. Here is a beautiful story of love and kindness we'd like to share with you.



Written by: Melena Siebert, Coordinator for Center Pointe Christian Church.
I have an incredible (and true) story to share with y'all about GOD SHOWING UP when a woman walked in obedience!! Mary (not her real name because she's humble, but can you think of a better name for a woman walking in faith and obedience?!) volunteered to do laundry after Center Pointe Christian Church hosted and sheltered a group of homeless families through our mission partner, Family Promise of Butler County. Mary had one more big load of towels to wash, and she knew it would be quicker and easier to take it to a laundromat than to do them at home. She was a little grumbly with herself about it because she really just wanted to rest. But she knew she had committed to serve this way, so off she went to ye ol' local laundromat.


While she was waiting for the towels to finish, she struck up a conversation with a lady (I'll call her Jessica) also doing laundry. Jessica asked Mary what she was doing with such a big load of towels. Mary explained Family Promise and how our church hosts homeless families. Suddenly, tears started streaming down Jessica's face. Jessica explained that she was homeless and living in her car, but that she was usually too ashamed to tell anyone. Mary took her information and invited Jessica to come have dinner with her and her family and promised she would see if Family Promise or another agency might be available to help her.

Family Promise only shelters families with children, and Jessica didn't have kids. But Mary thought maybe she could contact them for a referral to another shelter on Monday.
Later that day, Mary went to Costco and "just happened to run into a lady from Bible Study" she hadn't seen in a while (I'll call her Martha). Martha runs an airbnb. After Martha and Mary caught up with each other a bit, Martha said to Mary, "Hey, I have room available in my airbnb, so if you happen to know anyone in need..."
So, that night, Jessica was safe and warm in a lovely airbnb room that "just happens to be" 5 miles from her job. Jessica had dinner with Mary and her family that night, and as Mary went with her to get her settled in her room, Mary mentioned that our church was just down the street. Jessica said to Mary, "I'd like to visit your church." What Jessica doesn't grasp fully yet is that she's already met our church. She met Mary who offered kindness and conversation. She met Martha, who offered a room. She's met Jesus. And all this...because Mary went in obedience to the laundromat. Don't ever tell me we don't serve an incredible God. Don't ever tell me He doesn't care about each of us and our messy lives. Our God is huge, and I'm awed by this story.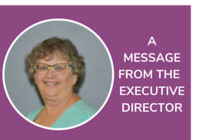 This has been a very busy year here at Family Promise of Butler County. We have served 26 families this year, more than any of our past years. This means that over 130 children now have a place to call home!

As I think about all that goes in to serving these families, three words/phrases come to mind, kindness, love and giving back. Because of our wonderful volunteers, kindness and love is shown to these families 7 nights a week, 365 days a year. This kindness and love build's up their dignity, helps them feel valued, and gives them hope for a better future. I cannot thank our volunteers enough for all that they do for our families. Volunteers truly make this program work on a personal level. Donors provide us with the funds and in-kind goods that assist us with providing needed services, supplies for the day center, personal care items for the families, help with transportation needs and start up furniture and supplies for their new homes when they move out. While donors may not be seen, the gifts that they give truly do make a difference in the lives that are touched. Without your donations we would not be able to carry out our mission.

I would like to encourage all of you, to take some time this holiday season to reflect on the good that has been done and to look forward to all the good that is to come in the New Year. I know that I am so grateful to each and every one of you.

Merry Christmas and Happy New Year!


Linda Smith
Christmas Celebration for our families

was a day


December 8th was a day filled with smiles, hugs and laughs at Ridgeway Elementary during the Family Promise Christmas Party. There were 2 current families and 9 graduated families in attendance (total of 28 children. Many volunteers helped serve lunch and helped guests shop and wrap gifts for their kids. Each family received 2 $25 gift cards because of many generous donations. The families also were able to choose 2 or 3 gifts for each child. Every parent were also given a gift bag. Our special day ended with a visit from Santa!





Thanks to all our donors and volunteers who contributed to our guests having a wonderful holiday season! A special thank you to board member, Kathy Wagonfield for hosting at her Elementary school.
Become the Donor Who is the Key to
You can make a difference

in these children's lives.

Pledge today to give a monthly donation

of $10, $20, or more every month in 2020. This monthly commitment will help sustain this program throughout the year. In fact, your

annual monthly donation

will help in the following ways.



Basic

$5 - $10 provides 2 weeks transportation to and from shelter


Change

$15 - $20 funds 6-day stay for 1 family at the FPBC Day Center


Transformer

$25 - $100 provides furniture for a family's new apartment


Dreamer

$180 provides 65 day stay for 1 family

Monthly, or a single donation can be made easiest and safely by 1)"Text to Donate" anytime by

texting the code

OPENDOORSOFHOPE

to

44-321

, or 2)online at www.familypromisebutlercounty.com, 3)recurring donation directly from your bank, or 4)sending a check each month to our Day Center.

Family Promise of Butler County is a 501(3)(c) non-profit charity.
Donations are tax deductible.
Thank you for your continued support!