Every second more than 15 people open, click or share emails sent with GetResponse.
Your emails can reach a global audience, too!
350,000+
customers
24 billion emails
sent a year
Customers in over
183 Countries
platform available
in 19 languages
Reach out to a global audience.
Every month our customers' emails engage over 1 billion subscribers worldwide. Check out who's opening and clicking right now.
Want to view subscriber activity in real time?
Use Global View geolocation to get instant insights on who's opening, clicking, and sharing your newsletters online. Get to know your audience by learning more about individual subscribers.
Learn more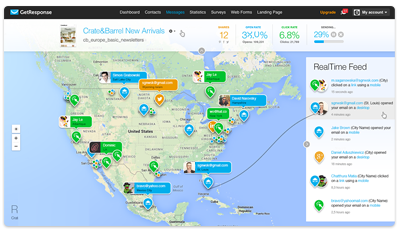 Ready to take your email marketing to the next level?
Try It Free